LINC Home Study Canada is a program made available by LEAD (Language Education at a Distance). This is a national resource that offers services to nine of Canada's provinces and territories.
The goal of this program is to provide LINC instruction to federally eligible clients that are unable to attend LINC classes in person. Unlike programs like Rosetta Stone, LINC Home Study is a language training course with a weekly time commitment and is supervised by a Canadian LINC Instructor. SOICS began offering these services in the summer of 2014 as this program will become a great benefit to newcomers with work and familial time comitments, as well as those who do not live in an area that offers in-person classes.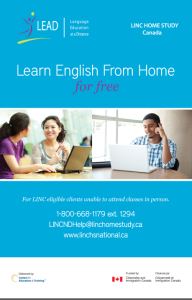 The CLB-OSA is an online self-assessment tool for people who are interested in assessing their English as a Second Language (ESL). These tests are based on the Canadian Language Benchmarks (CLB) and will assess your language proficiency in reading and listening.
Online English Self-Assesment Tool
---
All of SOICS' services are free for eligible immigrants. For more information on becoming a SOICS client, please visit Getting Started at SOICS. To make an appointment, please call or visit one of our offices.