Karina Chambers – LINC Instructor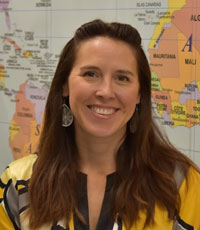 Karina received her Bachelor of Arts Degree from the University of Victoria and then left to teach ESL in Korea for a year. She returned to Canada and completed her teaching degree from the University of Victoria. She then taught ESL in Victoria for a few years before moving to northern BC to teach English and History in the public school system.
After teaching, Karina followed her passion of working with people from other cultures and partnered with S.U.C.C.E.S.S. to open the first Immigration Settlement office in Fort St. John, BC. As the manager she built up connections between the immigrant communities, employers, and social services. Through various Welcoming and Inclusive Communities and Workplaces Programs Karina was able to raise awareness on immigrant issues and make Fort St. John a more inclusive and welcoming community.
Karina moved to Penticton in 2010 and worked for SOICS from 2010-2012 as a Settlement Worker, Computer teacher, and on the Welcoming and Inclusive Communities Employer Toolkit. Karina took a break to travel and returned to SOICS in May of 2014 to teach ESL in the LINC program.
Karina's passions are cooking, traveling, and learning about other cultures. She has traveled to over 20 countries around the world and started two ethnic cooking clubs in Penticton. Karina loves to get involved in community activities and encourages her students to join her by volunteering as well, so they can experience new things and make new friends.
---
Brenda Van Tighem – LINC Instructor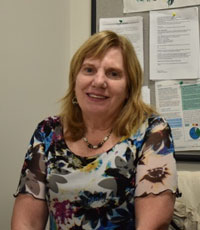 Brenda was born and raised in Trail, B.C. She left Trail for UBC and spent time teaching in the BC and Alberta school systems. Brenda completed a Kinesiology Degree at UBC and then a Master's Degree from the University of Calgary.
In 2013 Brenda completed her TESL/TOEFL training at Mount Royal University in Calgary Alberta. She then became a facilitator in the LINC program at Columbia College in Calgary. Brenda continued her passion of helping people as she assisted learners from refugee camps as part of the LINC program.
Brenda has travelled extensively throughout Europe, Latin America, Singapore and China. She has spent time travelling in Canada and the US as well.
Brenda enjoys working alongside the great staff at SOICS. She loves the opportunity to continue to meet new Canadians and assist them with what is needed to settle in this great county of Canada.
---
Samantha O'Hara – LINC Instructor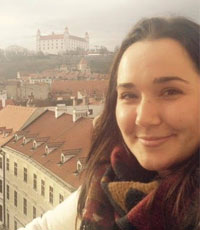 Samantha was born and raised in Toronto, Ontario. She first left Canada to study Psychology and play Division I Softball at Princeton University in the United States.
Upon graduating, Samantha continued living abroad. She enrolled in a Princeton in Asia Fellowship as a kindergarten ESL teacher in a small village in Okayama, Japan. She then completed another Princeton in Asia fellowship in Singapore working for the Singaporean Ministry of Education as a High School PE and English Language Teacher. After spending a wonderful handful of years in Asia, she moved to Sofia, Bulgaria to work at The American College of Sofia (ACS) as a Middle School ESL Teacher. She held several other positions during her tenure at ACS, including Grade Level Dean, International Student Exchange Coordinator and College Counsellor.
Her training includes a Certificate of College Advising from Columbia University and another from Harvard University's Summer Institute on College Admissions. She is also TESL/TOEFL certified.
Samantha loves learning languages and travels as much as she can (she's visited over 50 countries); her most recent trip was to Quetzaltenango, Guatemala where she completed an Intensive Spanish Language Course. She really loves working at SOICS as it presents the opportunity to continue to engage with people from all around the world and to feel a part of a diverse community while living in the Okanagan.
---
Kiana Stearns – LINC Instructor & Settlement Operations Support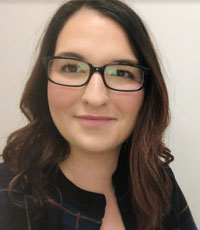 Kiana was born in the Okanagan but grew up in the Greater Vancouver Area. She jumped on the opportunity to move back to the Okanagan in April 2019. She brought with her the love of her life: her Border Collie/Chocolate Lab, Kali.
Kiana has a Bachelor of Integrated Studies from the University of the Fraser Valley. She has enjoyed taking classes in a variety of subjects including Leadership, Biology, and of course, TESL. She completed her TESL practicum at a private Immigrant Services organization in Langley, BC. There she worked extensively on Portfolio-Based Learning with her LINC 7 & 8 students.
She joined SOICS in September 2019 and loves being a part of the team!
Kiana loves working with people and enjoys making a visible impact on people's lives. The way she describes it in terms of ESL is that you can see as your efforts make a difference in someone's life, specifically that their confidence grows and they are better able to participate in Canadian society. She is excited to make her own contribution to SOICS clients' success.
---
Hyejin Chun – Admin Coordinator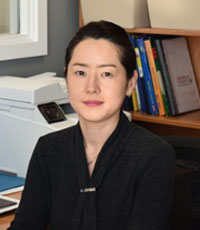 Hyejin is from South Korea. She majored in Japanese at Peahwa University. After graduating, she worked in various fields and at different jobs including the hotel sector, in a duty-free store, and at an import-export company to Japan.
She has lived in Canada since 2012. Initially, she moved to Vancouver as her husband was living there at the time. When he got a new job offer in Penticton, they decided to move away from the big city to live in the Okanagan.
Hyejin and her husband love summers in Penticton; they enjoy spending time at the lake swimming, walking and reading.
SOICS welcomed Hyejin when she was a newcomer in this town. She studied English in the LINC class and was able to make lots of friends from other cultures. As the Admin Coordinator at SOICS, she greets clients and supports her team members.
---
Yaxin Ma – Accountant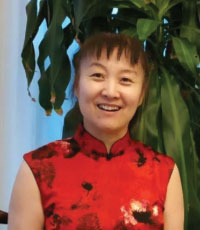 Yaxin Ma is a mother of two daughters. One is in her third year at the of University of Alberta, and one is at Pen High. They both volunteered at SOICS and learned a lot of skills from their experiences here.
While in China, Yaxin was the Chief Financial Officer of a medium size software company in Beijing. She worked for them for over 11 years; it was challenging to say goodbye to her colleagues and come to Canada to start a new life.
For the first two years, Yaxin enrolled in LINC English classes in Oliver at SOICS and at the Learning Centre. After completing accounting courses to improve her English skills, she began working for K & C Silviculture. Currently she is part of the SOICS team managing the accounting responsibilities for our organization.
Yaxin is willing to help Chinese newcomers start their new lives in Penticton, because she and her family received a lot of help when they moved to the South Okanagan. Their family wants to give back to the community.
Yaxin is an excellent cook who can prepare delicious Chinese cuisine. She loves to entertain and prides herself in being her friends' social event planner. Yaxin has family in China and travels to visit them regularly; she loves Chinese food, and is so proud of the developmental progress of China.
---
Aiza Regala – Life Skills Coordinator & Support Services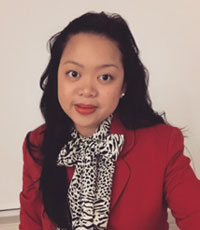 Aiza was born in the Philippines and is now a Canadian citizen. She graduated from the University of Assumption in the Philippines with a Bachelor's Degree in Hotel and Restaurant Management and has worked in the hospitality industry in Penticton.
Aiza became a volunteer at SOICS in November of 2013. In 2017, she decided to return to school to become an Early Childhood Education Assistant. In September 2017, Aiza joined the SOICS team in Penticton as a childminder.
After completing her studies she continued working as a childminder, which she loved very much. She loves to care for, support and guide children who are a part of the childcare facility here at SOICS. In April 2019, Aiza joined the settlement division of SOICS as a Life Skills Coordinator and became the lead of the Childcare Facility.
The South Okanagan Similkameen Local Immigration Partnership (SOSUP) selected Aiza as one of the Multicultural Community Champions. Equally proud of her Pinoy heritage and her Canadian Citizenship, she understands the challenges of moving and settling in Canada as an immigrant. Her personal experience working towards full Citizenship from Temporary Foreign Worker status allows her to connect with her clients in a special way.
---
Upkar Grewal – Settlement Coordinator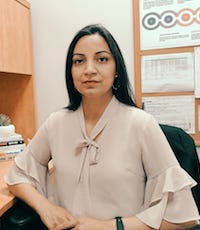 Upkar joined SOICS in 2010 to deliver the Senior's Computer Literacy Program. Today she leads the settlement team in delivering the adaptation and integration services. Upkar can relate to the challenges newcomers face in the initial period and develops approaches that effectively puts them at ease with Canadian Culture. In particular, Upkar proactively encourages young women to build their knowledge of community resources. This approach, she believes, will promote independence among them and can be beneficial to make informed decisions about the welfare of their family unit. Due to cultural norms, these young immigrant mothers are not comfortable talking about or asking questions when it comes to sensitive topics. Upkar has two young children and strives to be an advocate for raising awareness among young newcomer Punjabi mothers on health care and disease prevention.
An immigrant herself, Upkar came to Penticton in the winter of 2009. It was snowing when she landed at Penticton airport and has fond memories of being able to touch it for the first time. Before immigrating from India, Upkar obtained her Bachelors Degree in Commerce and selected English Literature as a major for her Masters Degree. Upkar also has a strong interest in fashion and is often seen exploring information on cultural attires. She believes that ethnic clothing and accessories play a significant role in representing people's cultures and beliefs and that it remains a good way to celebrate one's identity.
---
Elmira Galiyeva – LIP Coordinator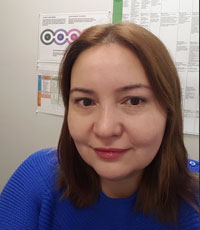 Elmira Galiyeva is the Coordinator of the South Okanagan-Similkameen Local Immigration Partnership with the South Okanagan Immigrant and Community Services (SOICS). Elmira holds a Master's Degree in Development Administration from Western Michigan University and has over 20 years of experience working in the non-profit sector. Elmira has led projects in a wide range of fields – community development, local governance, economic development, education, housing and health.
Elmira immigrated to Canada from Kazakhstan in 2009 and since 2011 has been working with Local Immigration Partnerships. She and her husband moved to South Okanagan in March 2019 and are happy to be a part of our community.
---
Gurtej Kang – Settlement Worker in Schools (SWIS)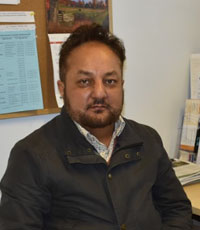 Nine years ago, Gurtej, with his two sons and wife, moved from India to Oliver, BC to start a new chapter in their lives. In his previous career he was an Associate Professor in India. He completed his Master's Degrees in Punjabi, Sociology and Education, his M.Phil. in Folklore and Culture, and Ph.D. in Comparative Religious Studies.
Gurtej is the Settlement Worker in Schools with SD 53. He has a firsthand knowledge, through his own sons, of how immigrant children struggle to adapt to the Canadian education system. Gurtej strongly believes that school-aged children need parents' support in adapting to the Canadian academic system. Parents often need support as well, to understand a different style of education and to help their children make successful choices.
Gurtej's in-depth study of culture and religions, paired with extensive experience in education, allows Gurtej to provide comprehensive assistance to clients from diverse backgrounds. He establishes rapport with clients and his genuine interest in clients allow them to open up and share their ideas and concerns.
---
Sugun Kaura – Diversity and Inclusion Settlement Worker & Employment Navigator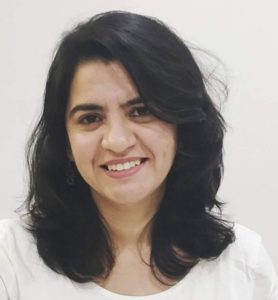 Sugun Kaura's immigrant journey is no different than any other immigrant; it came with its own share of uncertainties and challenges. Sugun and her husband immigrated from India in 2019. In a couple months' time, they returned to India to wrap up all of their commitments. During this time, COVID wiped off their well thought out financial and social plans for settling in Canada. It took more than a year before Sugun could return to Canada and began applying for jobs.
Sugun comes with an MBA degree and 7+ years work experience in Customer Service Training & Management under her belt. She has proven expertise in administration, process evaluation & service delivery enhancement. She has a passion for creating craft and creative treasures by upcycling materials. She is a self taught Henna artist too and plans to pursue Henna art as a business in the future. During COVID, Sugun volunteered with a number of organisations to familiarize herself with Canadian "work experience". She also participated remotely in workshops and short courses to enhance her skillset and further understand the Canadian labour market while being in India and waiting for the pandemic to be over. Participating in these learning opportunities helped her understand the concept of "transferable skills" and its significance for new immigrants.
Sugun chose to make Penticton her home base in Canada because one of her friends lives here and it is closer to Seattle where her sister lives. Sugun is currently working with SOICS as a Diversity & Inclusion Settlement Worker & Employment Navigator. In her role, she is spearheading various initiatives to combat racism and discrimination in the South Okanagan and helping newcomers find employment. She was delighted to obtain this job because it allows her to give back to the community and help immigrants like herself, the way she was supported by this organisation. Being fluent in 3 languages, Sugun is effectively able to provide additional support to the client base.
---
Michael Lamont – Employment Navigator & Leadership Coach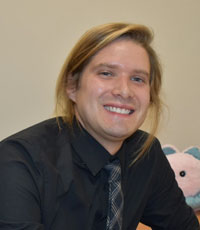 Michael joined the SOICS team in October 2019. He is passionate about building community so he seized the opportunity to promote diversity and inclusion leading the One World Youth Crew.
After relocating from Vancouver Island to the South Okanagan with his partner in January 2018, Michael joined the Community Futures (Okanagan Similkameen) team helping entrepreneurs navigate the path to self-employment. At SOICS, he compliments the Employment Navigator team's skillset by bringing business start-up experience for anyone interested in entrepreneurship as a career choice.
It's important to Michael to be an active member is his local community. In addition to leading the One World Youth Crew, he is the 2020 Communications Director for JCI Penticton, and the organizer of NetSquared Okanagan-Similkameen, a technology-focused meetup group for non-profits.
Michael is also a broadcast professional who has previously worked as a Morning Segment Producer for CTV News, a Digital Account Executive, and as a Digital Strategist and Coordinator for Vista Radio. He plans to utilize his media skills to keep SOICS connected to the digital world and to showcase the positive impact SOICS has in the community.
---
Cherry Fernandez – Executive Director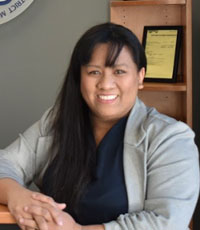 Cherry is a dual citizen of Canada and the Philippines. She graduated from Trinity Western University with a Bachelor in Business Administration. She holds a graduate certificate in International Development and most recently became a Regulated Canadian Immigration Consultant.
Cherry has a passion for travel and culture having lived and studied in several countries including Mexico, South Korea, and France. She joined SOICS in 2009 in holding various roles in Settlement including Employment, Research, and Program Development. She left SOICS for a short time to work at UBC Okanagan and start her family. Her funny 1-year old daughter is bilingual and already shows a great appreciation for diverse foods and fashion!
As a first-generation Canadian, Cherry understands the challenges and rewards of adapting to a new culture. As the SOICS' lead, she is a strong advocate for newcomers to Canada – Committed to ensuring access to newcomer supports to the Okanagan and encouraging an inclusive community.
---
Yolanda Alvarez Quevedo – Child Educator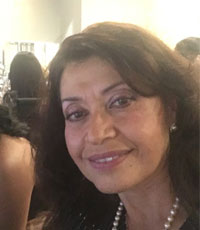 Yolanda Alvarez was born in Chile. In 1996, she moved to Canada with her three sons. Initially they moved to Quebec City, Quebec where they lived for 20 years.
While in Quebec City, Yolanda worked in Psychosocial Intervention. She served female clientele in many situations and difficulties such as those suffering from mental illness, all manner of dependencies, and homelessness, to name a few. She completed this important work for 17 years.
She moved to Penticton at the end of December 2016. She has reoriented her professional life and is now working as an ECE assistant (Early childhood educator) at both the Elementary Entre-Lacs School and at SOICS in the Childminding Department.
She greatly appreciates this new opportunity that life has given her: another language, another culture, new colleagues, new friends same in the same country. She feels that it has been just wonderful!
---
Azam Ghasemi – Child Educator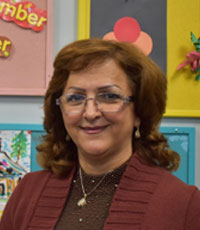 Azam was born in Tehran, Iran. She moved to Canada 2013. Her daughter lives in Toronto. Upon moving to Canada, Azam initially stayed with her daughter and grandson for almost two years.
Azam knows that it can be very difficult to live in a place where you don't know the language and culture, among the other difficulties of being a newcomer. She has displayed strength in starting her new life in Canada, and patience too, which has helped her achieve her goals and discover many experiences. She received her Permanent Resident card in January 2019. She is so happy and proud her life now.
She likes living in the Okanagan Valley. She feels she has met a lot of people who are very kind and help her to get more acquainted with the culture here. She also enjoys working as a Childminder at SOICS.