The South Okanagan Immigrant Community Services (SOICS) has a homework club. The homework club provides tutoring to students that are English Language Learning (ELL) immigrants to our community. Homework Club was launched to assist students between the ages of 5 to 13 years. Due to COVID-19 restrictions, this time the tutoring service is provided virtually over ZOOM. This program not only provides one-on-one tutoring supports for children, but also helps their parents to build digital literacy and connect with the wider community.

Questions & Answers about HomeWork Club
Q – Who can access this free tutoring service?
A –
The Homework Club program is funded and created to meet the needs of immigrant children (elementary school age, grade 1 to 7) who are considered vulnerable due to language barriers or no English support at home. The student must have a parent, grandparent, or guardian that is an immigrant, Temporary Foreign Worker or International Post-Secondary Student. (Immigrant refers to Permanent Resident or Naturalized Canadian) The family will register with the South Okanagan Immigrant & Community Services society.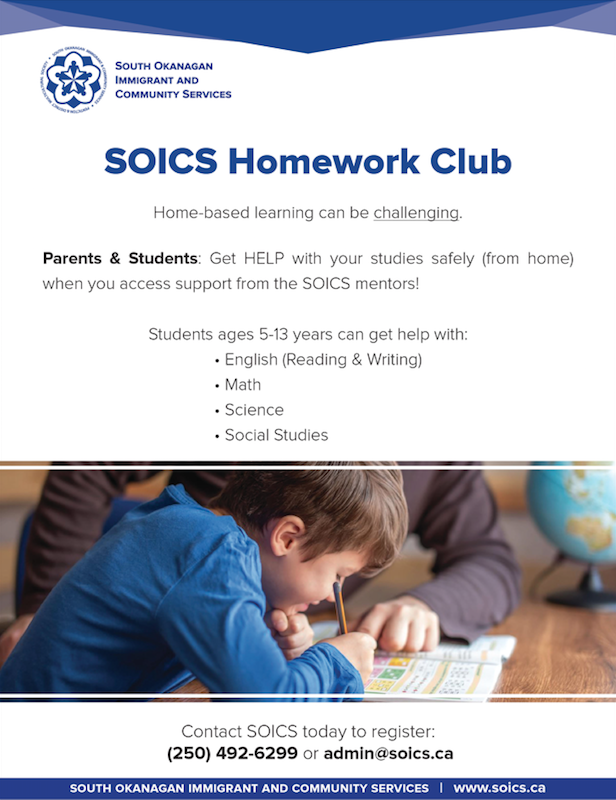 Q – What expectations must the student and family meet to receive this free tutoring service?
A –
A family and student that would like to participate in this program having been referred by their elementary school teacher, will meet by phone and zoom meeting with our coordinator to discuss expectations…
A review of their technology (computer, laptop or tablet ) and some training using zoom will be provided.
Expectations of punctuality, replying to emails, communicating planned absences, engaging in the tutor session, respect for & appreciation of the volunteer tutor are shared and the family must commit to them.
Q – What does a typical Homework Club tutor session look like?
A – Students log in a few minutes early to the zoom meeting where they are greeted by one or both of the coordinators. As the virtual tutors arrive, students and tutors link to their specific virtual classroom. Students and tutors use the zoom tools including whiteboard, share screen and chat. Tutors will ask students to share their homework and follow directions shared by the elementary school teacher. Tutors use various online resources such as Khan academy math and oxford owl reading. The virtual tutor session outcomes and ideas for next week's session are recorded by the tutor.
Q – How often & how long does a child attend the Homework Club?
A – The program brings together tutors and students weekly for one hour or 30 minute at 4pm or 4.30 pm depending on their age and grade. Presently Homework clubs are meeting on Tuesdays, Wednesdays & Thursdays. We graduate the child from Homework Club after discussing with the tutor, teacher, parent and child. Key indicators for graduating are noticeable improvement in subjects over time at the homework club, upward trends on the parent provided school report cards and anecdotal notes of improved confidence and self-worth.
Q – How do you find volunteer virtual tutors?
A – We promote the Homework Club program in high schools, colleges, universities and by word of mouth with existing tutors. Interestingly, only high performing young people approach us to get involved as virtual tutors. We also ask high school teachers for referrals to their top students.
Q – What is the screening process for virtual volunteers?
A – Our Community Connections Coordinator with over 20 years working with volunteers, hosts a 25-minute intake interview with the candidate followed by a 30 minute orientation. References by phone from high school teachers are required. Persons 19 and over submit a clear Criminal Record Check to work with vulnerable individuals. Further experiential training continues, including visits to the virtual classroom and review of additional resources.
Q – Why would a young person want to be a volunteer virtual tutor?
A – Individuals volunteer for many reasons. Resume building; practice soft skills; social connections; required hours for university application etc. However, our interviews suggest that some people enjoy helping others, desire to contribute to the development of children and youth, want to make a difference in their community, find fulfilment in giving service and have learned volunteerism leads to a balanced happy life.
Q – Will this tutor service return to face to face meetings?
A – One of the huge benefits of the COVID19 Pandemic is that we have looked at new ways to do things. Using the Zoom online meeting platform, we now reach children in small communities throughout the South Okanagan which we could not do before. In addition we are not constrained to find volunteers locally. We have virtual tutors living in Summerland, Penticton, Coquitlam, Kelowna, Pennsylvania and even as far away as Brazil.
---
How to become a Homework Club Volunteer Mentor?
The need:
The South Okanagan Immigrant & Community Services society constantly assesses needs and offers support to new comers to Canada. We have immigrant parents that are struggling with English and in helping guide their children (ages 5 to 13 years) through homework assignments from school. The children often have sufficient skill in English but need support in subjects such as Math; Reading/Writing; Science & Social Studies.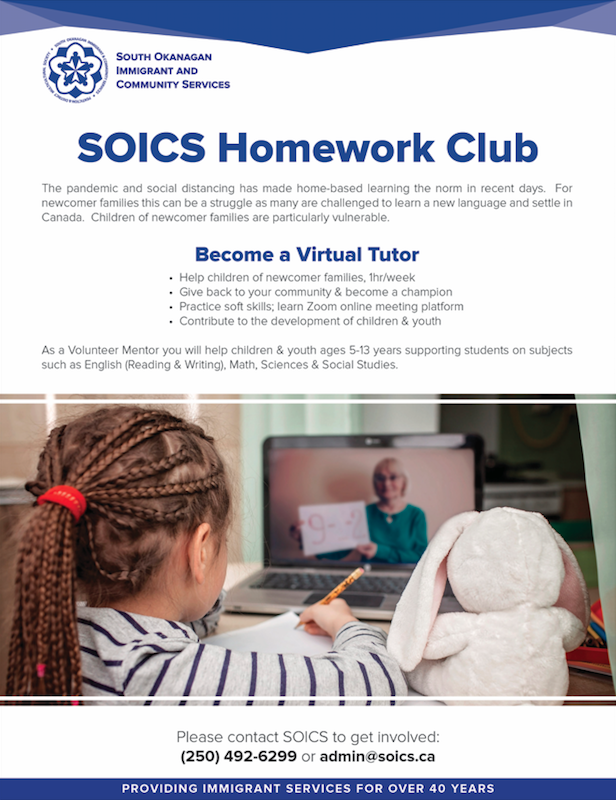 The Initiative and Solution:
We have hosted in-person homework clubs in the South Okanagan, in years past with success. This year with the pandemic and social distancing, we want to use the popular Zoom online meeting platform to host the homework club. Even when the pandemic is over, we see this as a wonderful way to support school students in smaller communities where geography and distance could be obstacles to receiving support.
The Volunteer Mentor role:
You will be a virtual tutor helping children and youth ages 5 to 13 with their homework, in one on one sessions (break out rooms) using the zoom online meeting platform. As Community Connections Coordinator of SOICS, I will host the weekly meeting and support you and other tutors working one on one with students as they complete school homework assignments. Parents are required to be present for these tutor sessions but with minimal English skills, may not be able to help.
Requirements:
• Enjoy helping children and youth age 5 to 13 years
• Available for 30 min. – 1 hour / week, probably early afternoon
• Willing to learn the zoom online meeting platform ( we can help train you)
• Computer, webcam, working microphone, speakers [built in is fine]
• Friendly, able to Interact with parent of student even with limited english.
• Able to work independently and in a supervised setting
Screening requirements:
• Online interview/orientation with myself (30 minutes)
• Criminal record check (CRC) for those 18 years and older.
• Three character references
Benefits:
• Contribute to the development of children and youth
• Become a community champion as a volunteer
• Practice soft skills; learn Zoom online meeting platform