Saturday, 25th February, SOICS is hosting this year's event at the Penticton Lakeside Resort. Festivities begin at 11:00am and continue until 6:00pm. More than 18 countries will be represented by way of 10 entertaining performances, food vendors preparing 12 international cuisines, 8 information booths exhibiting cultural nuances, merchandise vendors showcasing artifacts and crafts from 6 different countries, and a local artist leading several interactive art projects. SOICS aims to bring together various cultural groups and local community organisations at this festival portraying fundamental elements of the rich cultural tapestry that is the South Okanagan-Similkameen. Visit our Facebook event page and invite friends and family to come out and enjoy the day with us. The activities are designed to engage you in a memorable experience. Penticton Lakeside Resort has generously offered their space to host this prestigious event in their newly renovated Ballrooms. To participate in the OneWorld Multicultural Festival as a merchandise vendor and highlight your culture, please contact (250) 492-6299.

OneWorld Festival on PhotoPeach
In partnership with the Downtown Penticton Association (DPA), SOICS hosted the 2nd Annual OneWorld (Multicultural) Festival on Saturday, March 7th at Orchard House. This year the festival was condensed to a one-day event divided into morning-afternoon festivities followed by an evening Bollywood dance party. SOICS partnered with the DPA and took the lead in organizing the morning-afternoon event. We contacted clients to participate as food or merchandise vendors and performers. We then invited participants to celebrate their native cultures through music, craft, storytelling and other educational means appropriate to a small festival. SOICS also encouraged its clients to wear their traditional dresses while they were attending the festival. Staff volunteered at the event to support our clients who were first time vendors/performers. The SOICS' flag collection was on full display and was a hit with guests who were immigrants or children of immigrants. Many were admiring the national flags of 40 different countries and wrapped themselves with the fabric to take pictures. In addition Sprott Shaw displayed a map of the world on which they asked attendees to place a pin indicating where they were from. This provided a visual display of diversity within the community. The event presented a great opportunity for guests to discover new flavours of international cuisine, enjoy traditional folk songs and dances and learn about diverse artifacts and crafts. Visitors are able to gain transformational benefits mostly from social experience at the multi-cultural level. It was also an opportunity to discover how many diverse cultures we have in this region and how to celebrate them all under one roof.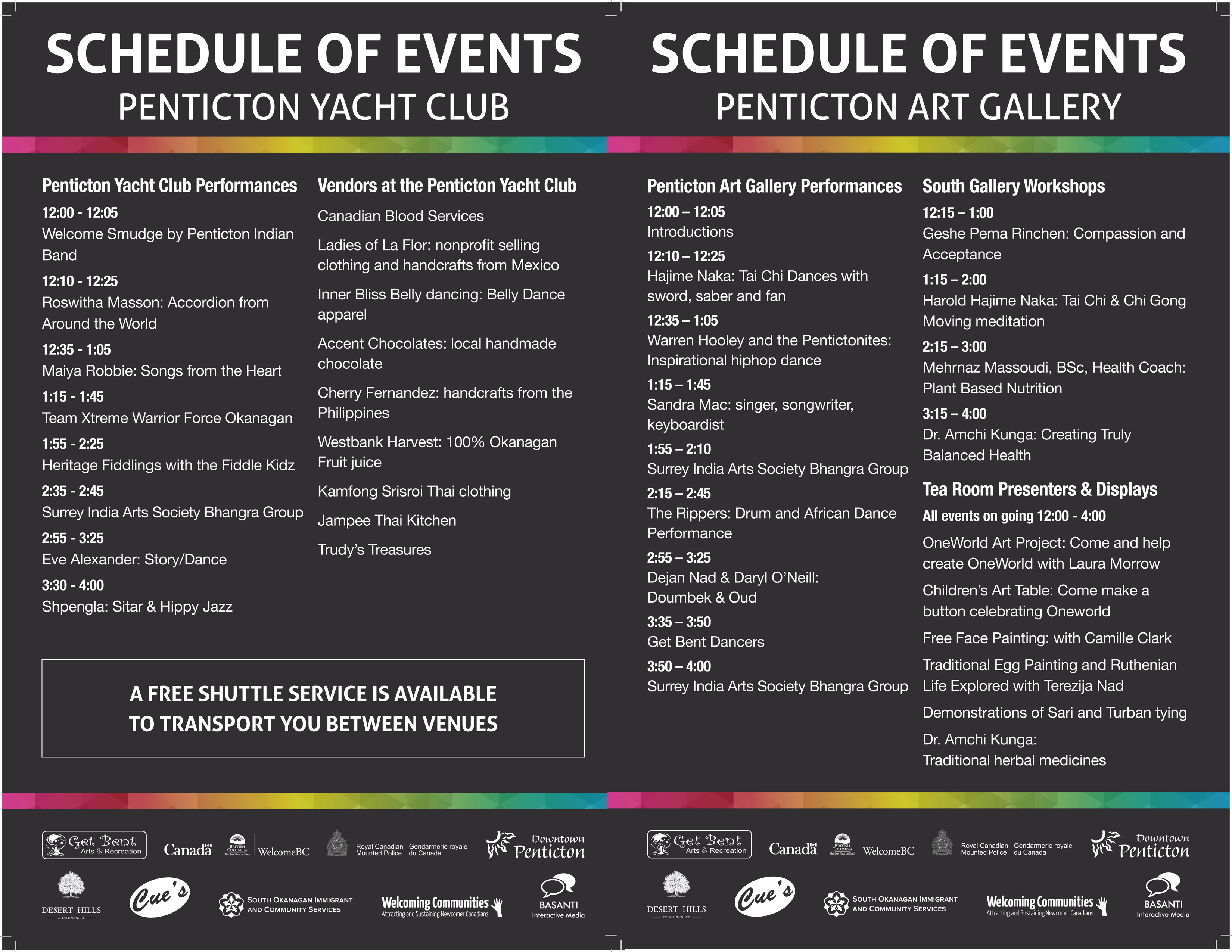 In 2014, SOICS sponsored the 1st Annual OneWorld Festival in Penticton. The Downtown Penticton Association (DPA) took the lead in organizing a month long celebration. To advance the goals of creating a welcoming image in Penticton, the committee decided to take advantage of local culture and values and create a month long event. The primary goal behind the sponsorship was to raise the bar for how the community attracts and sustains newcomer Canadians thus adding that the celebratory approach of OneWorld would help people learn more about other cultures in the community. During the month of February, Penticton celebrated multiculturalism through entertainment, cooking lessons in restaurants, dance, workshops, storytelling and more. The month of February was divided up into blocks, with each one celebrating a different culture or area of the world. OneWorld commenced on February 1st by celebrating Black History Month, with screening international films in the Penmar Community Arts Society Theatre and local wineries were on hand to serve some of the area's finest varietals along side local cultural cuisine. In week two, the lunar New Year and Asian culture were the theme; week three focused on Africa and Europe, and then North and South America were the highlights of week four. During the last week of February there was a projection art project that entailed projecting local artists along with their art on to buildings in the 200 block of Main Street at night. The month-long festival wrapped up on March 1st by celebrating South Asian cultures which included a visit from a Tibetan monk, Tai Chi dance with sword & Chi Gong moving meditation, Belly dancing, Dhol (drumming) performances and Bhangra dancing.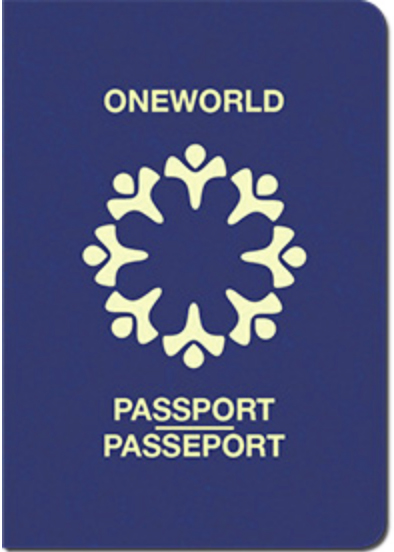 Individuals were encouraged to collect a OneWorld Passport from DPA or SOICS. They would then take this to participating businesses where they would receive a stamp in their passports. This would then entitle them to great specials and savings during the entire month increasing their chances of winning the grand prize in a draw at the end of the month.