Welcome to the 8th Annual OneWorld Festival where you can experience the world through what you see, hear, taste, and touch. With over ## different countries represented by new and settled immigrants living and working in the region. Join us as we celebrate the diversity of the South Okanagan Similkameen.
Event Schedule
08:00 - Welcome Blessings - Grace Greyeyes
---
09:00 - Okanagan Song - Anona Kampe
---
10:00 - Mens Traditional Dance - Tyrone Kruger
---
11:00 - Jingle Dress Dance - Nicole Schellenberg
---
12:00 - Vuya Kaya
---
13:00 - Irish Dancers by Castilla School of Irish Dance
---
14:00 - Emily Mcdonald's School of Highland Dance
---
15:00 - Cooking Demo - Tracy Kim Bonneau
---
16:00 - Cooking Demo - Maria Al Louaissi
08:00 - Cooking Demo - Flocerpida Fernandez
---
09:00 - Reading - Teach Your Dragon About Diversity by Steven Harmon
---
10:00 - Project Vandal - OneWorld Youth Crew
---
11:00 - Reading - Speak Up by Miranda Paul
---
12:00 - Drumming - Kelowna Mabiko
---
13:00 - Traditional Chinese Dance by OCCA Communities Association
---
14:00 - Henna Demo
---
15:00 - Sparkle Dance Academy
---
15:00 - Diversity Video - SOICS
International Food & Merchandise Vendors
World Music & Dance Performances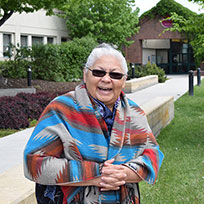 Grace Greyeyes
Grace Greyeyes
Grace has a passion for education that has shown throughout her career. Her career started in nursing and spanned more than 35 years in Canada and the U.S. She has continued to work within her passion as a volunteer, advisor, Elder, and Aboriginal knowledge keeper in the South Okanagan. Most recently Grace has volunteered with the Penticton Indian Band's Grandma program, which provides support to local elementary, middle and high school students, and founded the Penticton Indian Band's Snpinktn Elders Socie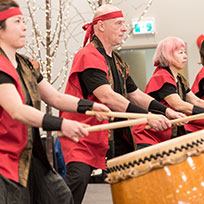 Kelowna Mabiko
Kelowna Mabiko
We are Yamabiko Taiko from Kelowna B.C. Our group was formed in 2003. We are Japanese drumming group spreading the love of music and culture throughout the interior of B.C.
Today, we are presenting three songs. Ogi matsuri matsuri taiko a well known festival songs from Japan. Next is Shigure it means light rain. Composed by Art Lee The last piece is Pop. Also composed by Art Lee. We hope you enjoy the performance. I hope everyone will stay safe and hope to see you all in person near future!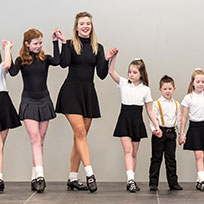 Castilla School of Irish Dance
Castilla School of Irish Dance
Community, Culture & love of the Rince. Castilla Irish Dance. Ciara began dancing at the age of 5 with the kids from the local Irish Society in Kelowna, BC, with the first Irish dance teacher in the Okanagan valley, Ethna Tutt. Ethna taught recreational Irish dance classes for many years, fostering the love of Irish culture, music & dance with all of her students. Eventually Ciara had the opportunity to dance competitively with the Blakey School, and competed at the highest level - qualifying for & dancing at the World championships, North American Championships, and European Championships.
Ciara achieved her TCRG certification in 2011 and is a member of An Coimisiún le Rincí Gaelacha. She has been teaching Irish dance in Penticton since 2009 and opened the Castilla School of Irish dance in 2018.
Online:
www.castillairishdance.com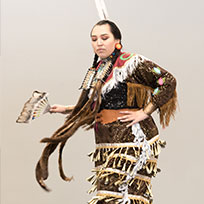 Nicole Schellenberg
Nicole Schellenberg
Hi, my name is Nicole Schellenberg I am a Native American from the Ulkatcho Indian band. I traditionally dance old style jingle, old style jingle is a sacred medicine dance that was used for prayers and when people were sick. A traditional old style jingle dress had 366 jingles on it for every day of the year and myself.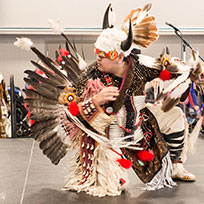 Tyrone Kruger
Tyrone Kruger
Hi my name is Tyrone Kruger I am a Native American from the Penticton Indian band and I dance men's traditional dance. Men's traditional dance is storytelling dance for the men that came back from a battle, after battle they would re-in act what happened out on the field and this was one of the first dance in powwow that were given to us.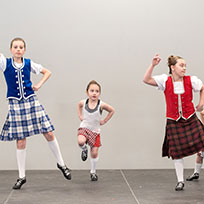 Emily Mcdonald's School of Highland Dance
Emily Mcdonald's School of Highland Dance
We are Penticton's home for Scottish Highland Dancing for all dancers, new and experienced, from ages 3 to adult!
Online:
www.emcdonalddance.ca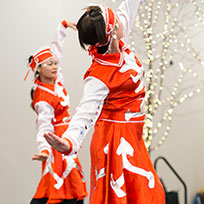 OCCA Communities Association
OCCA Communities Association
Okanagan Communities Association (OCCA)'s goal is to promote the mutual understanding, respect, and acceptance among diverse communities in the Okanagan, to build partnerships with all levels of governments and, to encourage and facilitate the full participation of immigrants and descendants in the social, cultural and economic life of the Okanagan region.
Our performance introduces:
1. Qi Pao Dance: These are Chinese traditional dance. Qi Pao is a traditional costume of Chinese women, known as the quintessence of China and the national costume of women. At old times women wear it all the time, now the women ware it most at the event or holiday.
2. Mongolia dance: This dance is traditional dance of Mongolia, it shows wild geese fly freely in the sky.
3. Pretty women: This dance is from east-north China. It is showing the pretty women with happiness.
Online:
www.occabc.ca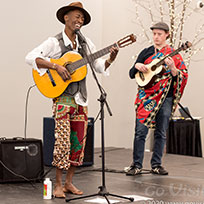 Dino Matias
Dino Matias
My band is called "Vuya Kaya" meaning "Come Home" I sing mostly in my mother tongue called shangana (Mozambique). Our style of music is Afro Jazz and traditional Southern African influences. The band has 5 members. Dino Matias (Vocal & guitar); Dejan Naj (Drums & percussion); Thomas Sorensan ( keyboard) and Phil d'Aoust (bass). We started playing together almost 5 years ago.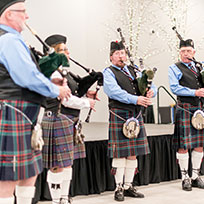 Summerland Pipes & Drums
Summerland Pipes & Drums
Summerland Pipes and Drums is a local band that draws close to 20 pipers and drummers from Kelowna to Osoyoos. Our emphasis is enjoying highland bagpipe music and at times we incorporate other genres of music into our repertoire. We perform at community events, parades and non-competing band events in the Okanagan Valley. The Summerland Legion generously provides us with a venue to practice in and for that we are very grateful. Anyone interested in joining the band can contact us through the Summerland Legion.
Online:
www.facebook.com/summerlandpipeband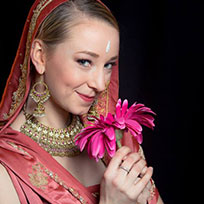 Sparkle Dance Academy
Sparkle Dance Academy
Sparkle Dance Academy has been celebrating world dance for 17 years. A recent highlight saw owner Wendy Goudie and colleague Elaina Collis tour through India performing 17 shows, in 8 cities, over 1 month. In addition, the pair studied with various teachers at the country's top dance institutes. They returned home to Canada with much to share. Elaina has been running Sparkle Dance Academy in Vancouver for 3 years.
COVID has changed the path of our studio, we have moved our classes online and while this transition was challenging, it has shown us how accessible the world of dance truly is. Since March, there have been opportunities like never before, to deepen our study via video and live chat with teachers in India, as well as take part in online shows, both locally and internationally.
All of us at Sparkle Dance wish to thank SOICS for the opportunity to share our joy, passion, and love for Bollywood dance, and India.
Online:
www.sparkledance.ca
Anona Kampe
Anona Kampe
Anona is a member of the Penticton Indian Band in the Okanagan Nation. Anona has worked within the Nation sharing Okanagan culture with schools, museums, youth groups and government entities. Anona's traditional name is sknir'mən, which translates to Buttercup. She is a singer, drum carrier, beadworker, storyteller, dancer, teacher, harvester, disciplinarian, knowledge keeper, future elder in training, water protector and a woman who follows Okanagan protocols.
Interactive Demos & Cultural Ambassadors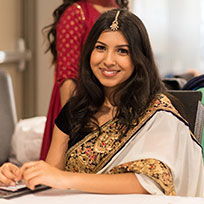 Aasfi Sadque
Aasfi Sadque
Aasfi is a 19 year old immigrant from Bangladesh. She is currently enrolled at the University of Toronto and hopes to be a lawyer in the future.
OneWorld Performance:
Henna is known as Mehndi in India. It is a tropical shrub whose leaves when dried and ground into paste, give out a rusty-red pigment that is associated with positive spirits and good luck in Indian Culture. Henna is very important part of many Indian celebrations, such as Diwali, Karwa Chauth and weddings.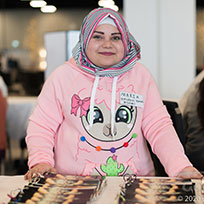 Maria Al Louaissi
Maria Al Louaissi
Maria is originally from Syria and came to Canada in 2016. She currently lives in Oliver, BC with her mother, younger brother and his wife. This is Maria's second time participating in OneWorld Festival and she is very excited to share some recipes from her home country with everyone.
OneWorld Performance:
Qatayef and Ful (Syrian Fava Beans)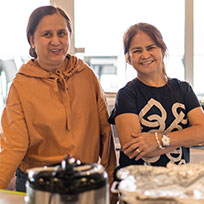 Floceripida Fernandez
Floceripida Fernandez
OneWorld Performance:
Lumpia / Pancit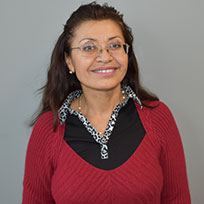 Yolanda Alvarez Quevado
Yolanda Alvarez Quevado
Yolanda Alvarez was born in Chile. In 1996, she moved to Canada with her three sons. Initially they moved to Quebec City, Quebec where they lived for 20 years. She has reoriented her professional life and is now working as an ECE assistant (Early childhood educator) at both the Elementary Entre-Lacs School and at SOICS in the Childminding Department.
OneWorld Performance:
Speak Up by Miranda Paul, a book that follows a diverse group of kids as they discover so many different ways to speak up and make their voices heard.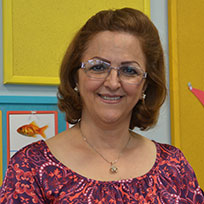 Azam Ghasemi
Azam Ghasemi
Azam was born in Tehran, Iran. She moved to Canada 2013. Azam knows that it can be very difficult to live in a place where you don't know the language and culture, among the other difficulties of being a newcomer. She has displayed strength in starting her new life in Canada, and patience too, which has helped her achieve her goals and discover many experiences. She likes living in the Okanagan Valley. She feels she has met a lot of people who are very kind and help her to get more acquainted with the culture here. She also enjoys working as a Childminder at SOICS.
OneWorld Performance:
Teach Your Dragon About Diversity by Steve Harmon, a book that emphasizes that people are people and we are all the same inside. Our differences, whether they be our appearance, our gender, or our beliefs, should be celebrated; they are what make this world so beautiful.
Tracey Kim Bonneau
Tracey Kim Bonneau
Tracey is a media artist, journalist, documentary filmmaker and professional writer with 25 years of experience managing projects in the multimedia field. As a member of the Syilx Nation (known to the Western world as the Okanagan Nation), Tracey was born and raised on the Penticton Indian Reserve in British Columbia. Tracey lived through the years of conflict after the Oka crisis in Quebec, when the Penticton Indian Band rose to political prominence as a leading force in the aboriginal rights movement in Canada during the Green Mountain Road standoff. Quest Out West: Wild Food came about because of Tracey's love for gathering and preparing traditional foods from the Okanagan Nation where she grew up on a farm on remote Shingle Creek Road near Penticton, BC. She remembers the romance of the farmhouse, lit by a coal oil lamp flickering on the kitchen table, the smell and sound of sizzling venison on the stove, and the aroma of homemade peach cobbler, surrounded by the laughter of family and friends. Tracey's love for preserving food and preparing hearty dishes began on the farm, and now continues on APTN's Quest Out West: Wild Foods program.
OneWorld Performance:
Grilled Salmon with Quick Saskatoon Berry Pan Sauce and Grilled Peaches with Brown Sugar Balsamic Glaze.
Online:
www.wildfoodwest.com