Welcome to the 9th Annual OneWorld Festival where you can experience the world through what you see, hear, taste, and touch. With over 35 different countries represented by new and settled immigrants living and working in the region. Join us as we celebrate the diversity of the South Okanagan Similkameen.
Join the conversation and watch the OneWorld Festival 2022 on the SOICS YouTube Channel by clicking HERE
Event Video Premiere Schedule
International Food & Merchandise Vendors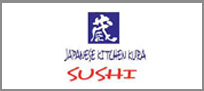 Japanese Kitchen Kura
10% off at lunch time (11:30 AM - 3:00 PM) when customers mention OneWorld Festival
Japanese Kitchen Kura
​Japanese Kitchen Kura is conveniently located at the centre of City of Penticton, British Columbia in South Okanagan. Our Chef was trained in Japan and owned a Izakaya (Tapas type) restaurant in Shiga, Japan for 10 years. Come and enjoy our authentic healthy Japanese food in a casual atmosphare. We offer take-out as well. Looking forward to seeing you soon!
Address:
1445 Main Street Penticton, BC
(778) 476-1138
Online:
www.japanesekitchenkura.com
www.facebook.com/japanesekitchenkura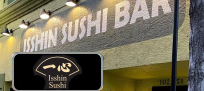 Isshin
OneWorld Combo: Veggie Salad Roll, Veggie Futomaki, Prawn and Smoked Batter - $20. Home made salad dressing / Home made spicy mayo - $4.50 each
Isshin
Isshin has been a family owned restaurant for 2 decades. Sushi Chef, Kazunori Yoda was born and raised in Saitam, Japan. He has always been obsessed with cooking ever since his childhood. He worked as a chef at the hotel in Tokyo before coming to Canada in 1993 where he started to work as a sushi chef in a popular authentic Japanese restaurant in Burnaby. In 2010 Isshin moved to its current location on Front street in Penticton to accommodate more than 60 seats. Since then, Chef Kazunori has maintained the traditional Japanese taste of sushi when introducing more variety of Asian dishes. Come and check out our new menu items. You will find more cocktails on the menu as well. Come and join us!!
Address:
102-151 Front St, Penticton, BC
(250) 770-1141
Online:
www.isshinsushi.ca
www.facebook.com/isshin-sushi-bar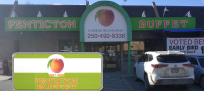 Penticton Buffet
10% off all orders (excluding combos) when customers mention OneWorld Festival
Penticton Buffet
Penticton buffet features a large variety of all your favourite dishes, seasonal and special surprises and delights. Over the years, it has become a popular destination to enjoy a special occasion with friends and family, and for resort guests, it's a proven crowd-pleaser.
Address:
2987 Skaha Lake Rd, Penticton, BC
(250) 492-8338
Online:
www.pentictonbuffet.com
On the day of the festival (Feb. 26), go out and support the local immigrant-owned businesses above and be sure to mention the "OneWorld Festival" to receive the special pricing!
World Music & Dance Performances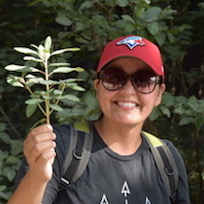 Anona Kampe
Anona Kampe
Anona is a member of the Penticton Indian Band in the Okanagan Nation. Anona has worked within the Nation sharing Okanagan culture with schools, museums, youth groups and government entities. Anona's traditional name is sknir'mən, which translates to Buttercup. She is a singer, drum carrier, beadworker, storyteller, dancer, teacher, harvester, disciplinarian, knowledge keeper, future elder in training, water protector and a woman who follows Okanagan protocols.
Performance:
"Traditional Okanagan Song"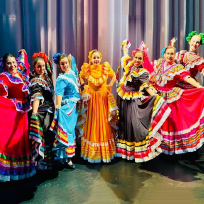 Okanagan Mexican Folklore
Okanagan Mexican Folklore
Okanagan Mexican Folklore Group was formed in 2012. At the time there was no other group representing Mexico in Kelowna and the surrounding areas and the Latino community was very small. This group started with only 2 members, who were happy to share a bit of their culture from the country they call home. A few years later, more and more members began to join, this included both adults and younger girls and continued until the group reached 12 members. These 12 members very proudly have the pleasure of presenting this little piece of Mexico to all of you.
Performance:
Okanagan Mexican Folklore - In Mexico, traditional Mexican dance combines elements of its rich history and indigenous heritage. It is a stunning display of colour and upbeat music.
Address:
#72-600 Boynton Pl Kelowna BC V1V 3B8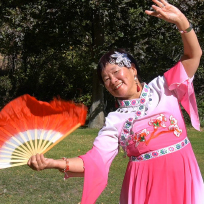 OCCA Communities Association
OCCA Communities Association
Okanagan Communities Association (OCCA)'s goal is to promote the mutual understanding, respect, and acceptance among diverse communities in the Okanagan, to build partnerships with all levels of governments and, to encourage and facilitate the full participation of immigrants and descendants in the social, cultural and economic life of the Okanagan region.
Performance:
1. "Chinese Tai Chi Fan" is created by mixing Tai Chi Boxing and Chinese fan dancing, so it has the dual style of boxing and fan dance.
2. "Colorful clouds chasing the moon" is a famous collection of Chinese Guangdong music. Its style is light and unique. It describes the freedom and relaxation of ordinary people's life and highlights the typical style of Guangdong folk music.
3. "The Moon PALACE" is a Chinese Classical Dance. It is related to Ancient Chinese legends-The story of Chang'e. Chang'e is a very beautiful girl who is sent to live on the moon. However, she does not forget the deep love she has for a man named Hou Yi on earth.
4. "Xiao Bu Shao" is a very representative Chinese folk dance-Dai dance! Xiao Bu Shao means little girl in Dai language. This dance uses Dai-style costumes and Dai dance moves to show the beautiful Dai girls with a soft and lyrical melody and a lively and cheerful rhythm.
Accompanied by the music "Under Paris Skies" is the tale of "Butterfly Lovers". This is an ancient Chinese tale of love between Liang and Zhu. As typical of these stories, they are in love with each other but the marriage is not allowed due to the difference in their social rank and wealth. They die and re-emerge as butterflies, always dancing happily through the sky together.
Online:
www.occabc.ca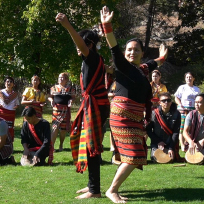 BIBAK Okanagan Dancers
BIBAK Okanagan Dancers
BIBAK OKANAGAN was organized and formed in October 2020 in Kelowna, British Columbia. BIBAK, is the acronym of the name of the provinces of Cordillera, Philippines - Baguio/Benguet, Ifugao, Bontoc/Mountain Provice, Abra and Kalinga Apayao. BIBAK OKANAGAN has the mission to unify and strengthen the Filipino Igorot people in the Okanagan in the preservation and enhancement of their cultural heritage. "We believe that as we dance with our gongs, the young igorots (indigenous) will continue to inspire and eventually be known to the community of the Okanagan and be a symbol of hope in everyone's life, that despite any circumstances the willingness to help and support will prosper."
Performance:
1. The pat-tong – the dancers animate the ceremonies, feast and everyday living through flipping of the hips and tapping of the feet. This dance is commonly accompanied by the gongs and other native instruments. The dancer's attire of different colors represent the different provinces of the Cordillera in the Philippines.
2. The Tupayya or salidsid – this is the courtship dance originally from Kalinga that symbolises the rooster trying to attract the attention of the hen. This is performed and portrayed by both male and female dancers as the rooster and hen respectively. The dance starts when each of them are given a "piece" of cloth known as the "ayob" or "allap".
Online:
www.facebook.com/groups/3431407980256991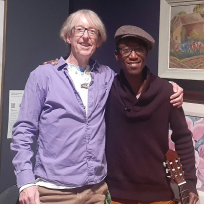 Vuya Kaya
Vuya Kaya
Dino's band is called "Vuya Kaya" meaning "Come Home". He sings mostly in his mother tongue called Shangana (from Mozambique). Their style of music is Afro Jazz and includes traditional Southern African influences. The band has 5 members. Dino Matias (Vocals & Guitar); Dejan Naj/Steve Mcfee (Drums & Percussion); d'Aoust (Bass). Thomas Carney (Guitar). The band started playing together almost 5 years ago.
Address:
477 Bennet Ave, Penticton BC V2A 2P7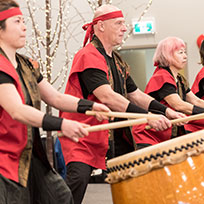 Kelowna Yamabika Taiko
Kelowna Yamabika Taiko
Yamabiko Taiko is from Kelowna B.C. Their group was formed in 2003. They are Japanese drumming group spreading the love of music and culture throughout the interior of B.C.
Performance:
Kelowna Yamabika Taiko will be presenting three songs. They are Doko kara by Yuta Kato then Umino Taiko by Dengaku Za and the last piece is Tenchi by Hisashi Kitahara.
Address:
780 Kerry Lane, West Kelowna V1Z 1P1
Online:
www.yamabikotaiko.ca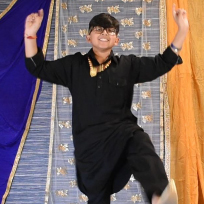 Divtej Singh Thind
Divtej Singh Thind
Divtej Singh Thind is 11 years old and is grade 6 at a middle school here in the South Okanagan. He is learning Bhangra from Shan-E-Punjab in Kelowna.
Performance:
Bhangra - Bhangra is a traditional folk dance of the Indian Subcontinent. In this group dance, several dancers dance together, singing short songs with the beat of drum. In old times, after harvesting their wheat crops during Vaisakhi season, farmers used to attend a cultural festival while dancing bhangra. In the past half century, bhangra has been established all over the world. With the passage of time, bhangra has included moves from other folk dances such as luddi, jhumar, and dhamaal etc.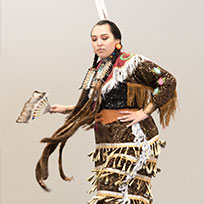 Nicole Schellenberg
Nicole Schellenberg
Nicole Schellenberg is a member of the Ulkatcho Indian band. She traditionally dances old style jingle. Traditionally, the Jingle Dress is a prayer or medicine dance to help heal afflicted people.
Performance:
Old Style Jingle - Old style jingle is a sacred medicine dance that was used for prayers and when people were sick. "A traditional old style jingle dress had 366 jingles on it for every day of the year and myself."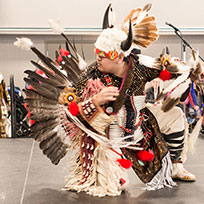 Tyrone Kruger
Tyrone Kruger
Tyrone Kruger is a member of the Penticton Indian band. He dances the men's traditional dance, which is a storytelling dance that the men would perform to tell stories of hunting, tracking, and fighting.
Performance:
Mens Traditional Dance - Men's traditional dance is storytelling dance for the men that came back from a battle, after battle they would re-in act what happened out on the field and this was one of the first dances in powwow that was given to them.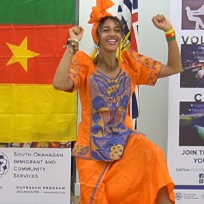 Sunshine Smiles Studio
Sunshine Smiles Studio - Donna and Joelle Mbamy
Performance:
Zumba - This particular performance takes inspiration from a fusion of traditional music and Afro beats including those from Joelle & Donna's home country Cameroon.
Address:
49 Main Street Penticton, BC, V2A 5E1
Interactive Demos & Cultural Ambassadors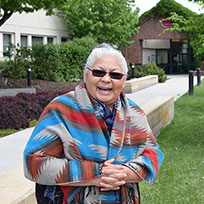 Elder Grace Greyeyes
Elder Grace Greyeyes
Grace has a passion for education that has shown throughout her career. Her career started in nursing and spanned more than 35 years in Canada and the U.S. She has continued to work within her passion as a volunteer, advisor, Elder, and Aboriginal knowledge keeper in the South Okanagan. Most recently Grace has volunteered with the Penticton Indian Band's Grandma program, which provides support to local elementary, middle and high school students, and founded the Penticton Indian Band's Snpinktn Elders Society. Grace is also a long-time supporter of the South Okanagan Immigrant and Community Services in our diversity and inclusion efforts.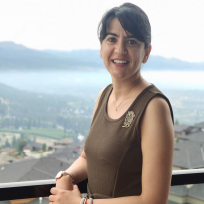 Sugun Kaura
Sugun Kaura
Sugun is a new immigrant from India, who came to Canada in 2020. She is currently working with SOICS as she wants to help immigrants like herself integrate better in the communities. Sugun has a passion for upcycling materials into beautiful crafts and creative treasures. She is also a self-taught Henna artist and plans to pursue Henna art as a business. You can follow Sugun on her Instagram handle @the.henna.republic to see more of her art work.
OneWorld Demonstration:
Henna is also called Mehendi in Punjabi. From ancient times Mehndi has been used for its medicinal value, aesthetic value and its aroma. It is such an integral part of our culture and tradition, that in the Indian subcontinent, there is a special pre wedding ceremony called Mehndi party/ceremony. It is typically held a day before the wedding and during this time mehndi is applied to the bride's hands and feet.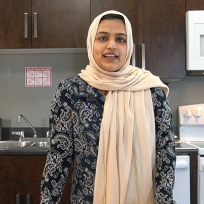 Asma Maaz
Asma Maaz
***
OneWorld Demonstration:
Biryani is a mixed rice dish originating from the Indian Subcontinent. The word Biryani is an Indo-Aryan word derived from the Persian language, used by various Islamic dynasties. The dish is made with Indian spices, rice, and any kind of meat that can be Chicken, goat, or lamb. Some say that the roots of this recipe lie with the Mughal era or the Mughlai cuisine but this dish is loved and prepared in all cultures across India. The most famous variation of Biryani is the Hyderabadi Dum Biryani where the meat is marinated and cooked along with the rice; on a slow fire or dum to release their maximum flavour and make it fragrant and aromatic. Traditionally it is cooked in a clay pot called 'handi', put over a low flame and the lid is sealed with dough so that the ingredients are cooked in their juices slowly and the food retains its natural aromas.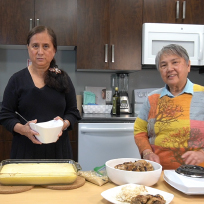 Flocerpida Fernandez & Lolita De Guzman
Flocerpida Fernandez & Lolita De Guzman
In celebration of the OneWorld Multicultural Festival, Flocerpida Fernandez is making two traditional Filipino dishes with her longtime friend Lolita De Guzman. The pair will be demonstrating how to make Chicken Adobo and Cassova Cake, two popular dishes in their culture. Both women immigrated from the Philippines to Canada where they have raised their families to appreciate and celebrate both countries cultures. Today, they continue their teachings by sharing history and cultural information about the Philippines while they show you how to make traditional Filipino food at home.
OneWorld Demonstration:
Cassava Cake is a Pinoy dessert best served cold and it is very easy to make! Chicken Adobo is a popular marinated chicken dish that is sometimes considered the unofficial national dish in the Philippines.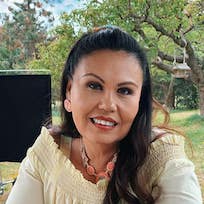 Tracey Kim Bonneau
Tracey Kim Bonneau
Tracey Kim Bonneau (Syilx) is the Manager of Arts Culture and Adult Higher Learning at the En'owkin Centre located in on the Penticton Indian Band Reserve. Tracey is an award winning television documentary director, writer and producer. Her expertise is building highly effective teams and designing multi-platform digital projects. Tracey's highly successful production company 'Of the Land Productions Inc.' specializes in capacity building and training. Tracey is also a veteran free-lance journalist in print, radio and television with a career spanning over thirty years. Her freelance portfolio includes the publications: Aboriginal Voices, Wind-Speaker, Ravens Eye, CBC Radio-One, Peach City Radio, Global Okanagan, PBS KCTS and APTN National news. Tracey's documentary series 'Quest OutWest Wild Food Season' was nominated in four categories for Leo Awards in 2016 and in 2018 Tracey was awarded the Aboriginal Business Excellence Award from the Penticton Chamber of Commerce.
OneWorld Demonstration:
Roasted Okanagan Beetroot Organic Garlic Hummus Grilled Chicken Breasts with Honeydew Salsa.

Find the recipes online here: www.wildfoodwest.com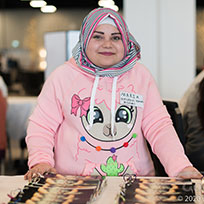 Maria Al Louaissi
Maria Al Louaissi
Maria is originally from Syria and came to Canada in 2016 with her family. She currently lives in Oliver, BC. Maria loves to cook Syrian cuisine and to share her culture with those around her. Previously, Maria and her friend Inza developed an international cookbook called 'Easy World Recipes' under the group name 'Helpful Hands Kitchen'. The cookbook was introduced at the OneWorld Festival and has been growing in popularity ever since. Purchase your copy of 'Easy World Recipes' today by contacting Helpful Hands Kitchen on Facebook. Maria is excited to once again be involved in the festival, and to host you in the virtual OneWorld Kitchen for her demonstration of how to prepare Chicken Shawarma. In the future, she hopes to open a Syrian restaurant where she will have an opportunity to cook for you in-person and introduce you to more Syrian culture through delicious cuisine.
OneWorld Demonstration:
Shawarma is a very popular dish in Syria. There are two kinds of shawarma beef and chicken and Maria will be demoing the one with chicken.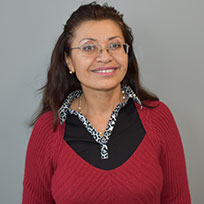 Yolanda Alvarez Quevado
Yolanda Alvarez Quevado
Yolanda Alvarez was born in Chile. In 1996, she moved to Canada with her three sons. Initially they moved to Quebec City, Quebec where they lived for 20 years. She has reoriented her professional life and is now working as an ECE assistant (early childhood educator) at both the Elementary Entre-Lacs School and at SOICS in the Childminding Department.
Book:
Eyes That Kiss in the Corners by Joanna Ho (Author) & Dung Ho (Illustrator) -- This lyrical, stunning picture book tells a story about learning to love and celebrate your Asian-shaped eyes, in the spirit of Hair Love by Matthew A. Cherry, and is a celebration of diversity. A young Asian girl notices that her eyes look different from her peers'. They have big, round eyes and long lashes. She realizes that her eyes are like her mother's, her grandmother's, and her little sister's. They have eyes that kiss in the corners and glow like warm tea, crinkle into crescent moons, and are filled with stories of the past and hope for the future.
Azam Ghasemi
Azam Ghasemi
Azam was born in Tehran, Iran. She moved to Canada 2013. Azam knows that it can be very difficult to live in a place where you don't know the language and culture, among the other difficulties of being a newcomer. She has displayed strength in starting her new life in Canada, and patience too, which has helped her achieve her goals and discover many experiences. She likes living in the Okanagan Valley. She feels she has met a lot of people who are very kind and help her to get more acquainted with the culture here. She also enjoys working as a Childminder at SOICS.
Book:
The Proudest Blue: A Story of Hijab & Family by Ibtihaj Muhammad (Author), Hatem Aly (Illustrator) & S. K. Ali -- A powerful, vibrantly illustrated story about the first day of school--and two sisters on one's first day of hijab--by Olympic medalist and social justice activist Ibtihaj Muhammad. With her new backpack and light-up shoes, Faizah knows the first day of school is going to be special. It's the start of a brand new year and, best of all, it's her older sister Asiya's first day of hijab--a hijab of beautiful blue fabric, like the ocean waving to the sky. But not everyone sees hijab as beautiful, and in the face of hurtful, confusing words, Faizah will find new ways to be strong. Paired with Hatem Aly's beautiful, whimsical art, Olympic medalist Ibtihaj Muhammad and Morris Award finalist S.K. Ali bring readers an uplifting, universal story of new experiences, the unbreakable bond between siblings, and of being proud of who you are.