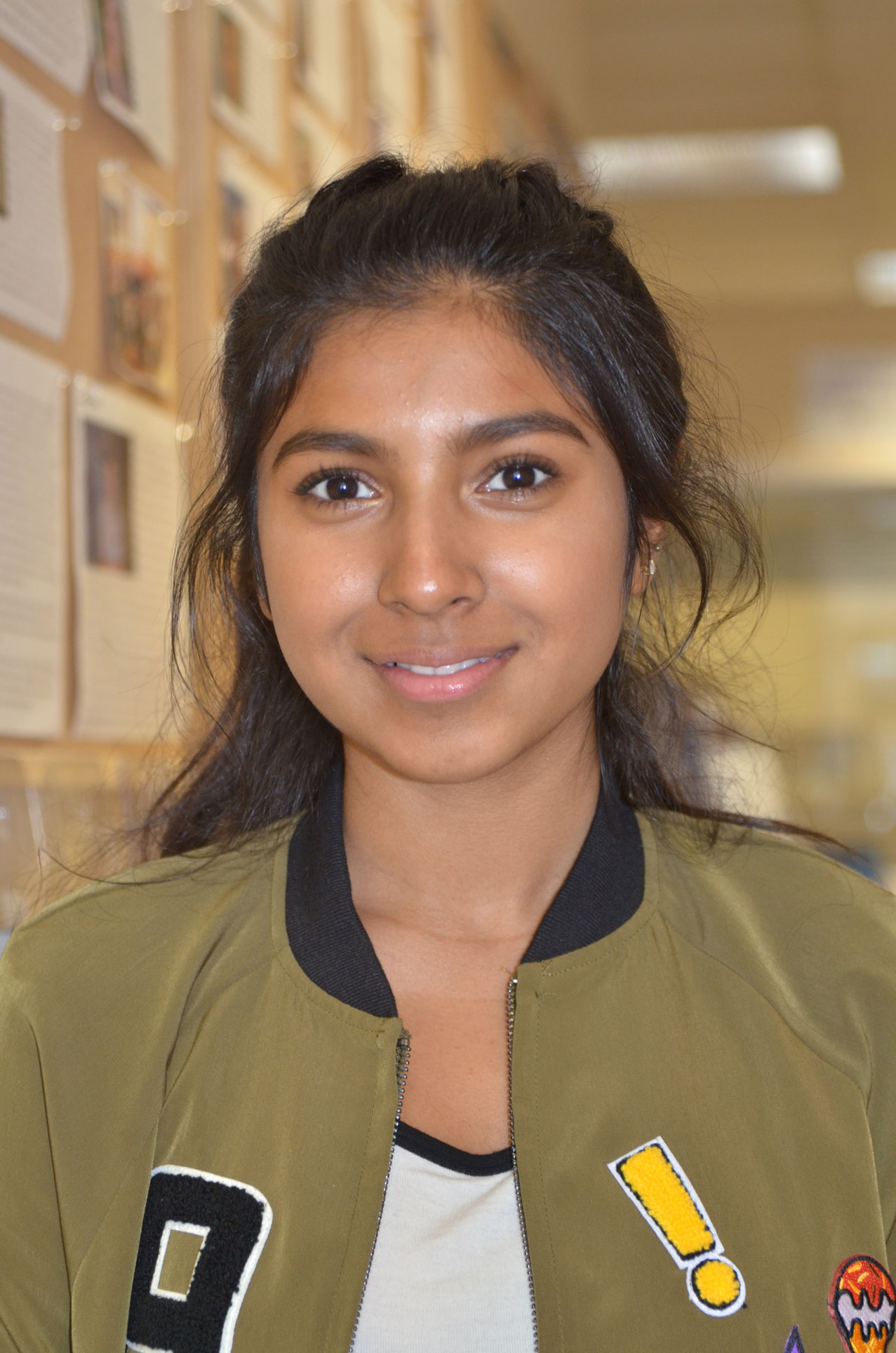 Aasfi Sadeque, born in Dhaka, the roaring metropolis of Bangladesh, relocated to Canada at the age of eleven and made it her purpose to thrive and prosper in this foreign land. She enrolled in Tait Elementary in grade 5 and quickly became accustomed to the culture and adapted to Canadian society, all while maintaining good grades and athletic commitments.
After a year of residing in Richmond, she and her family moved to Penticton, B.C. It's graded hills and serene lakes gave the valley a certain mythological semblance that she found irresistible. It was as if she had been transported into one of the fictional lands within the books she loved so dearly. At McNicoll Park Middle School, Aasfi repeatedly won awards for academics, community service and athletics. She participated in numerous volunteering initiatives in and outside of school, such as Toys for Tots, creek clean ups and breakfast club. She travelled to Vancouver with her classmates in 2014 to partake in We Day, which was an amazing, eye-opening trip that really helped fortify her desire to make a change. From the very beginning of grade 9 at Pen high, Aasfi has worked relentlessly with the leadership class to make the community better with events like health week, which promotes a healthy lifestyle for all students. She has spent almost 40 hours after school at McNicoll to tutor students in need of math assistance. World hunger is one of her driving passions and Aasfi, alongside a few other students, participated in a 24 hour long fast to promote and collect funds to help combat this issue.
Although, Aasfi spent much of her time on community services, academics were always her priority. She worked hard to get what she wanted and by the time she graduated from McNicoll, she had acquired more than a hundred certificates and almost $200 for reading, multiple medals, including the athletic excellence, and a whole array of other awards for things such as fine arts and English. Throughout the past few years she has maintained a steady straight A report card, and even scored 100 in English. She is determined, goal-oriented and she thrives under pressure. Her meticulousness forces her to aspire to perfection in regards to everything she does and she never backs down from a problem.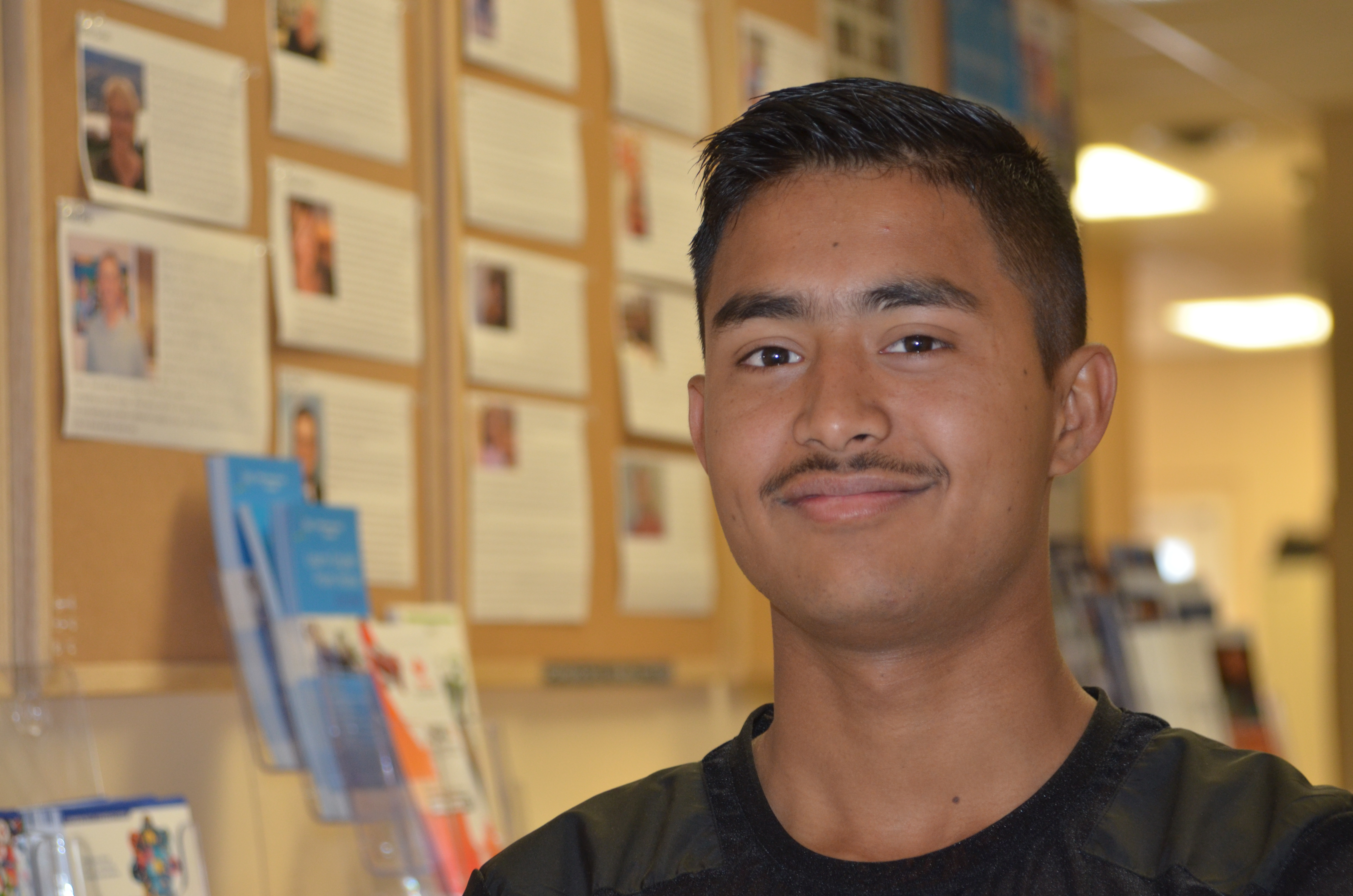 Bishal Khatri, a young immigrant from Nepal, took it upon himself to make friends, become fluent in English language, and take charge of his own decisions. In 2014, he joined Grade 10 in the 2nd semester a week after he arrived in Canada. Bishal struggled in school due to language barrier and isolation. During the summer he worked part-time at a local restaurant, which remained busy throughout the week. Besides greeting customers, Bishal took the opportunity to engage in a conversation with numerous customers to overcome his shyness and build his confidence. He was determined to return to school in September and make friends instead of waiting to be approached by his classmates.
When he joined Grade 11, he actively reached out to teachers and students to inquire about course selection and extra curricular activities. Bishal religiously played cricket in Nepal and was committed to make a career out of it. When he didn't do well in the PE course in Princess Margaret School, he, once again, rose to the challenge and actively searched local opportunities within sports. He began playing ping-pong in school and won the school championship for two consecutive years. He then moved on try his hand in tennis and joined the local tennis club as a beginner, today he plays in division 3. What started with a fun activity became a medium to instill more discipline in his life style and attitude. Bishal recently obtained his Driver's License, is enrolled in the Trades program, and is fluent in four languages. He excels in Math and chose to go in Trades because he wants to be employed immediately after completing college.
Unlike some students who are nervous to embark on their college years, Bishal is eager to add on to his already diverse life. He is aware that there will be challenges, more so in an adopted country where an entire family unit has to make adjustments in their day-to-day choices. The trick is, he shares, "to try new things, and continue trying them to get desired results". Bishal's parents are full-time employees who work long hours to ensure all three of their children perform well academically and enroll in various activities. Bishal is often seen helping his parents upgrade their credentials and obtaining Canadian certifications ☺
SOICS looks out for individuals like Bishal who are conscious of their own inhibitions as well as abilities and invite them to share their personal motivations to inspire other newcomers.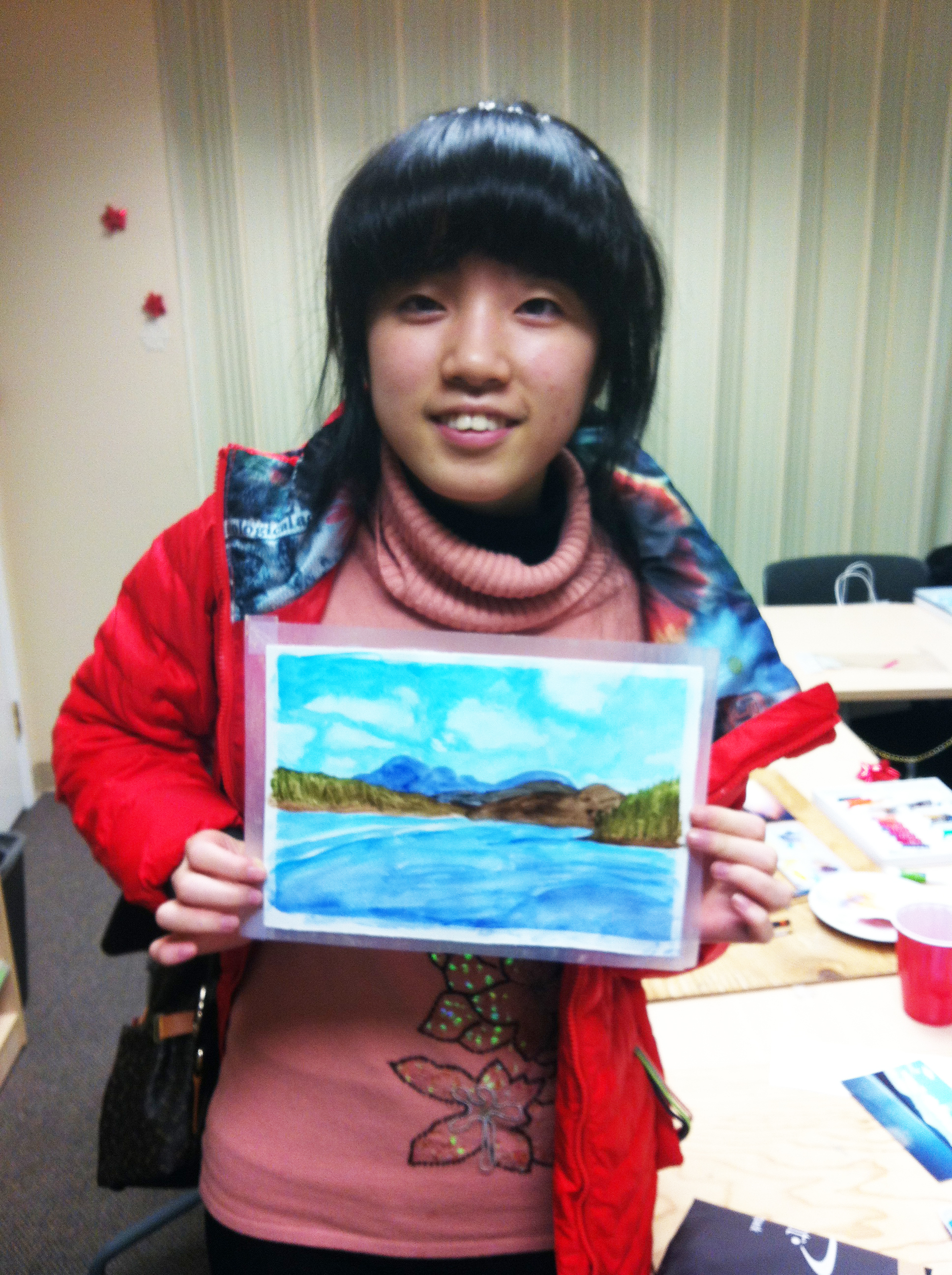 Yibing Qui (Bing) came to Canada in 2013 when she was only 15 years old.  She is a grade 11 student attending Princess Margaret Secondary School.  Bing is passionate about Arts and devotes all of her leisure time in painting and drawing.  Bing also excels in Math.
Bing started volunteering with SOICS in the fall of 2014 primarily because she enjoys meeting new people and making new friends.  Our community connections coordinator put her in charge of organizing a Youth Art Group for SOICS.  Bing began by researching all local artists and approaching them to inquire the possibility of delivering a workshop sessions for the immigrant youth in SD 67.   She paid a visit to our local Lloyd's Art Gallery to meet with Nel Witteman, who has a wealth of knowledge, creativity and skills in the use of Water Colours.
Bing also designed a festive holiday greeting card for SOICS.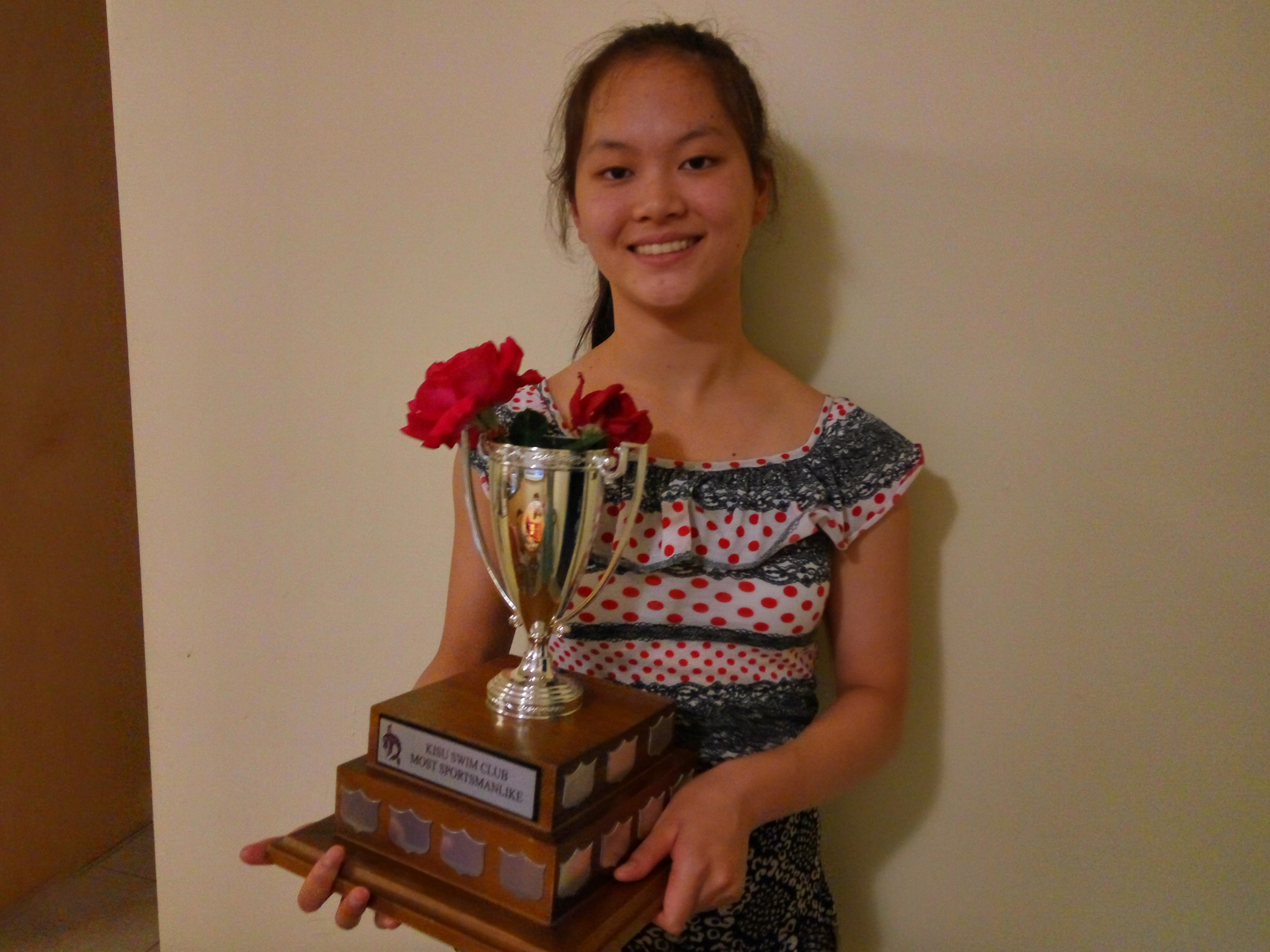 Joy Wang was born in Beijing in 2000 and has a younger sister. Although Joy immigrated to Canada with her family in 2002, her family went back to China after 14 months. They returned to Canada in September 2005 when Joy was ready to go to school. At a young age, Joy often accompanied her mother to the Oliver SOICS office, where her mother was enrolled in classes to improve her English language skills.
Joy skipped grade 2 due to her academic excellence, the sciences being her main strength as she has a 99% average. When she was in grade 8, she was one of the 6 people chosen from KVR Middle School to compete in the British Columbia Secondary School Mathematics Contest. Joy has a knack for languages, too. She picked up the South Okanagan language while she was in kindergarten and is now concentrating on learning French. She is now in grade 12 and continues to volunteer at the hospital. She plans to go to medical school and study to become a pediatrician.
Joy has been a competitive swimmer for Penticton's Kisu Swim Club at the provincial level. She has now moved on to coaching young swimmers for the same Club. In 2016, Joy entered into the Miss Penticton program hoping to become an ambassador for Penticton. She fondly reflects back to the learning experiences, which she participated with 7 other participants. Through the contest, the participants learnt a wide range of skills including public speaking, excellence in customer service, and tourism promotion. They also studied the history of Penticton, time and money management, organisation skills, teamwork skills, modeling, etiquette and strengthening self esteem.
She enjoys reading, drawing, painting, and in her spare time, plays the piano. In the past, she has face painted at events for SOICS and is one of the artists for our Greeting card contest.
Born and brought up in Kosovo,
Brikena Vrenezi
came to Canada in 2009 with her parents, who at the time held Temporary Foreign Work permits. Once they received their permanent residency in 2012, Brikena began planning for her future. Currently enrolled as a full time student at OK College, she aims to complete her Bachelor of Science in the Nursing program.
Since grade 11, Brikena began saving funds for her tuition fees for the nursing program. On various occasions she has held two jobs and also made time to accompany her parents as an interpreter wherever they need to go. One of her parents is unable to work because of rheumatoid arthritis. "Everyone must have a source of inspiration and encouragement in their lives. As for me, my source of inspiration is my beloved parents. My parents are very hard working people who did everything they could for their children. I have an older brother and a younger sister and they worked hard to give us an education and provide us with the most comfortable life possible".
In 2014 she received the District Scholarship, Passport to Education Award, the Len Cox Memorial Scholarship Bursary, and the Okanagan College President's Entrance Scholarship. With a combination of scholarship, bursary and summer job income she manages to pay for my tuition, student fee, housing, food and textbooks. "I enjoy volunteering because it often lets me get closer to a community and the people". She has volunteered at the Penticton Regional Hospital, Fitness Facility at Okanagan College, 10,000 Tonight Food Drive, and for OK College Half Marathon race.
She describes herself as a responsible and a hard-working student who doesn't shy away from dealing with challenging tasks. Her friends describe her as "caring, overachiever, confident, ambitious and understanding" while her instructors describe her as " a hardworking, academically oriented student who earns good marks and has significant post-secondary goals".
"My goals are to integrate best practices in nursing education to promote student success, graduate in 2018 from the BSN program and engage in continuous education. My motto in life is "Dream as if you'll live forever. Live as if you'll die today"- James Dean.
SOICS is proud of young immigrant such as Brikena who are indirectly sharing our responsibility to integrate immigrants with language barriers.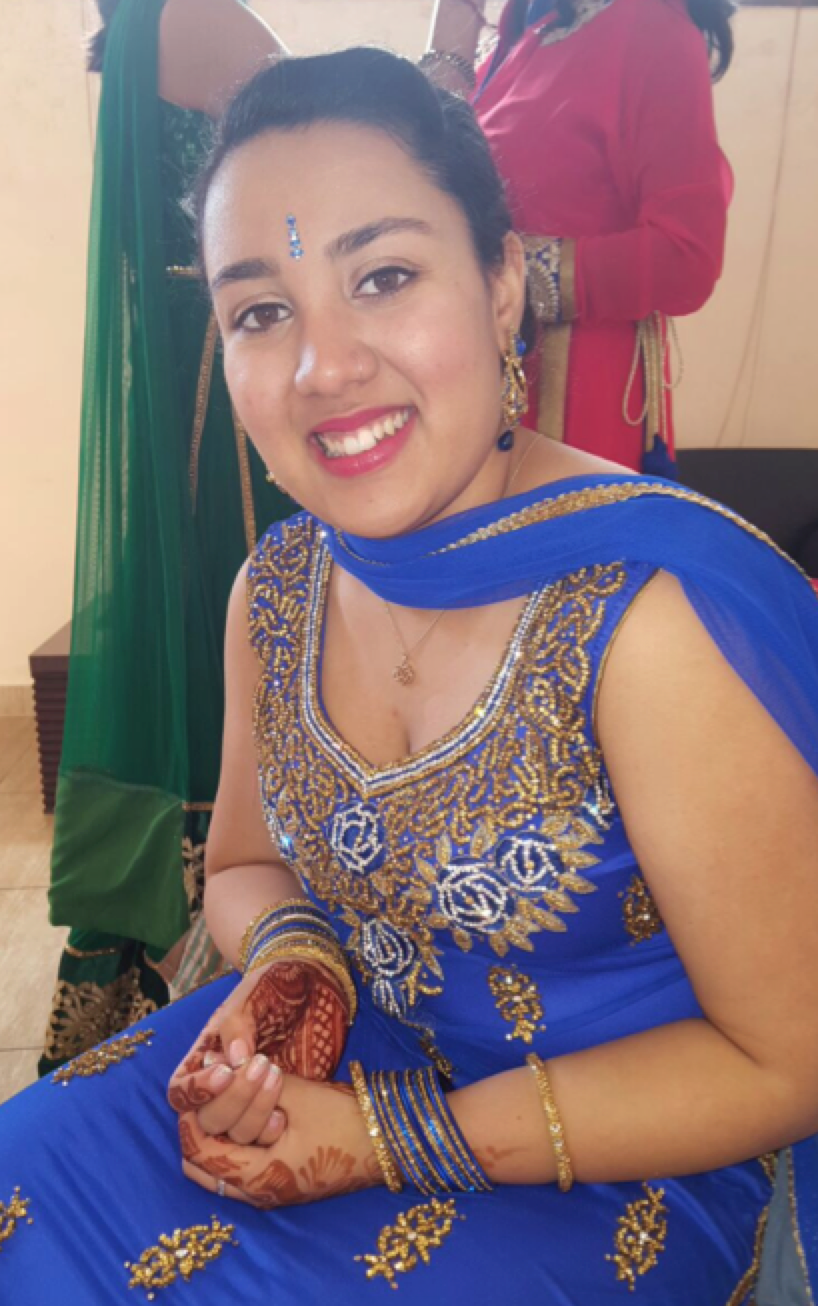 My name is Gagan Ganger. I am currently enrolled as a full time student in my second year at UBC Vancouver in the Faculty of Arts with the intended major of International Relations. It's a mouthful, and at times it's hard to repeat, but I worked very hard to get here so I don't mind. You may recognize me of course because I am originally from Oliver. I like to think that I was fairly involved in the community when I lived at home. In elementary school I was a part of Youth Cares which was an active member of Oliver at its prime. After a couple of years, I went on to become one of the co-leaders of Youth Cares. The biggest form of recognition in Oliver however comes from the Oliver Ambassador Program. I had the privilege of winning the Spirit of Oliver Award in 2012, and 2013; once with my fellow ambassadors, and then as an individual. Between Youth Cares, the Ambassador Program, and being an involved student at SOSS I found myself being motivated to continue my volunteering after my term as an ambassador ended, and Youth Cares came to a rest period in its life cycle.
This led to some new opportunities for me. One was candy striping at SOGH, and the other of course was volunteering weekly at SOICS. I was volunteering with SOICS right up until I graduated from SOSS. Inevitably, every experience in life affects you in some way. Since I have moved away from home and been living on my own, going to university, and growing as an individual it has become easier to identify how Youth Cares, the Ambassador Program, SOSS, candy striping, and SOICS have all played a part in my progress, particularly all of the individuals associated with each. Hindsight is 20/20. Coming from a small town, having parents who emigrated from India to Canada many years ago, being a woman, identifying as indo-Canadian, all of these factors have helped shape who I am today.
As a collective each of the tasks I completed, the groups I was a part of, and the roles I played taught me empathy, openness, and acceptance. In a more technical sense I gained many valuable, perhaps somewhat boring, skills. Some of these include, public speaking, using a filing system, respecting the value of time, how to teach others, and most importantly communication with a diverse group of people. What I have stated previous may just seem like lists, but as an individual they are extremely important skills that have helped me in life thus far.
Oliver is small town and does not offer many opportunities for youth. I have no problem admitting this flaw in our town's set up. But I got lucky. I had a passion that could be accommodated. I found myself some wonderful people and organizations that helped me along the way. I by no means consider myself accomplished yet. I have lots of work to do at UBC to become who I once imagined myself to be when I was in elementary school writing out my grade 7 graduation write up.
document.currentScript.parentNode.insertBefore(s, document.currentScript);