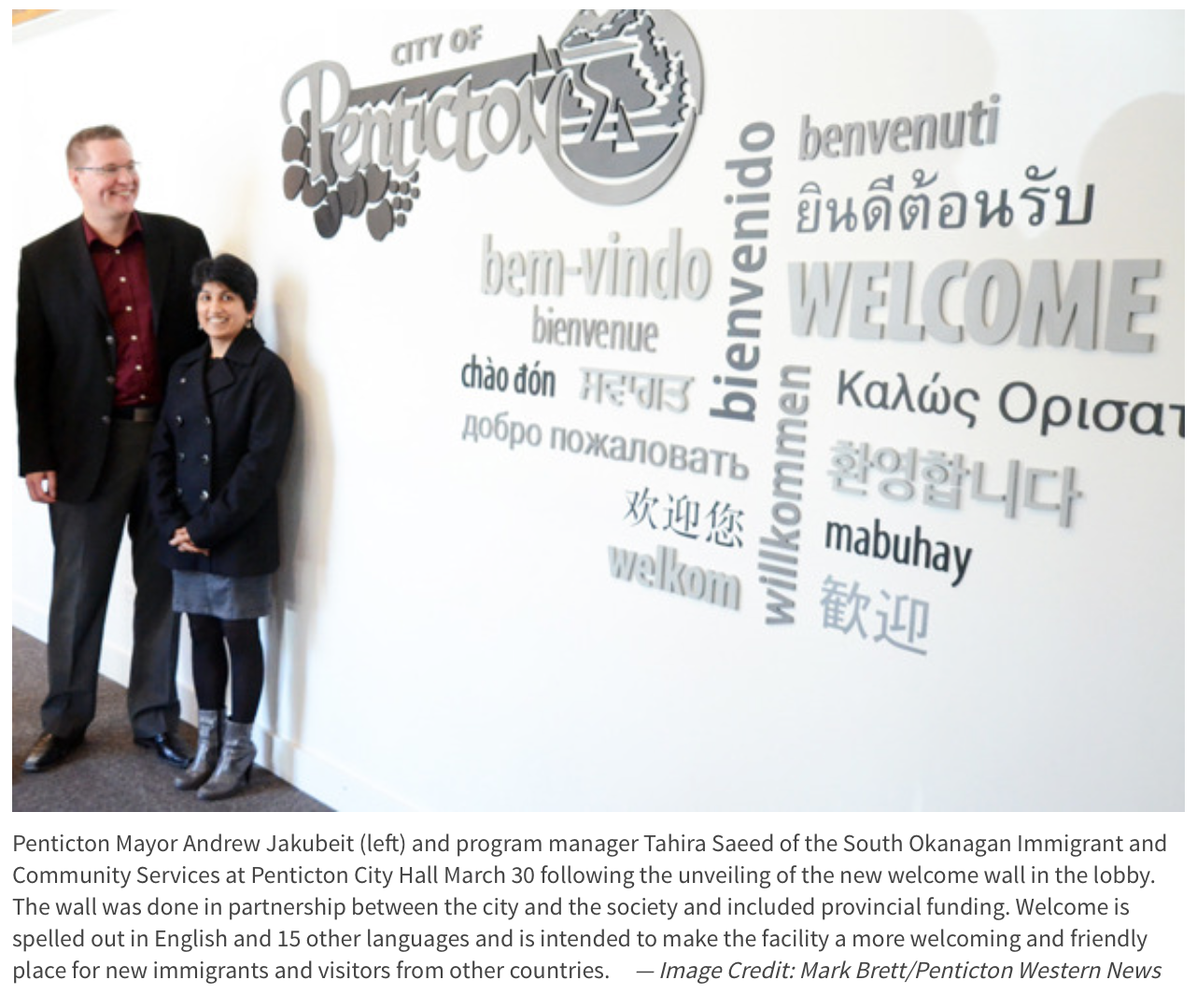 Penticton City Hall renovations were scheduled to begin in 2014, which included updating all of their service signage.  SOICS approached the City about the possibility of making Penticton's key civic building more welcoming to new Canadians and individuals who have English as a second language.  The concept of having a feature wall in the front lobby of City Hall highlighting the word "welcome" in multiple languages began taking shape.
The renovation project was completed in 2015.  In partnership with SOICS, the City of Penticton unveiled a diverse collection of "welcomes" on March 30, 2015 at City Hall.  Prominently displayed inside the building's entrance, guests are now greeted in Chinese, Dutch, French, German, Greek, Punjabi, Italian, Japanese, Korean, Portuguese, Russian, Spanish, Tagalog, Thai, Vietnamese and English.  The renovations also included international symbols to help customers identify which service they need and recognize what counter provides that service.
New Canadians and immigrants are a key element to resident growth in the South Okanagan, and nurturing their experience in the community is a key economic development strategy for the City of Penticton.  The new signage also advances the mandate of SOICS, which helps immigrants with settling in the area.
Recent statistics show that between 2001 and 2006, the South Okanagan Similkameen had approximately 460 new immigrants, representing 26 per cent of the net growth of the region.  The area currently receives approximately 100 immigrants per year and, based on general population growth projections, this number is anticipated to double.
All of SOICS' services are free for eligible immigrants. For more information on becoming a SOICS client, please visit Getting Started at SOICS. To make an appointment, please call or visit one of our offices:
Penticton
508 Main Street
Penticton, British Columbia
(250) 492-6299
admin@soics.ca
Oliver
6239 Main Street
Oliver, British Columbia
(250) 498-4900
oliveroffice@soics.ca