Welcome 2016
A Welcoming Communities Summit provided an opportunity to extend our reach into the community. The event brought together over 130 people, and featured 13 speakers and 8 breakout sessions on a variety of topics related to creating a welcoming community for successful newcomer integration.
Connect 2017
The Forum was designed for immigrant job seekers and regional employers to meet, network and learn from each other. The event included a workshop on diversity at a workplace, a resource & job fair, employer and immigrant panel discussions and networking. The event drew over 80 attendees including 17 employers.
Let's Talk Jobs
The SOS LIP Working Group One has been working on the Condition of Change stated as "Attract and sustain newcomers that meet the workforce and business opportunities in the region". Labour market research has been a prominent topic in the past few years, and of specific interest to our region. This group took on the action item of engaging employers in discussion about the employment conditions for the region and for newcomers. This resulted in a snapshot report that includes abstracts from existing employment research, results from employer surveys and conversations, and newcomer surveys. The Lets Talk Jobs Report provides a high-level snapshot of employment opportunities in the SOS region with a comparison of qualifications of recent immigrants to the area.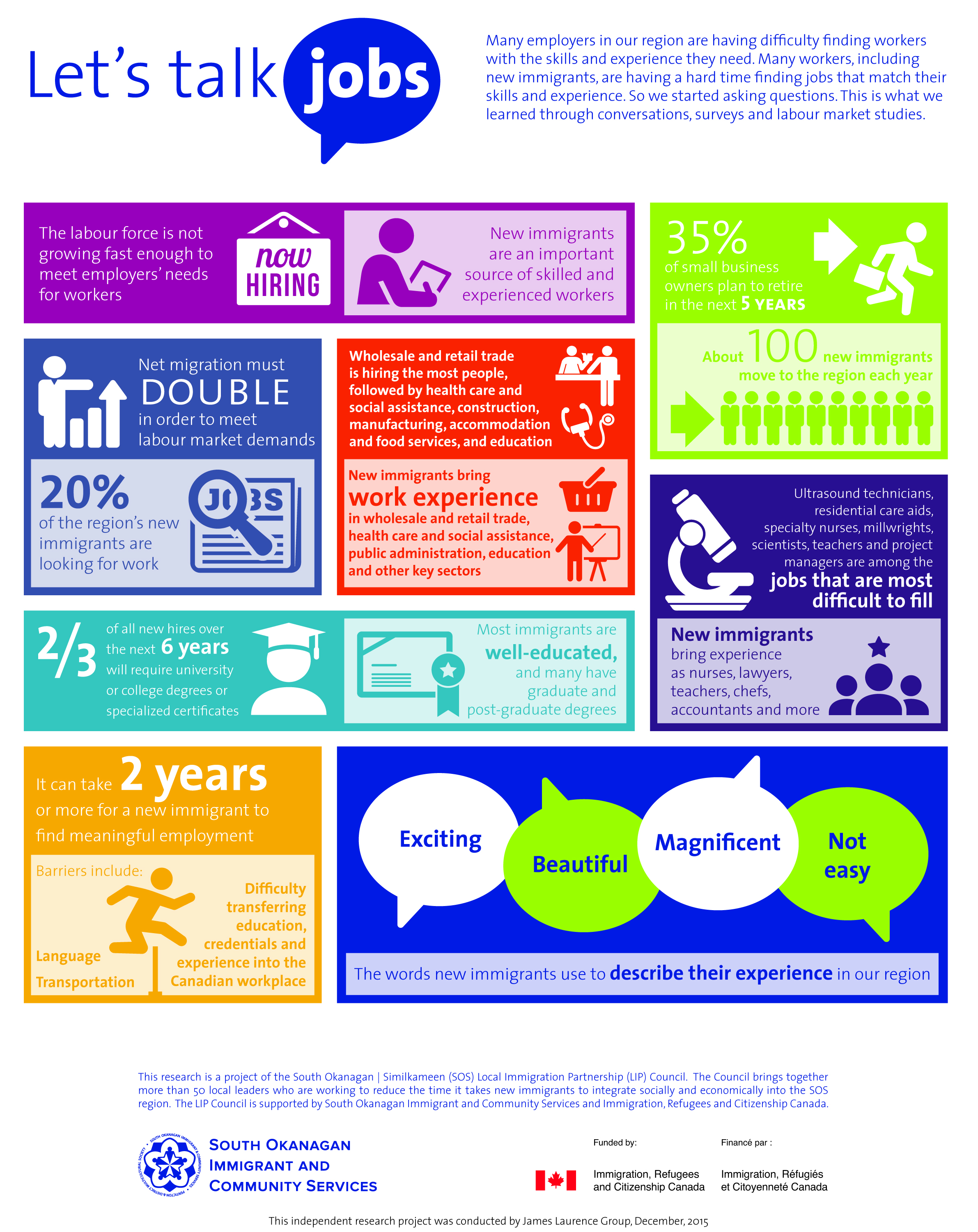 Familiarization Tours (FAM Tours) for Service Agencies
The SOS LIP Working Group working on "ensuring programs and networks are in place to support newcomers" adopted the concept of Familiarization (FAM) Tours popular in the tourism industry. The goal of the FAM Tours was to introduce community partners to available programs and services that support newcomer integration, which would lead to more effective referrals, and ultimately, a more wrap-around approach to addressing newcomer needs.
The first tour included four stops: South Okanagan Immigrant & Community Services, Martin Street Outreach Centre, South Okanagan Women in Need Society and South Okanagan Victim Assistance Society. Eight front line staff from various organizations attended the tour.  We hope to hold such tours on a regular basis.
Fast Track Mentoring
The SOS LIP Working Group Three was in charge of "increasing awareness of what newcomers contribute to the region and what the region can contribute to newcomers." and launched the Community Fast Track Mentoring Program. Two immigrant members from the group took an active role in identifying the resources for this peer-to-peer program. The goal was to match new immigrants with a mentor, a settled immigrant, from their country of origin, who will help familiarize the newcomer with their community in 30 days.
SOICS hosted the 1st Mentor information session in February where fifteen volunteers representing fourteen countries and thirteen languages met each other and agreed to work as a cohort.