Canada is made up of over 200 ethnic origins, with thirteen of those ethnic groups having Canadian populations of over one million.  More than one in five Canadians is born outside Canada.  Although Penticton is a city with approximately 40,000 residents, there are many first and second-generation immigrants who call Penticton home.  These individuals come from diverse backgrounds enriching us socially, culturally and economically.
With the beginning of New Year, SOICS is launching its most recent project Through Our Eyes: An Immigrant Experience.  The project aims to share insights from some of our less-vocal immigrant communities.  The project will highlight the multicultural faces of Penticton and feature a synopsis of their stories.  Through this venture, we have encouraged participants to share how being an immigrant shapes their approach to integrating into the fabric of Canadian society.  Whether it is starting a business, dealing with government officials, forming new friendships, or searching for ethnic ingredients in the local grocery stores, immigrants often attempt to strike a balance between their natural habits cultivated from their country of origin and the adjustment that they make in their adopted country.
These individual stories make up the diversity in the Okanagan.  During our oral interviews with them, we ask participants two specific questions: what is the one thing that they brought with them when they came to Canada and what do they take from Canada when they visit their relatives and friends in their home country?  The idea behind these two questions is to offer audiences insights into how newcomers prepare themselves for Day 1 in Canada.
These participants immigrate to Canada from various backgrounds, many of whom have never been exposed to the Canadian way of living.  Participants have often shared how some of us, who have been living in Canada for years, take things for granted such as access to hot water, safe pedestrian crossings, systematic garbage collection routines, personal space, minimum wage, luxury of convenience, etc.  Things that may seem so trivial for people in Canada are often challenges and/or luxuries for people from another country.  When we hear about their life experiences, we realize how complacent we have become about our country and these newcomers shake that indifference.
On the flip side, these life stories also shed light on the fact that relocating isn't for everyone.  Immigration is a huge adjustment, with the first five or 10 years after arrival being the most difficult.  The transition from one country to another is a stressful experience for the majority of immigrants.  It is hard to digest and adapt to another culture, value system, lifestyle and language that is entirely different to the one they were born in.  The challenges are many, but every first generation of immigrants is building the foundation for the future – both for themselves and Canada.
SOICS' interaction with immigrant participants through this project has been full of surprises.  The informal interviews highlighted their triumphs and trials, which generated thought-provoking conversations around geography, migration, and a sense of belonging.  It furthers our understanding of recent Canadian immigrant's life experiences and concomitantly their resilience.
In addition, participating in an oral history interview is a meaningful way for a first generation immigrant to document his or her story for future generations and share experiences and memories with other Canadians.  In the coming months, SOICS will share digital images (photographs and documents) and a written story collection of "first" experiences, thoughtful remarks of where "home" is, and reflections on leaving friends and family to come to Canada.  These monthly releases will also include a delightful range of surprising, funny and relatable quotes from our collections.
Immigration has always been, and continues to be, Canada's story. Whether the stories that unfold through this project are from days gone by or as current as today, there is benefit in providing an avenue for the community to understand and reflect upon the enormity of the decision to leave one's homeland behind for an unknown future in a foreign land, and the reasons for doing so.  In a world where different cultures sometimes collide in horrific ways, understanding another person's point of view could be an antidote for some of our society's ills.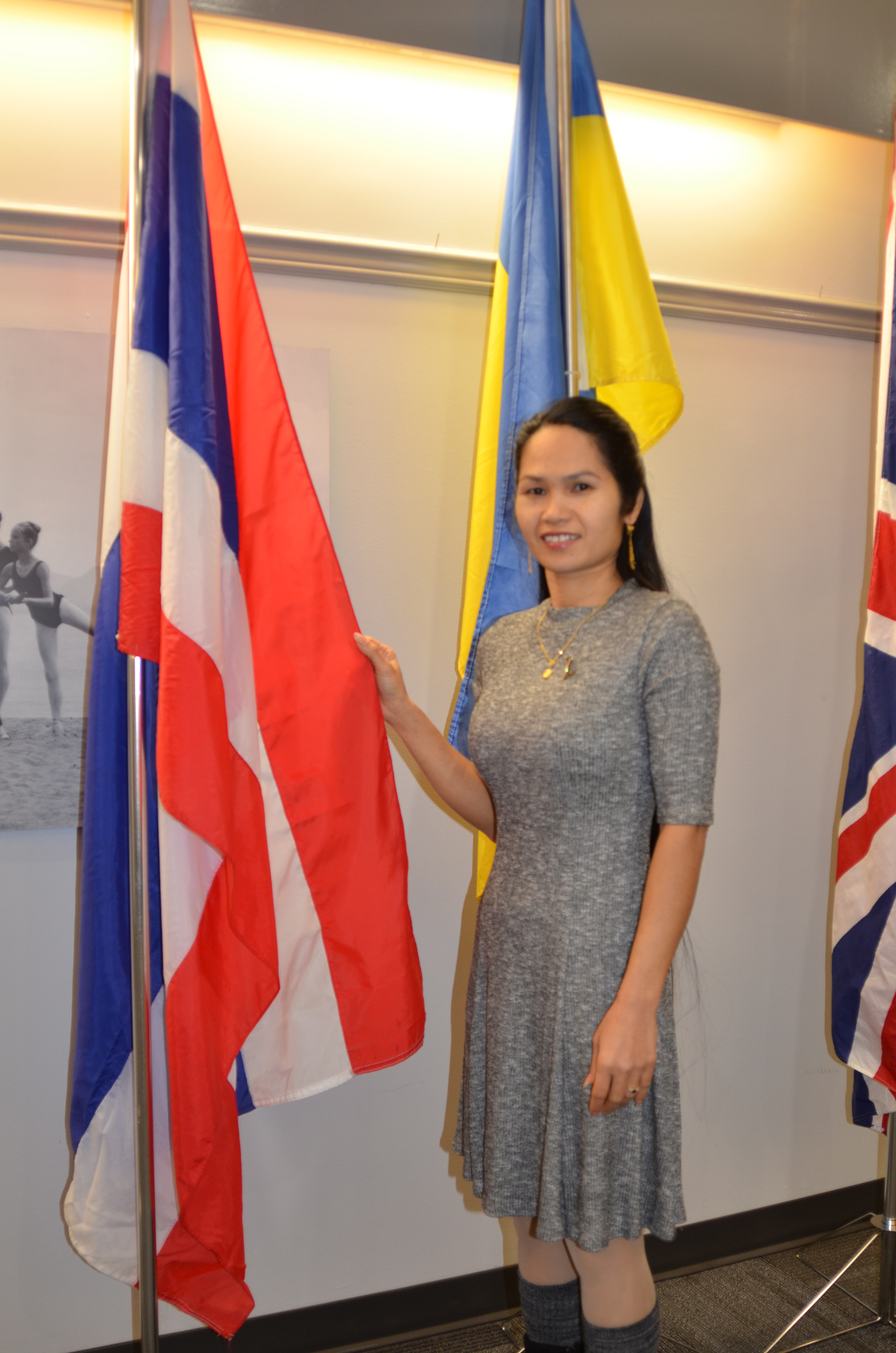 Approximately 3 weeks ago, Khamfong became a Canadian Citizen. When she first landed in Dawson City, newly married and pregnant, Kamfong remembers that it was cold (even in June) and she was grateful to her husband's friends for supplying her with warm clothes.  For immigrants who move to Canada during the winter seasons, adapting to cold weather is the first step towards their integration.  For newcomers coming from Southern Asia, it can mean abandoning meteorological cues from home.  Winter is rarely the reason newcomers say they love their adopted country.  Despite the cold, Khmafong acknowledges that people are so warm here, "When you walk everywhere people say hi to you."
When asked what was the most important item she brought with her to Canada, she told us "ingredients for Thai cooking," because she knew she could not get them here.  She often travels to Thailand to visit friends and family members and on each of those trips, her suitcase contains a variety of chocolates.  She also takes old clothes and money to pass along to her friends and relatives.
What Kamfong values the most is her accomplishments that came about slowly in her life after immigrating to Canada.  "I never thought I would drive a car or own my own house".  A few months after attending language classes at SOICS, where she also received basic orientation on the Canadian systems, Kamfong began to comprehend the fact that she would have to adjust to a new way of life, "life had to change".  Another thing she is happy about is that she no longer has to work long hours for very little money.  The minimum wage in Thailand is approximately $10 a day.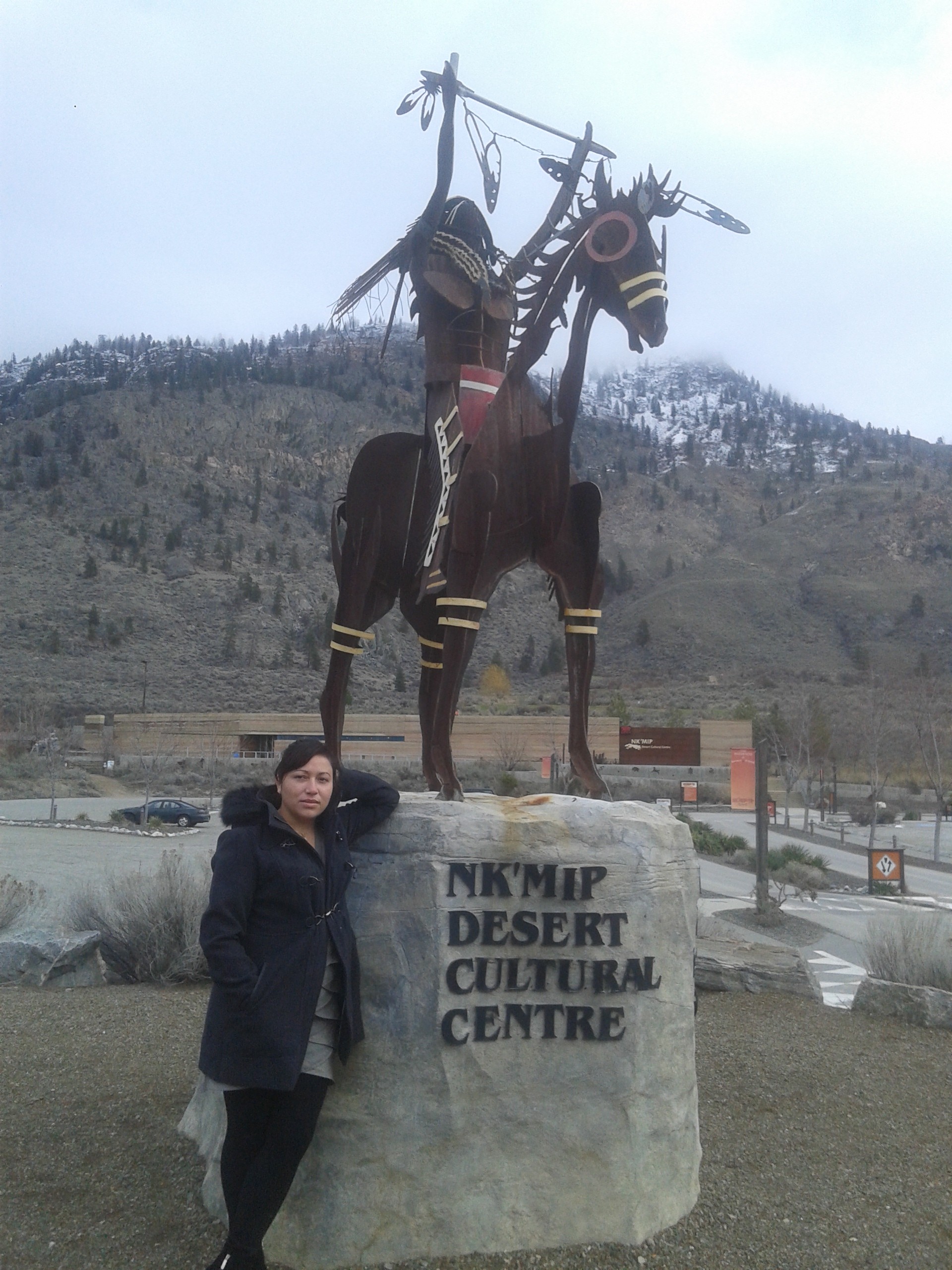 Cindy immigrated to Canada with her mother and her 2-year-old son.  The one thing that she remembers packing when getting ready to come to Canada is her son's asthma medicine, "we don't know if it's available here or not."
Her most cherished possessions that she brought with her are her grandfather's watch, which he wore up until the day he died, her son's medical bracelet from when he was born, and a six pointed star pin, which she carries for good luck.  She was quick to point out that a star generally has 5 points and this one has six, which is why it is special.
When she first arrived in Canada, she did not feel confident. Cindy likes to talk and had to adjust to speaking less – this gave her a feeling of loneliness and frustration. Making friends was important to her, but how could she make friends if she could not communicate effectively and fully express herself? Language classes gave her the motivation, which was linked with her determination to improve her conversational English.  As she learned English, the volunteer teacher helped her "think" in English.  "It open my eyes to different ways."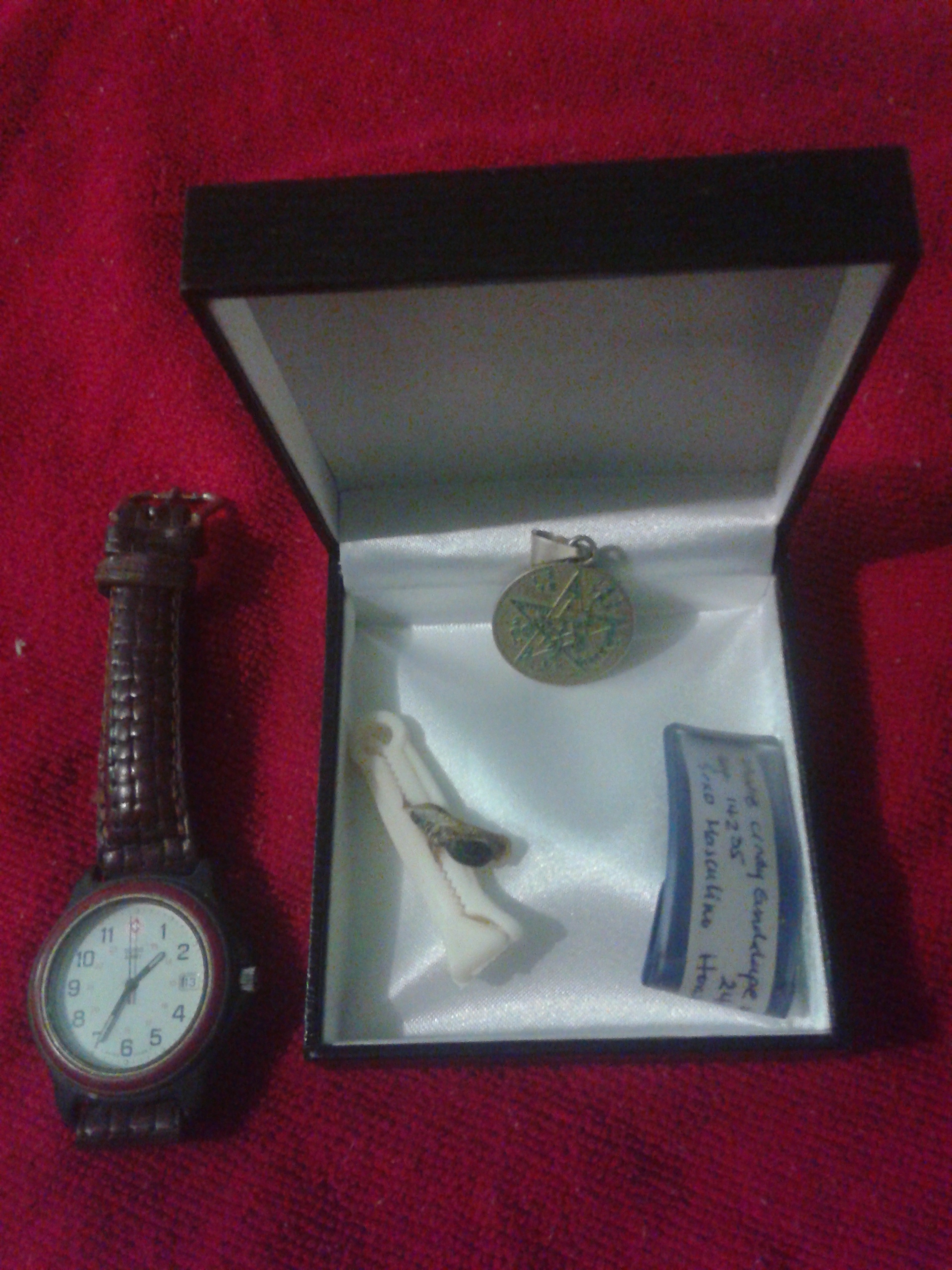 Her initial aim was to be able to speak for her son in school and understand what the teachers said during parent-teacher meetings.  "Now it is all about me!" "finding me is important-who I am."  She perceives herself as a seed, which continues to grow into a plant and then eventually into tree, "it is not all about sacrifice, but about growing." With a twinkle in her eye, she says "I like to joke," but is aware that she needs to be careful that people understand she is joking and not get offended.
Cindy's hectic life doesn't spare her much time or funds to make regular trips to El-Salvador, but when she does go, Cindy usually takes green gemstones for friends and family.
Deborah and Dominik - Indonesia and Germany
For this month, we are introducing a couple who originated from two different continents, have diverse linguistic and cultural backgrounds, met through a friend in a foreign land, and chose Canada as their permanent home.  Their story directed our attention on multiple variances that cause different social institutions in Canada and Europe.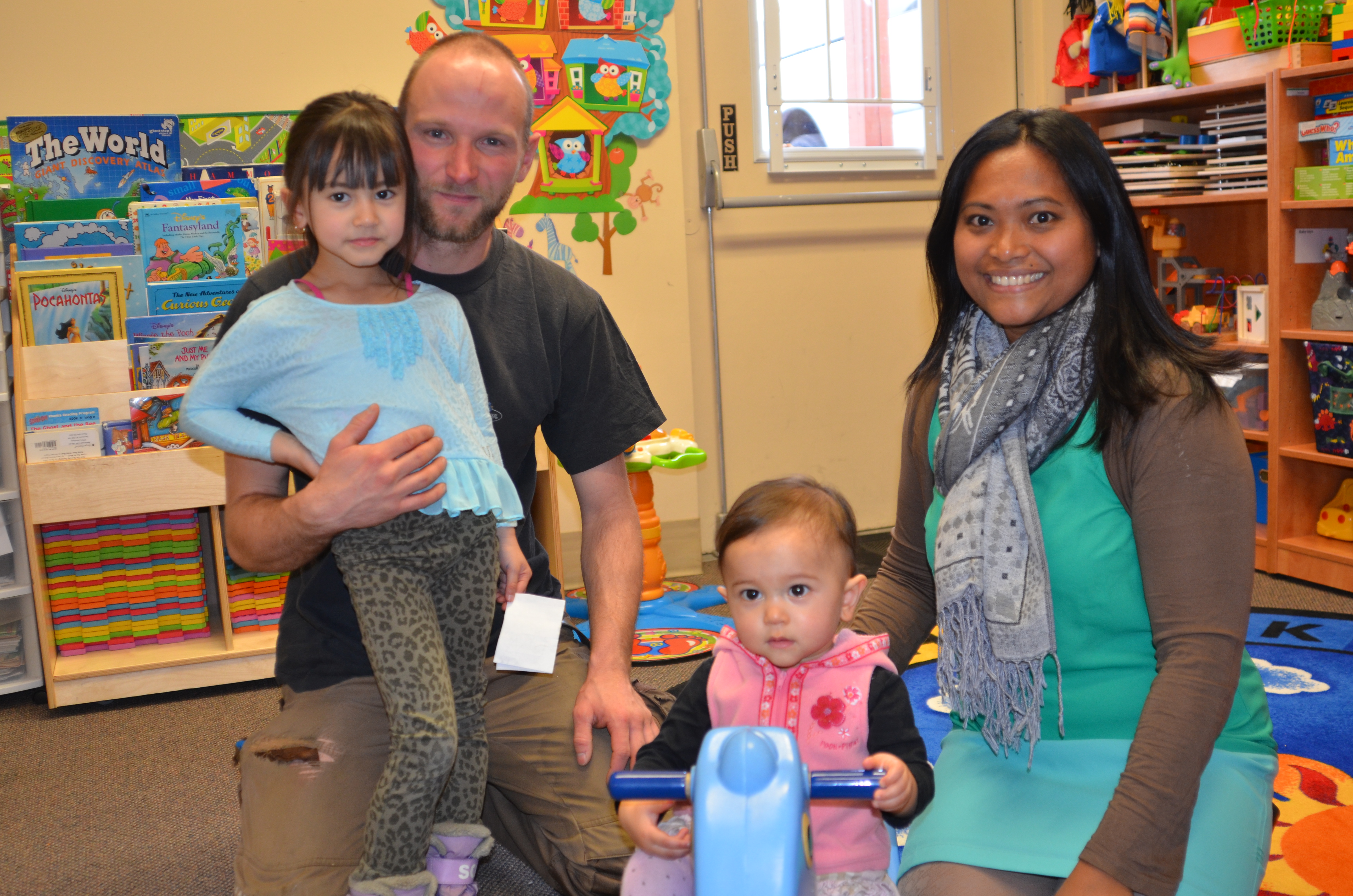 Dominik arrived in Canada from Germany on a work permit leaving behind his wife and a daughter.  He chose to come to Canada alone and ensure that Canada was going to be an ideal place for his family before he committed them to anything.  "I arrived at night and then had to work two and a half weeks straight."  So it was a while before he could actually appreciate where he was, although he pointed out "When I travel, I am always aware of the smell of different places and Canada was no exception". The two most important things that Dominik brought with him are a picture of his family and a special army knife his friend had given him.  The knife had belonged to his friend's father who had passed away.  Although he has not been back to Germany since, after some consideration, he decided that the best thing for him to take when he does return would be wine from the Okanagan, probably that he himself has helped make.
When asked about adjustments that he has made, he says, "The hardships of moving to this country have forced me to become more independent." He does many of his own repairs and maintains his car himself.  "I do like Canada better than my home," he confirms.  He commented on the Canadian work environment, which expects a sense of responsibility but comes with freedom of choice to do things in the best way possible.  He believes that such an environment enables people to become more self-sufficient than the average person in Europe.  He particularly appreciates the accessibility to nature and the possibilities his young family has to explore the natural wonders of their immediate surroundings.
Dominik's wife Deborah, originally from Indonesia, joined her husband two months after he arrived and they became permanent residents two years later.  They have two daughters, one of whom was born in Canada. Being from two different countries, Dominik and Deborah are keen for their daughters to maintain their respective cultures and learn three languages: German, Indonesian and English.  At SOICS, our data indicates that bilingualism is common and on the rise among clients from intercultural marriages.  Research has been able to determine that early exposure [to multiple languages and words] has a profound effect on children's ongoing language development: hearing more words gives children a greater opportunity to learn a language, which leads to later advantages in school performance.


When she came, Deborah brought medication for the children, as she was unsure if she could get it here. She also brought a small pouch that had belonged to her late mother-in-law. Inside the pouch she keeps a letter from her mother-in-law, a rock they received when she was cremated and a printout of an email that Deborah had sent to her. When asked what she felt when she first arrived, she commented on how beautiful it is here – the closeness to nature and the abundance of lakes. " I heard the coyotes every night. It felt like I am living in the jungle." Another aspect that she was immediately drawn to is the number of individuals who come to Canada from all over the world. "I do not feel much like an immigrant in here – I got welcome in here," she said, "I didn't feel a stranger any more," which is how she had felt in Germany.
Deborah's biggest adjustment in Canada was that she went from no rules in Indonesia, where money can buy almost anything, to the strict rules in Germany and then came to Canada, which, to both her and husband Dominik's pleasant surprise, is somewhere in-between.  Deborah attends English language classes and what she likes about SOICS is "A lot of culture, lot of respect about other cultures, togetherness in every nation." When asked what she would take back from Canada when visiting home, which she hopes to do this year, she said it would be typical Canadian items such as maple syrup and the bear dressed as a Mountie.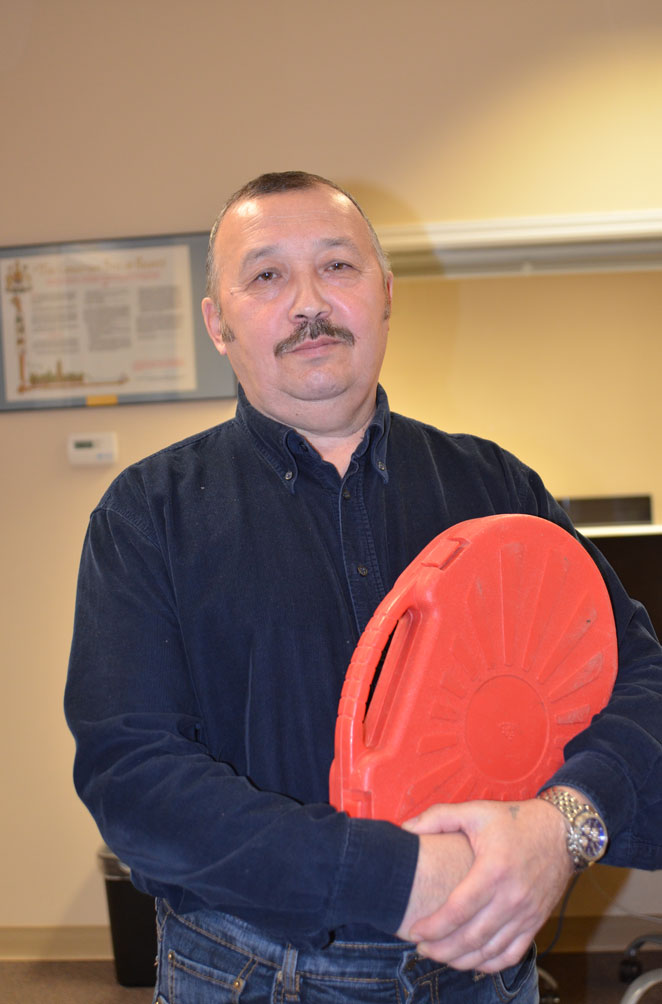 From driving Soviet tanks and diesel locomotives to fishing on Okanagan Lake, Askar has had an incredible journey from his birthplace of Kazakhstan to his current home in Penticton. He served his mandatory 2 years in the Soviet military as part of a tank crew before following in his father's footsteps as a Diesel Locomotive Conductor in Kazakhstan. For 18 years, Askar transported oil, coal and supplies along rail lines around towns surrounding his hometown of Pavlodar. Seeing a limited future for his German wife and young son in post – Perestroika Kazakhstan, Askar moved his young family to Germany where he received some valuable government sponsored training as a welder/fabricator. Life was good in Germany for the Apenov family but after a visit to Alberta, Canada, the family once again decided to move to greener pastures.
With 2 bags of clothes and a prized tool kit bought in Germany, Askar arrived in Canada in 2005. He knew that he could buy other things that he needed here but his tools were high quality German-made and would be useful in his new job. "I have been accustomed to moving around and so I like to travel light".
Initially, Askar set out for Winnipeg, Manitoba on his own as he had secured a welder/fitter job before arriving in Canada. His first days in Canada were a bit nerve racking as Air Canada had "misplaced his bags" but he quickly fit in with his new job. "I worked for 9 straight years and didn't take a vacation". He believes his training in the military and his dedication towards developing strong work ethics contributed to his general outlook to life. Perhaps this is the primary reason that he believes his transition to Canada was relatively easy. He was used to long cold winters in Kazakhstan and had a very marketable skill in welding so finding work was easy. In addition, English was part of his school curriculum so he quickly commanded the language.
In his spare time, Askar loves to fish, hunt and enjoy the great outdoors and freedom that Canada offers. It is this love of the outdoors that eventually brought Askar and his wife to Penticton in 2015. Here they enjoy the lakes, the beaches, the abundant fruit
Tony immigrated to Canada in September 1975. Coming from the Philippines, the Canadian culture and English language were familiar to him as the western influence is very evident there. What required a great adjustment was the weather. He found the long periods of dark rainy days challenging from the moment they landed in Vancouver and the temperature in September was still considerably cold coming from a tropical climate. However, distant relatives and new friends helped made his adjustment easier.
Without hesitation, Tony believes that his education and experience as a Civil Engineer were the most important items he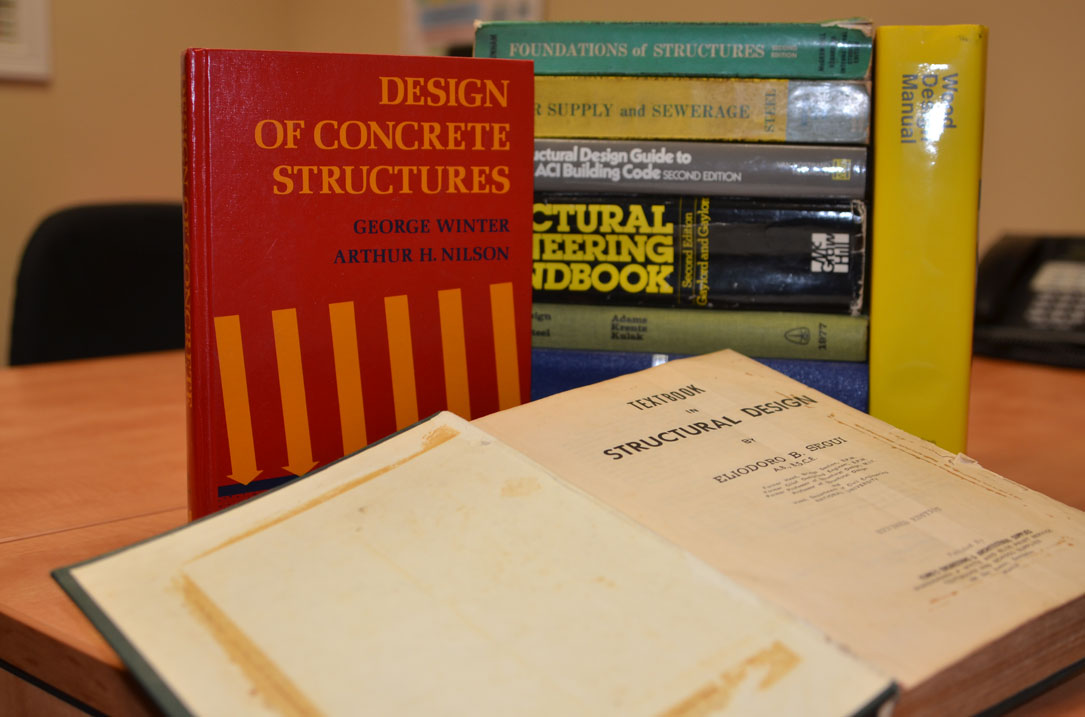 brought to Canada with him. Ironically, these were also the source of frustration and difficulty in settling in Canada. Employers required Canadian work experience, which Tony lacked as a newcomer to the country. However, after working outside his field and through his persistence, he gained a position as an Engineer a year later. In Canada, he applied for different design systems and engineering strategies to meet the Canadian landscapes and conditions. His previous experience in the Philippines allowed him to adapt to the demands of engineering projects in his new home.
Tony is an avid reader and later found a job posting in The Province newspaper seeking an engineer in Penticton. He researched the Okanagan Valley at the local library and discovered that Penticton has over 2100 hours of sunshine a year. This comfortable climate peeked his interest! He applied and moved to Penticton in 1977.
Tony highly values education and the English language. This is a quality he passed on to his daughter ensuring that she consciously spoke and wrote using proper English grammar since too often poor-language skills are a source of misinterpretation. He believes that people will form their impressions based on how you present yourself. He encourages newcomers, explaining that, "Communication is a skill you can learn if you are willing to work. It is a skill that can help you improve your life both professionally and socially." He also believes that when times get tough, the one thing that increases your odds of success is having a good education.
Today, Tony and his family are well established in Penticton including his granddaughter who is a 2nd generation Canadian. He advises new immigrants to "have faith in yourself and keep trying. There will be challenges, but be persistent. The rewards for adjusting and integrating into the Canadian environment are well worth it."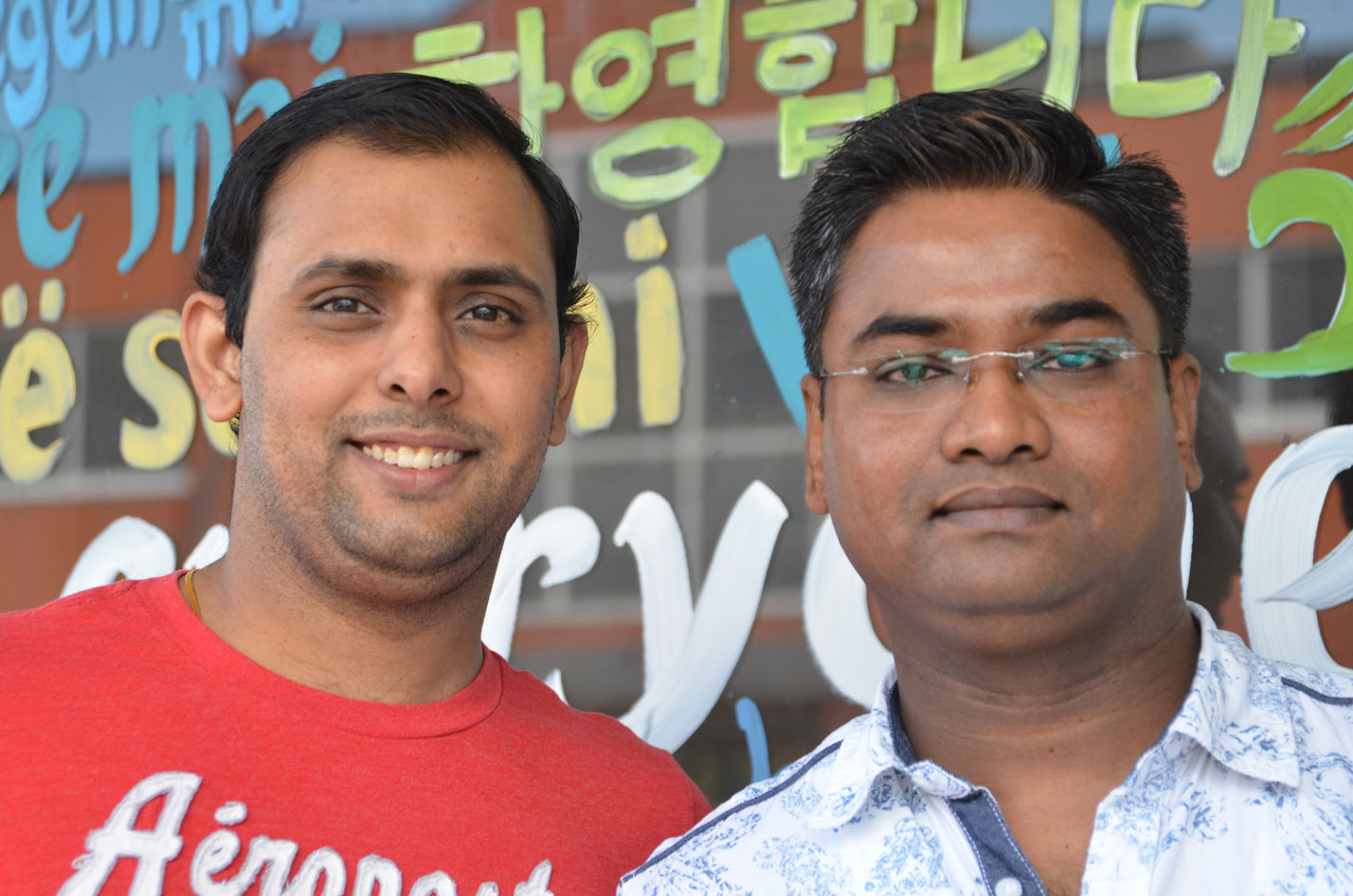 India has grown to be one of Canada's largest sources of immigrants. Starting with just a few immigrants landing ashore in Vancouver, BC, Indo-Canadians are now the 3rd largest immigrant group in the country, after residents of Chinese and Filipino descent. We highlight the journey of two chefs who never crossed each other's path in their own city, New Delhi, but were destined to become each other's closest ally in Penticton, BC. These chefs arrived in Canada as Temporary Foreign Workers, had modest beginnings, shared accommodations for 5 years, and worked hard to comply with the vigorous immigration requirements before they were united with their respective family members.
Vinod and Sunil, two young professionals arrived in Canada on a cold December midnight, their luggage packed with food for at least ten days and cooking pots to ensure that they could eat food that they were used to. The journey to Penticton was via Calgary where they had a one-night stopover. As they stepped out of the airport to go to the hotel, Vinod said the cold air was "like somebody slapping you in the face". That year, Penticton had a record-breaking amount of snow and they recall trudging to work in snow knee deep. Sunil remembers how a senior couple, strangers to him, offered him a ride to work when he got lost in the snow. "I never forget them and their kindness".
Today, with time and conscious effort, they are achieving incremental upward mobility as they amalgamate the culture they were brought up in with Canadian norms, hence balancing the two. They are often seen offering rides to their fellow classmates at the end of the English class lessons at SOICS.
Vinod applied for his work visa, intending to gain 2 years International experience and return to India, where his prospects of obtaining a better job with higher wages could become a reality. Being a South East Asian male, he wasn't accustomed to household chores therefore his wife carefully packed a couple of needles with the thread weaved through it in case Vinod lost a button on his shirt. Vinod is an only son and so he was not only leaving his wife and son behind, but also his parents who were all dependent on him to run the household. He had to manage the majority of the responsibilities from Canada.
For Vinod, familial duties remained the pivotal motivator to mould life-altering decisions. Once he started to live in Penticton, Vinod realized that here "people is honest and nice," it is a "clean and quiet city," your "job is secure because here is employment insurance," and "people respect the hardworking person." These motivators contributed towards his decision to start building a life for himself in Canada and then bring his family members to join him later. What was two years away from his family then became six years. He returned to India every year, taking gifts of perfume, jackets, T-shirts and chocolates for the children. "I miss my family. My family depends on me." Every time he returned to Canada, he would find it hard to speak to anyone for 4 or 5 days, but "I know this [applying for immigration] is a good decision."
After becoming a Permanent Resident through BC PNP, Vinod took a second job to be able to buy a car, a house and save the money he required to immigrate his family. "If the person is a hardworking person, honest and passion for your work, person can build yourself. Whatever you want, you can achieve it."
Sunil, youngest in the family, was only 23 years old when he came to Canada. He had never lived without his extended relatives and a joint family cluster. A few months into working in Canada, he acknowledged that his biggest adaptation would have to be learning English. With long hours at work and no driver's license, he was unable to join language classes. "In all spare time, I watched English movies and listen to only English radio. I start learning new words and practise with my co-workers. I sometimes struggle because my coworkers speak very fast, but I know I can learn to understand if I don't stop trying." He points out that our ears need to get used to the sounds of the new language while still using the rhythm of our mother tongue. In time, you'll hear familiar words repeated and will learn to distinguish them. Perhaps that is the reason, language teachers call this "acquired competence". He was aware that it would require more than passive learning to be able to converse fluently. After becoming an immigrant, he consciously requested his employer for later in the day working shifts to take advantage of the free language classes at SOICS.
Both Sunil and Vinod have a strong sense of observation and distinguish the differences in both societies. Vinod was amazed to notice that "here (in Canada) banks have glass doors and big glass windows" while Sunil was pleasantly surprised to witness that the banks extended a basic level of courtesy to all their customers whether a common citizen or the city Mayor. Sunil beckons his fellow immigrants to obey rules and laws not because they have to but because they want to. "Wear helmet not because it is law, but because it is safe for you. Throw garbage in proper place because you want to keep the environment clean."
Both agree that there is scope for personal and professional growth in Canada and their long-term plans include operating their own businesses. In the meantime, now that their families are here with them, they would like to have more of a work-life balance, the central focus being to become Canadian citizens. SOICS eagerly awaits to cheer at the Citizenship ceremony where these two individuals will take the oath among their friends and family members. It certainly will be a celebration!!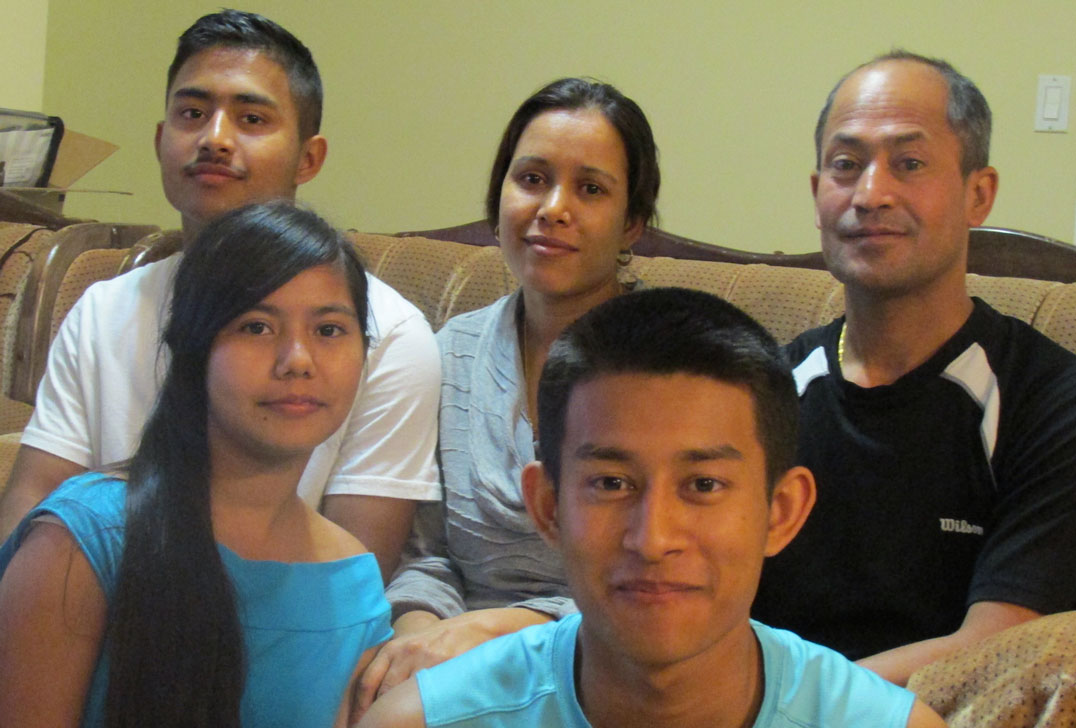 Chef Dambar's blade and his culinary expertise are two of the primary reasons behind Lachi restaurant's long line of patrons, which continues to grow week after week. An immigrant from Nepal, Dambar has extensive international work experience including working in India, Cyprus, and Japan. At the age of 17, he was well on his way to mastering the art of combining spices to develop exquisite flavours.
Dambar came to Canada in 2006 and began by living on his own. When asked what was the biggest adjustment that he had to make when his wife, Sita, and children joined him in 2014, Dambar mentioned that things became more expensive, particularly "The auto insurance expenses," as up until then he had not needed a car. Due to the differences in driving laws between Canada and other countries, many newcomers are treated as new drivers, particularly if no concrete driving records can be produced from their home country. It's therefore not uncommon for newcomers to be charged relatively high rates for car insurance, so it does come as quite a shock.
Located in beautiful South Asia and sandwiched between China and India, Nepal is home to the majestic Mt. Everest, the birthplace of Buddha and is one of few countries in the world never to have been colonized. Although they originated from a small town within Nepal, both Dambar and Sita have always resided in metropolitan cities. Therefore they particularly appreciate that people automatically form lines as the natural order in Canada. They mentioned that "there is no human jam in Penticton." Furthermore, when visiting banks, post offices or government locations, they are confident that once they have entered a queue, their request will be processed irrespective of their academic or social background. Lining up feels like a luxury to them because they notice that they "relax" in a Canadian lineup, as opposed to constantly being on guard for line-cutters.
In developing nations, "line etiquette" is considered as a marker of modernity, a sign of graduating from chaos to order, and a departure from restricted resources. In an article published by National Post, "Everyone line up: Canada's tradition of orderly queuing 'foreign and strange' to many newcomers" just about sums up the defining feature of a modern life. What Dambar and Sita point out as an honest observation infact has extensively been researched in western countries and, in some cases, is formally taught. At the Canadian School of Protocol and Etiquette, Ms. Mencel teaches her students that lining up is a holdover from class-conscious Britain. "People try to better themselves in society by learning all the rules of etiquette that the Upper Class knew, and line etiquette is part of that," she said. The British often boast that they invented the lineup and questions about queuing are even included in U.K. citizenship tests. In Simon Fraser University's International Student Handbook, lining up is listed alongside punctuality and frequent apologizing as a cherished Canadian practice. In the book The Silent Language, anthropologist Edward T. Hall claimed that queuing reflected the "basic equalitarianism" of Western culture. "To us it is regarded as a democratic virtue for people to be served without reference to the rank they hold in their occupational group," he wrote.
One of the top reasons immigrants give for coming to Canada is a desire to provide better educational and economic opportunities to their children. Immigrants voice this sentiment regardless of their educational level, financial standing, or country of origin. A man of few words, Dambar works long hours to support his two sons who are enrolled in OK College, one to become a civil engineer and one heading into trades. Although his daughter is quite young, she wants to become a fashion designer. Because he is bearing the brunt of his children's education expenses, Dambar aims to take early retirement. Sita had no comments about her husband's plans. She is content in her children's adjustment in their academic environments and is working on achieving new skills for herself. Sita started as a helper in the kitchen and is now working on the tandoor (clay oven), really enjoying her newly acclaimed skills. Both Dambar and Sita hold their employers at Lachi in high regard as, they proudly share, they encourage them to take on more responsibilities and grow with the business.
Dambar and Sita originate from families that observe many rituals and ceremonies. They were eager to point out that Canada allows families to hold on to their cultural identities while embracing new traditions and languages. "In our own country, we celebrate only our festivals, but in Canada, we now celebrate our festivals and festivals from other cultures". In proportion to its geographic reach, there are thousands of temples and shrines scattered throughout Nepal. Many of these shrines are constructed near rivers or at the base of "peepal" (fig) trees, which are considered sacred. When his family was getting ready to immigrate to Canada, the most important items they packed were the "pooja" accessories. Undoubtedly for Dambar and Sita, the hum of mantras, the tinkling of a hand bell, and the aroma of incense wafting from their pooja corner are vital in their day-to-day routines.
One of the greatest challenges for immigrants originating from South East Asian countries is the disruption of longstanding social networks. While residing in Penticton, Sita reveals that she hardly knows anyone in her neighbourhood or what they do whereas in Nepal, during the evenings, the streets are packed with children playing with each other and parents involved in causal conversations.
Although the entire family is building their lives in Canada, Dambar visits Nepal on an annual basis due to religious and social duties towards his mother and extended family members. He takes with him souvenirs that either are "made in Canada" or have Canada engraved on them.
References
Getting in and out of line
Everyone line up: Canada's tradition of orderly queuing 'foreign and strange' to many newcomers
Cutural, Religious festivals of Nepal
Pexildah & Zane - Zambia and Jamaica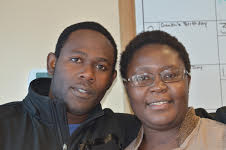 Intercultural marriages are an exciting phenomena in today's world. When two individuals merge their lives into one, they understand that they will encounter new challenges, growing pains, and adventures. As a culturally diverse couple, both parties carry their unique experiences, personalities and different backgrounds with them into the union. This article highlights two young immigrants' point of views on how individual self-awareness impacts interactions with those of other cultures.
Pexi, an immigrant from Zambia, recently obtained Canadian citizenship and proudly encourages other immigrants to build careers in Canada. An avid reader, her books were her priority when packing for her move to Canada. Pexi believes that a person's capacity to function in a foreign environment reveals information about psychological adjustment. In new situations, stress and frustration surface, perhaps due to the confusion of the newness and forced alterations in order to be successful. "Failure perfects you and you learn to see where the mistakes are" thereby moulding your life decisions. Pexi is an LPN who enjoys her profession and gives tremendous credit to one of her mothers' friend who, in blatant honesty, questioned Pexi during her early days in Canada on her career choices. She cautioned Pexi on being realistic and practical in order to have job security.
Zane's relationship with Canada began as a temporary foreign worker who traveled back and forth from Jamaica depending on the work permit requirements. Although he packed nothing too significant when entering Canada, he often took back farming tools for his father.
Intercultural relationships and their accompanying, unique dynamics are multiplying in today's society. When Zane met Pexi's family, he was introduced to the Zambian concept of 'Lobola', which is an age-old tradition where a man pays his fiancé's family for her hand in marriage. It should not be mistaken for a buying or selling transaction, for the gift of Lobola raises the value attached to the bride both as a person and as a wife. The custom also aims to develop mutual respect, showing that a woman's future husband is capable of financially supporting his wife and this is a symbol of his commitment to her. In addition, it is a token of thanks and appreciation on the groom's part to the bride's family for their care over her and for allowing her to become his wife. Historically, the purpose of Lobola was to build relations between the respective families, as marriage was more than a union between two individuals and the Lobola payment was in cattle, the primary symbol of wealth in African society. However, today modern couples have switched to using cash.
Zane, an energetic young individual, is actively working towards building a career in trades and misses the opportunity of developing social relationships in rural Okanagan. He grew up with sports activities surrounding his neighbourhood where anyone with a soccer ball would be able to invite others for a friendly game. Sport socialization in Jamaica stems from the island's tropical climate, which provides almost year-round opportunities for friendly tournaments and competitive events. "In Canada you have to do many things like getting permission, inviting people, talking about insurance before enjoying a sport game." He believes these formalities have reduced the opportunities of developing interactive relations among youth and that contributes towards an increase in the use of video games and other technologies. Based on the same notion of formalities, Pexi shares that in Canada there are differing degrees of acceptable openness in personal sharing. In Zambia "as soon as I move in a new home, within a week I know all my neighbours. Here, neighbours are strangers." With a sparkle in her eyes, she goes on to share how neighbourhoods become an extension of a family in Zambia. "We can go to each others' houses when we run out of food ingredients or ask them to keep an eye on our children while we run out for errands. We don't have to knock on their doors for permission, simply call out their names and jump into a conversation. Neighbours would know if I am dead or alive. Here we go home and the door of our homes closes behind us." These restrictions, or precautions set in place, they believe, are making it difficult to discipline or raise children, which doesn't strengthen a family unit.
Intercultural couples also create a new culture. This third culture allows dyads the opportunity to co- construct a unique culture, composed of the best qualities of two distinct cultures. Zane and Pexi plan to introduce their children to their respective cultures and possibly others before choosing to learn different languages. They both believe that when you learn about another culture, you learn that there is more than one approach to life and understand better why others do the things they do. Perhaps your approach is not always the best way and someone else's cultural heritage can add another dimension to your life, as well as enable you to develop a more sympathetic outlook.
Both Zane and Pexi are not afraid to learn as they continue to build their lives in Canada. The ever optimistic Zane, in his Jamaican accent, encourages everyone to "continue to try.. people don't learn things at once, it is in stages."
References
Communication in Intercultural Marriages
Lobola Ins and Outs