Nita Khanal is originally from Kathmandu, Nepal and arrived in Penticton in July 2014. She is well educated with a Masters Degree in International Business from the University of Auckland in New Zealand and a Bachelor's Degree in Communication. Nita also has extensive experience in international business development, marketing and project management. Her goal in Canada was to resume her career in Business Development and marketing.
Nita first approached SOICS for information about the Okanagan Labour Market and enquired if any training opportunities were available. Employment staff provided her with information about the local labour office and assisted her to access an immigrant training program. As a result, Nita was able to complete an online Project Management Fundamentals course through UBC. Recently, Nita was a participant in a local Immigration Summit held at Okanagan College promoting diversity.
Nita's desire to secure employment in her field of study (marketing) was eventually realized as she was offered a full-time position as the Penticton Chamber of Commerce's Membership Sales and Marketing Representative in August 2016. Prior to that she had worked in an administrative role with a local hotel.
Congratulations Nita and continued success to her in the world of business!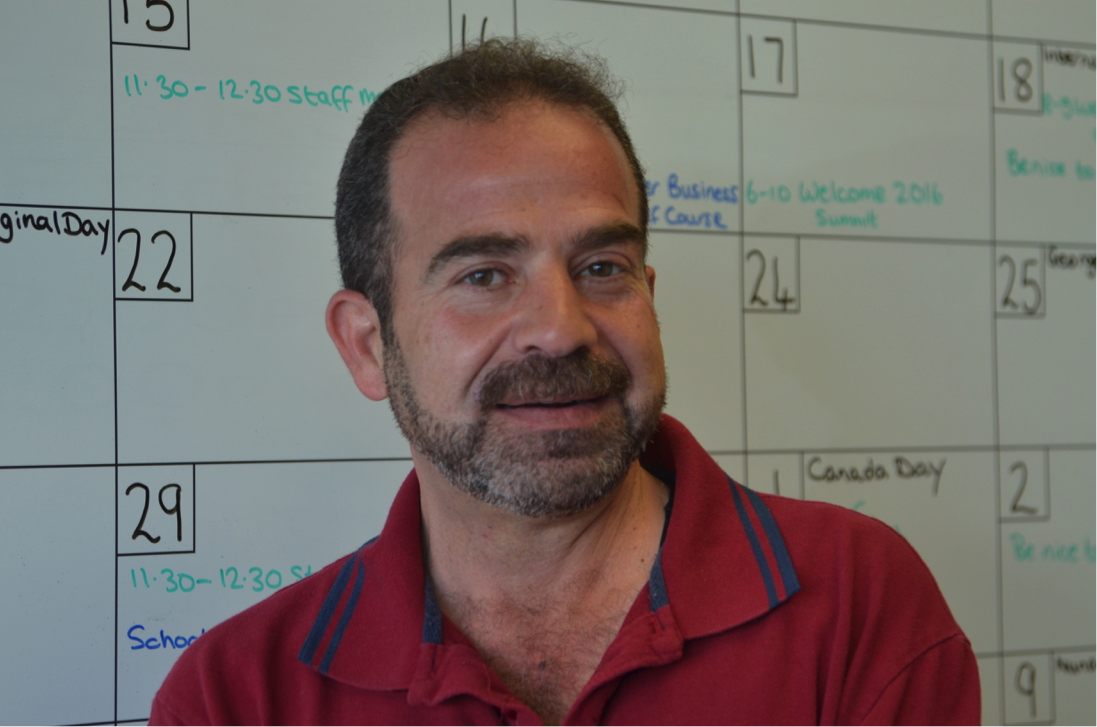 Hussam Albetar, born in Syria,immigrated to Canada with his family under the BVOR category sponsored by one of the refugee support groups in Summerland BC in March 2015. He and his wife joined our LINC classes to begin working on their language skills. After regularly attending the LINC classes and the conversation sessions in the summer, his confidence level began to increase. Hussam has training in calligraphy, and has created various pieces for staff and fellow classmates. He showed interest in pursuing his talent in Canada as one of the means to support his family. Most recently we were able to complete an application for him to participate in the local summer markets and showcase his expertise to a wide range of attendees each week.
Hussam most recently obtained a Learner's permit and is working towards getting his Driver's License. Although he requires a licensed driver to ride with him to the local markets, it does not stop him from attending. His English is still improving however his motivation plays a vital role in using his calligraphy and artistic productions as income generation means. Hussam also makes time to help his fellow Syrian refugees in navigating the local systems and making contacts to integrate in the community.
Angela Nusrat, born and raised in Dhaka, Bangladesh, came to BC in July 2012 and relocated to Penticton in late 2015 with her husband and young son. Angela has a Bachelor of Medicine from the University of Dhaka, with Canadian training in Occupational Health and Safety. Her employment experience includes working as a Medical Officer in Bangladesh as well as working as A Research assistant at UBC and UVIC. Her goal was to resume working in Project Coordination, Public Administration or the Human Resource field. Complicating factors for Angela included lack of local contacts or a network and limited knowledge of the local job market.
SOICS helped her achieve these goals by providing her with local labour market information, tailoring her resume for various jobs, and preparing business cards. Employment staff invited her to a number of local networking events such as Business after Business. These networking events gave her an opportunity to meet many local business people and potential employers including an employee from YMCA Work BC in Penticton.
Eventually Angela' s efforts paid off as Work BC invited her for an interview. Ultimately she was offered a full time position as an Employment Counselor starting May 2016.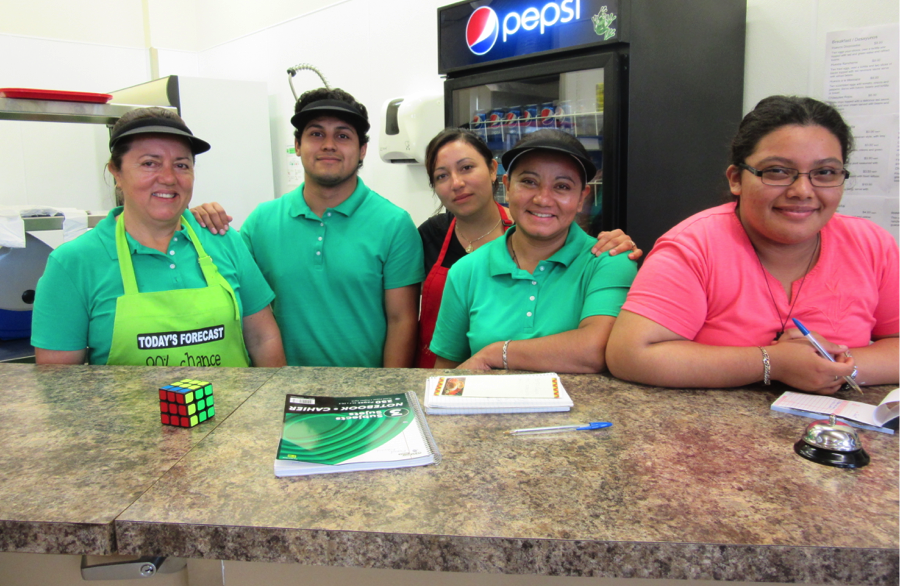 Magdalena Souto
was a settlement client before she joined the LINC program. Not having completed a high level of education in her home country of El Salvador, she was reluctant to begin learning English but wanted to work toward her goal of opening her own restaurant. Although she had a very low literacy level and struggled initially, Magdalena attended classes consistently and began to see an improvement. She was inspired to focus on her language learning outside of class and began working hard on improving her skills. She was encouraged through the LINC program to take ownership of her learning and was given the knowledge and tools necessary to bring her English up to the level that she felt she needed to launch her business. Magdalena also improved her self-confidence through participation in the LINC program and moved from not being able to have any interaction in English to having the ability to speak confidently in many situations. In April, she felt that she was ready to start putting her business plans into action. At this point, the LINC instructor and Community Connections Coordinator began working together to offer guidance and support as she proceeded through the steps needed to open her own business. Largely as a result of the services that she received over the course of several years at SOICS, Magdalena has secured a premises, created a menu, and will be opening her own restaurant in June.
She has said, "Thanks to all your help, my dreams are real now." Magdalena illustrates the outcomes that we strive to achieve when working with clients at SOICS.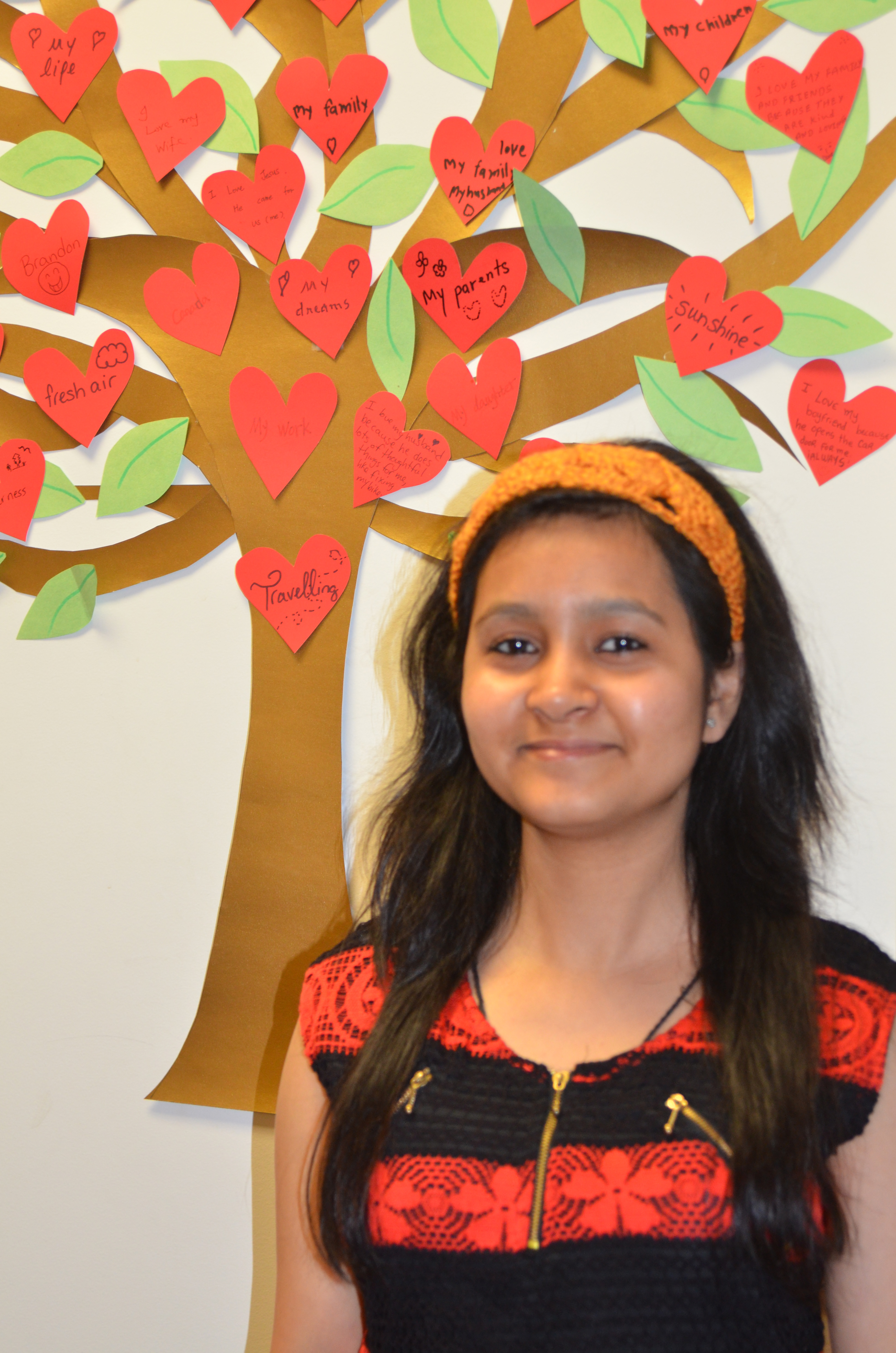 Sana Bano joined SOICS LINC classes two weeks after she arrived in Penticton with her parents. Before applying for a job in the hospitality industry, Sana was eager to improve her conversational English. She began by attending the morning LINC class and then enrolled in the Medical English class during the afternoons.
Sana was aware that employees who fit in and communicate well with the rest of the workforce would be able to contribute to its growth. She also knew that to be able to gain any employment in a new place, it takes time and a positive attitude towards overcoming barriers. Sana actively engaged in understanding the labour market requirement in Canada, whether it is in form of volunteering to gain Canadian experience and build networks, or in the form of engaging in a conversation with professional service providers. After completing the Medical English course, Sana attained her Food Safe certification. When she was offered employment at Tim Hortons, she requested the manager to arrange her schedule in a way that she is still able to attend LINC morning or afternoon classes. Next on her list of accomplishments is to obtain a Driver's License.
Sampa Shakya was born and raised in India. She immigrated to Canada in 2014 and moved to Summerland with her husband. She has a Bachelor of Science in Chemistry from India and has worked as a Pharmaceutical Sales Representative for 4 years. Her goal is to resume working as a Sales Representative in Penticton.
SOICS helped her to achieve these goals. In late February 2016, Sampa came into the office requesting assistance updating and "sprucing" up her resume targeted for Sales Representative positions. At the same time, the General Manager of a local car dealership contacted SOICS saying that they wanted to hire a Punjabi/Hindi speaking person to forge better relationships with Indo-Canadian Customers. Following a discussion with the Sales Manager, an appointment was set-up and an interview was arranged for Sampa. The Sales Manager was impressed with Sampa's previous sales experience and language skills and she was offered a position the next day with Skaha Ford, the most successful car dealership in Penticton!
While Sampa had limited knowledge of automobiles, she researched Skaha Ford online and learned as much as she could about them prior to her interview. Ultimately it was Sampa's positive attitude and willingness to try something new that got her the job. Well done Sampa!
Sampa credits her help from SOICS employment staff as a key for helping her achieve her employment goals and encourages others to remain positive in their job search and not to be afraid to try something different.

When Wei was growing up in Guangzhou, he could not have imagined that he would become a volunteer firefighter in Oliver! Wei graduated from Guandong Finance Institute with a diploma in International Finance. He was a branch manager in Guangdong Commercial Bank and married his sweetheart, Sasha in 2004.  They emigrated to Canada as Skilled Workers in 2009. Wei did not want to return to finance; he wanted to work with his hands. He decided to take the two-year Aircraft Maintenance Engineering program at BCIT in Burnaby. In 2014, Wei and Sasha and their two children moved to Oliver for Wei's job at Transwest Helicopters Ltd. Wei wanted to give back to the community that he calls home and this year he joined the Oliver Volunteer Fire Department. It has been a busy and stressful season for the firefighters in Oliver and we are proud and thankful to have Wei protecting our town.
Chutikarn Klansri arrived from Thailand in 2014 and began taking English classes in the fall. It transpired that she is a wonderful cook and her aim was to have a stall in the Penticton Saturday Market selling Thai food. To get an idea of how it feels to sell food in the market, she attended the OneWorld Festival and stood with the representatives from Iyara Thai Restaurant. This confirmed her intentions and so her first step was to obtain her Food Safe certification. In April, she attended the Food Safe course at SOICS and successfully obtained her certification. Her next stage was to find a certified Kitchen in which to cook. Iyara agreed to partner with her so she needed to be approved by Interior Health in order to be able to sell at the market. With our guidance, she completed the necessary forms and received approval from an Interior Health inspector to sell at the market. She completed the Downtown Penticton Market application form, and took it to the Downtown Penticton Association where it was processed and Iyara and Chutikarn were given a stall in the market. On August 15th, Chutikarn's intentions became a reality and she managed to sell everything that was on sale – a true success story!!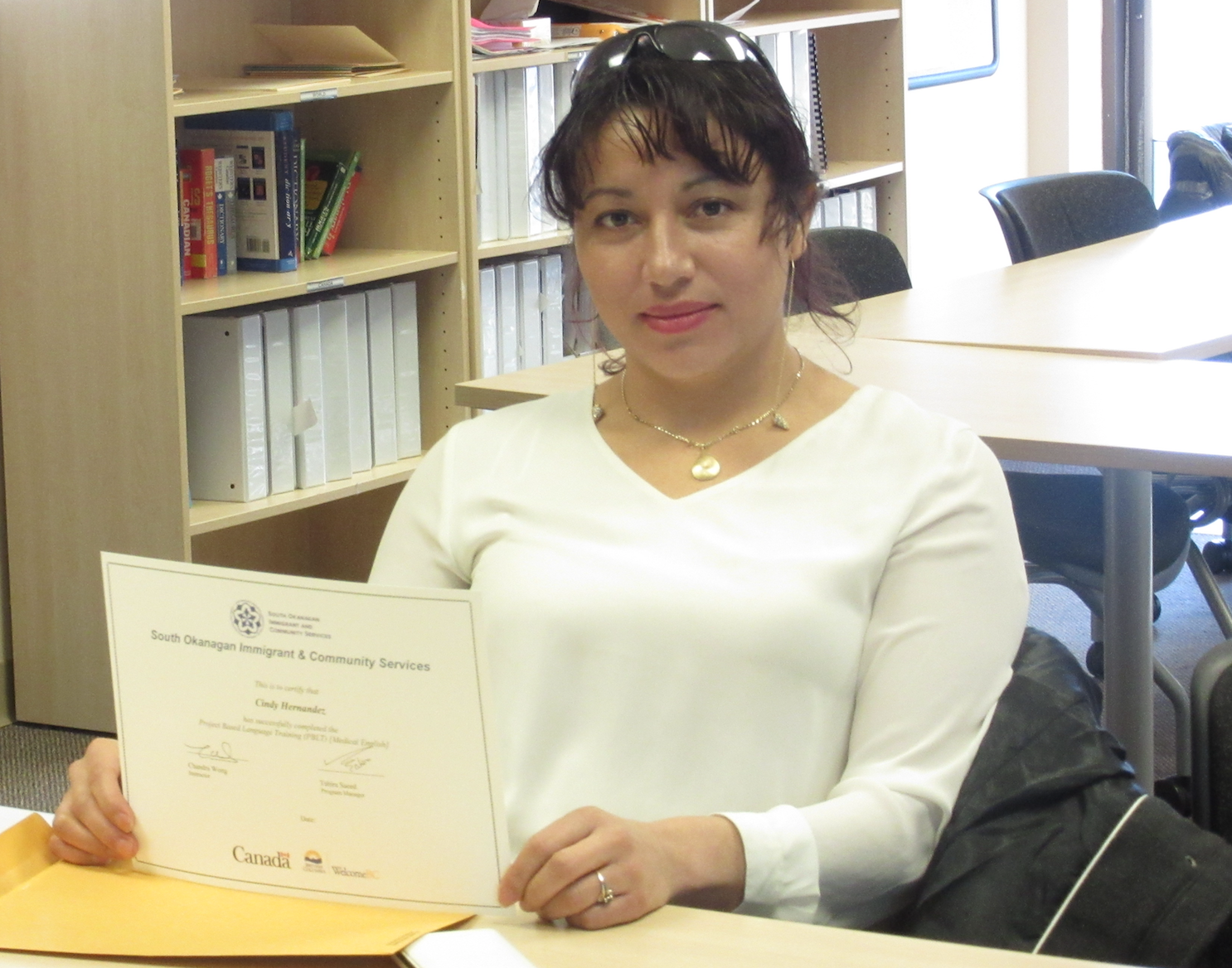 Cindy Hernandez was studying International Relations in university when her sponsorship came through and she had to leave El Salvador.  She and her 18 month old son landed in January 2011 and she was working full time three days later.  Her work in vineyard maintenance was physically demanding and left her with little time to learn English.
Cindy soon realized that without English she couldn't speak with her son's teachers and couldn't help him.  She also understood that she needed English to gain the respect of her coworkers and supervisor. The only time she had to study was after 9:00 p.m.
Cindy's first goal was to get her driver's license.  She failed until she learned she had to put more effort into studying.  She worked with an adult literacy volunteer tutor in order to pass and then attended LINC classes at SOICS.
After four dedicated years, Cindy's English qualified her to take a Medical English program at SOICS and her CLB scores jumped two levels in some skills. In addition, she successfully completed WHMIS, FoodSafe and First Aid training.
Cindy is still working in the vineyard but she now has new ambitions. With her improved English and confidence, she has taken on leadership roles at work and has been recognized by her employer. She helped translate work manuals from English to Spanish to help establish operating procedures for the crew.
Cindy is a determined newcomer who has a passion to improve life for herself and her family and she is quick to take on challenges that further her goals.
Anke Galardo is originally from Germany and moved to Canada in early 2015. She worked in Montreal as an international corporate relations representative for Cirque de Soleil before relocating to Penticton in summer 2015. She has a background in Management and Customer Relations.
SOICS assisted Anke by providing her with relevant local labour market information, an updated resume, character references and invited her to Business after Business events as a guest. Anke realized that in order to succeed in Penticton she needed to meet new people in the community to create and expand her local network.
Her networking efforts eventually paid off as she was offered a Manager/Supervisor position with Value Village starting January 12th, 2016.  Anke was appreciative of the efforts of SOICS staff and encourages other newcomers to utilize the services that  SOICS offers. Well done Anke!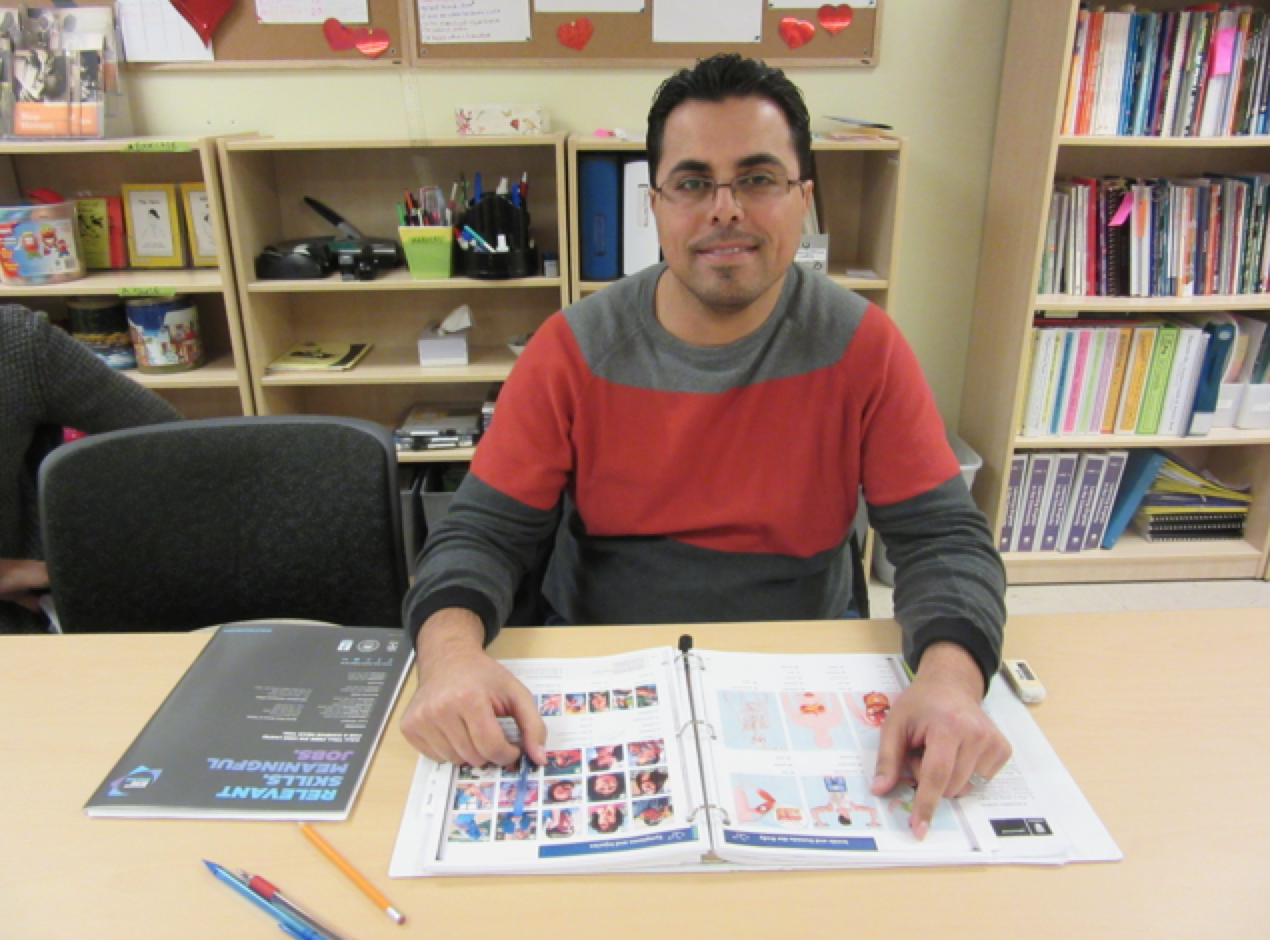 Mohammad and his wife, Nesreen, and their three children were welcomed to Oliver on December 7. They didn't take long to settle into their new home and then began a whirlwind of discovery, learning English, meeting other new refugee families and taking care of the health and well being of their own family.
The Al Lwisis left Syria in 2012 and lived in a refugee camp in Lebanon before coming to Canada. They are expecting the rest of the family, Mohammad's mother, sister and brother to arrive shortly.
Both Mohammad and Nesreen attend LINC classes at PDMS/SOICS in Oliver. It transpired that Mohammad's English level was sufficient for him to obtain a seat in the SOICS intensive Medical English program where, as well as improving his language, he is learning about the BC health system, cultural attitudes towards health care, aging, education, employment and other aspects of life in Canada.
In addition, Mohammad has also taken FoodSafe, Level 1 and is practicing for his road test, so that he will be ready to drive himself and his family to their appointments, activities and, when he is ready, employment.
Mohammad's work background includes concierge and guest services in the hotel industry.  While this may not be where Mohammad finds employment, his skills are appropriate for the South Okanagan. With the determination and progress Mohammad has shown, we are confident that he will meet all the goals he has set for his new life in Canada.
Beatrice Mariaca is originally from Peru and recently relocated to Penticton from Ottawa with her husband in 2014. Her background is teaching Spanish and working in the Hotel Industry.
SOICS/PDMS Employment staff assisted Beatrice by preparing her resume and cover letter and escorting her to an employment job fair at the new Southwood Retirement Resort in Penticton. She was offered a full-time position in the Dining Room with the brand new Retirement Center which opened in January, 2015. This exciting position will allow Beatriz to start work from the very beginning with Southwood Resort. Beatrice also participates in the newly formed Spanish Conversation Club at SOICS. Beatrice is thankful for the assistance that she received from SOICS/PDMS and encourages other immigrants to utilize their services.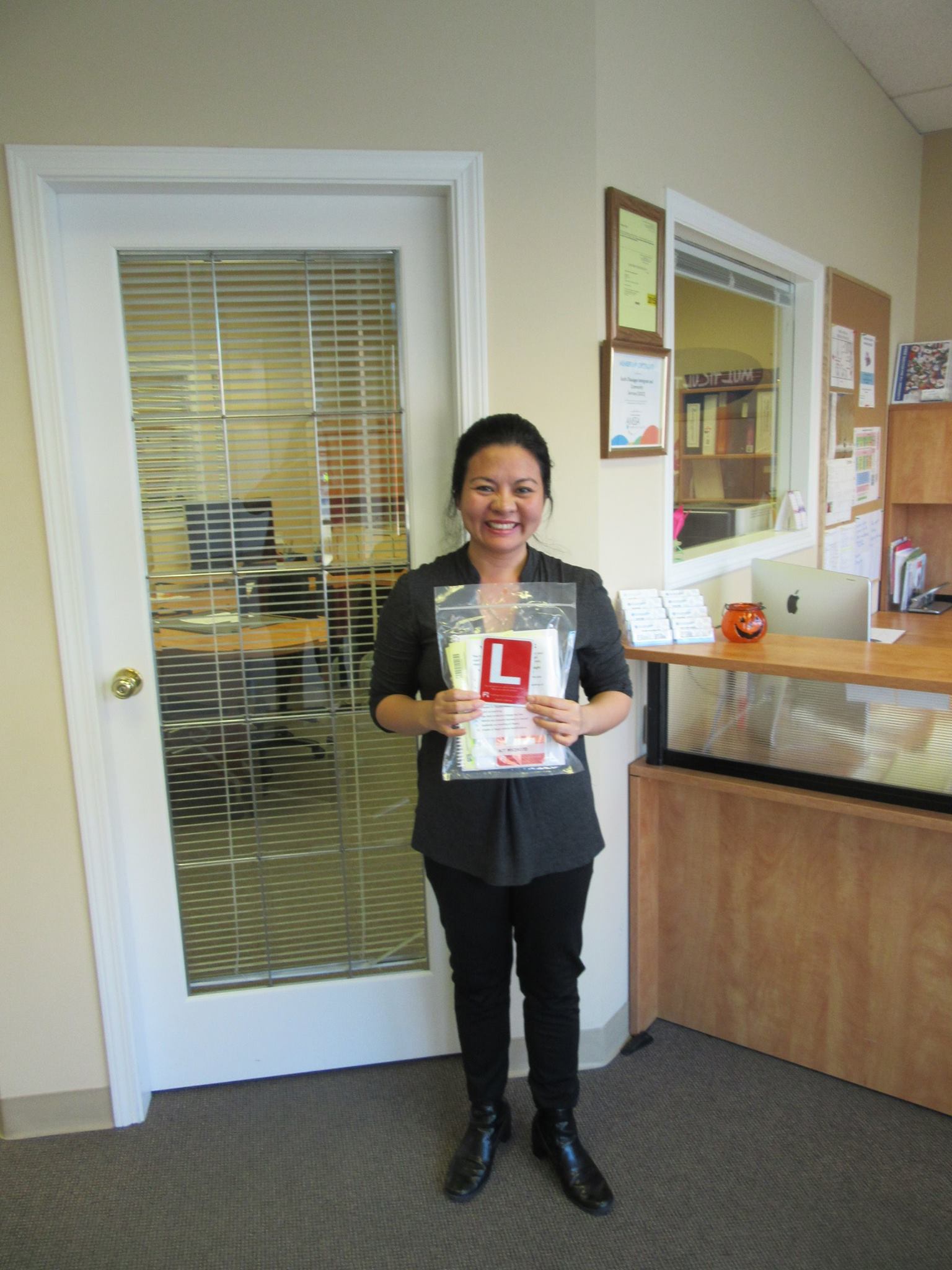 Tam Thanh Nguyen began attending LINC classes immediately after she immigrated to Canada because her English was very low and she had problems communicating.
After only 3 months of being here she required additional help due to the fact that her husband abandoned her and their five-year-old daughter. She found herself very close to being evicted from the motel suite they were living in because her husband hadn't paid the rent when he left. She had no food in the house and Christmas was just around the corner.
Today she attends beginners LINC classes in the mornings, while on social assistance and working part-time at a nail salon. Her daughter has adjusted well in grade one and is speaking English.  Currently they still live in the same motel due to the fact that the owners have been very good to her, and it's close to her daughter's school. She has said she is prepared to start working more, with the goal in mind to get off social assistance.  In October, after many tries and help from a mentor volunteer she successfully passed her Learners Driving test.
SOICS successfully got her on social assistance with the help of an interpreter and the South Okanagan Women's in Need Society shelter.  We assisted her with maintaining her social assistance reports and helped claiming her income, helped her apply for child tax benefit and MSP premium assistance, provided her with information on services and subsidies for her daughter, and matched her with a volunteer mentor to help her study her learners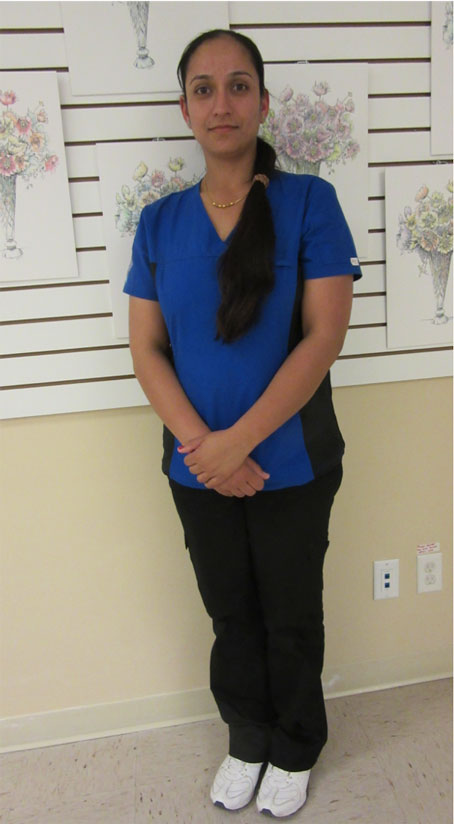 Gagandeep Sidhu registered with SOICS a month after arriving in Canada in 2014. Her goal was to use the nursing training she had received in India to become a BC healthcare assistant. We helped her apply to have her credentials assessed by ICES and then helped her apply to the Introduction to Health Care Assistant Practice course at Nicola Valley Institute of Technology (NVIT).
A "small" delaying factor was the birth of her daughter in the middle of working towards her goal.
The requirements for becoming a BC healthcare assistant have becoming progressively more stringent. The letter of reference from the hospital in India where Gagandeep worked was not accepted and she had to request a new letter, using the format supplied by the registry.
NVIT did not have a class available when Gagandeep registered in June 2014 and it wasn't until August 2015 that she was finally able to take the course.
In January 2016, Gagandeep received her BC Healthcare Registry number and updated her resume to apply for work. This June (2016), Gagandeep will have completed an eight-week practicum with Sprott Shaw College, giving her Canadian experience. She's enjoying the practicum and looking forward to working.
"Practicums in India and Canada are very different; I enjoy learning and I'm looking forward to my future as a care aide."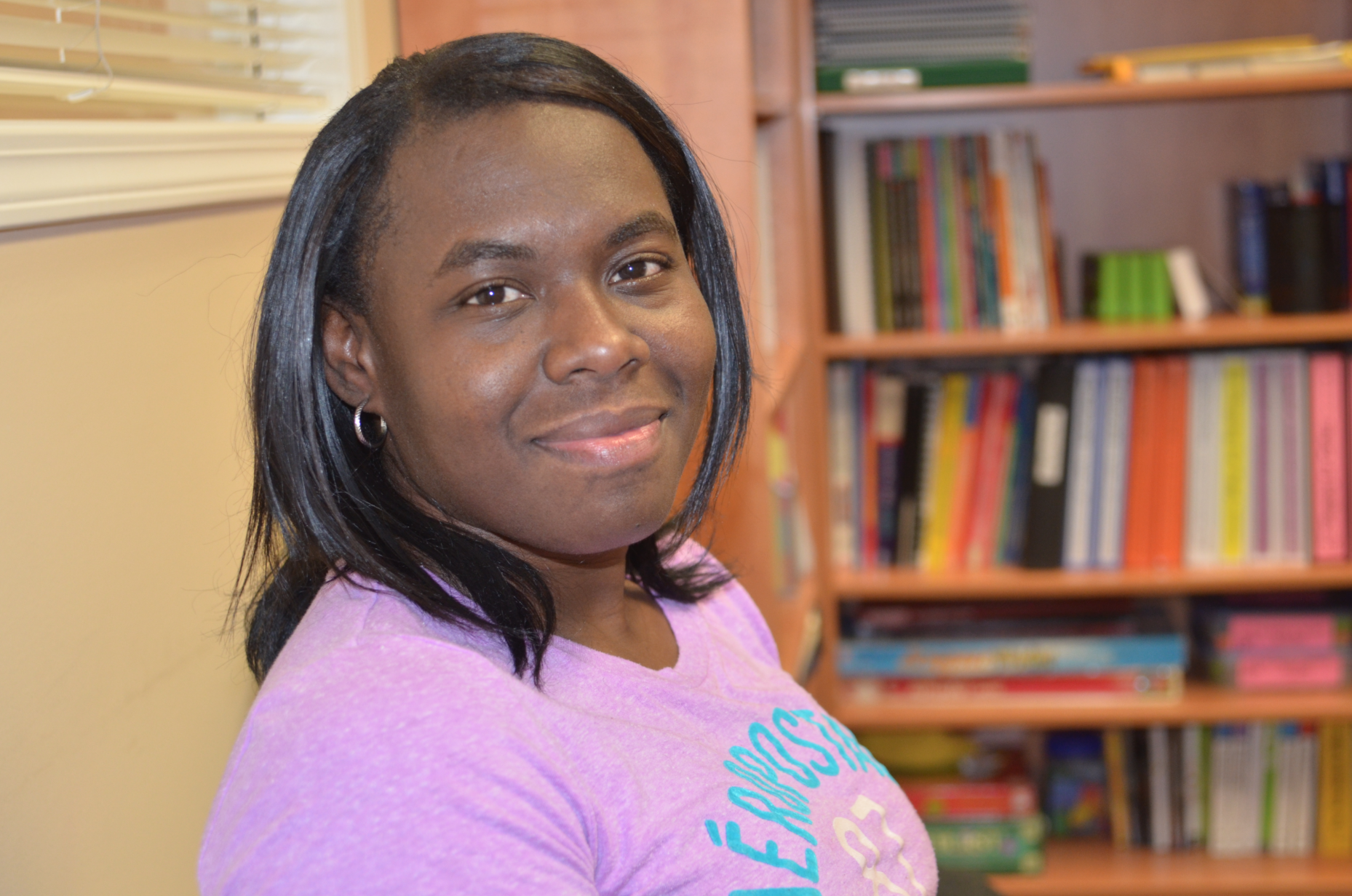 While her Permanent Residency was in its final stage of processing through BC PNP, Coleen Davidson decided to move from Osoyoos to Penticton to avail better employment opportunities.
Families in transition or in the process of moving from one town to another, like in this instance where a new PR sponsored her spouse and child to move here, now suddenly need larger accommodation or have a job, which requires her to move.  These new opportunities bring with them a set of difficulties.  One major difficulty is registering the child in a school because they don't have proof of residence.  And finding a rental property for new immigrants is very competitive in our region because they are competing with Canadians who might have a better understanding of the renting process and are able to market themselves as desirable tenants.
We assisted in locating a child friendly accommodation within her price range and explained the rental application process including references and rental history.  Coleen was eager to point out how the tenancy rules and regulations are different in her home country where once a family finds a place and say they want it, they are able to get it once they pay for the rent.
Today Coleen is settled in her new job, her husband secured a job in his own field, and her son is enrolled in a school, which is a mere walking distance to their apartment.  We assisted her in applying for additional benefits such as CCTB, after school care for her son, and MSP. Coleen continues to work hard to improve/develop her professional skills and her families' life here in Canada.  SOICS referred her to a free course being offered at Sprott Shaw College (The Administrative Skills Training Employment program), which she has been attending regularly.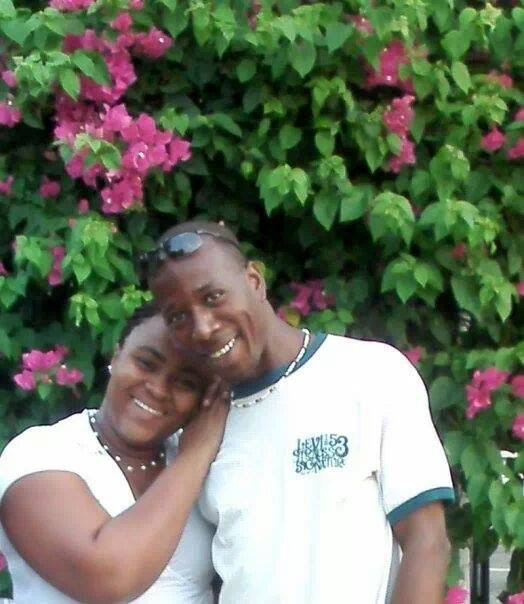 Ernel and Ludes Williams are originally from Jamaica and previously resided in Osoyoos and Okanagan Falls before recently relocating to Penticton.  Ernel was a TFW living in Canada for approximately 3 years before his family could be united with him via Express Entry immigration.  Once his family arrived in Canada, he was eager to explore as many opportunities as he possibly can to improve his quality of earning.  They visited our office in mid November requesting settlement and employment assistance.
The settlement staff took charge of registering their older son with Pen High's Food Program course as he wanted to become a chef like his father.  Once their needs were assessed, the employment staff referred Ernel and Ludes to a couple of employers in the local community.  Amazingly, both Ernel and Ludes were offered positions on the same day! Ernel was offered a Cook position with Theos Restaurant and Ludes was offered a position as an Executive Assistant/Secretary.  Merry Christmas to the Williams family and welcome to Penticton!
Jaspal has a goal to become a Registered Health Care Worker. In order to achieve this goal, Jaspal requires level 7 in the CLBPT, a Heath Care Worker program and acceptance to the BC Care Aide and Community Health Care Worker Registry. Jaspal began by taking LINC classes in the Oliver office in August 2013. She also attended SOICS' Literacy Kitchen, a series of cooking classes in English. From April of this year, she worked closely with a mentor to polish her writing skills. This September, Jaspal passed CLB 7 and she is registered with Sprott Shaw College to take Health Care Assistant training at Mariposa Gardens, a residential care facility in Osoyoos. Jaspal understands that it can take years to achieve a goal and we are proud of her perseverence.
Adriana Capelo was born and raised in Santa Catarina, Brazil. She immigrated to Canada in 2011 and moved to Penticton shortly thereafter with her husband. She has been dedicated to attending our Language classes, and is now in the intermediate classes and looking to apply for Canadian Citizenship.
PDMS/SOICS helped her to overcome her fear of speaking English and achieve her goal of being an active part of the community.We connected her to a free volunteer sewing program in the summer of 2013 supported by a Community Connections volunteer mentor. With her mentor's support, Adriana felt more comfortable speaking English and this boosted her self-esteem. In response to her new found confidence, she has been an active up cycling volunteer with our local women's center for almost year. There she uses material to make aprons, blankets etc. for the center to give away to those in need or to sell to support local women's shelters.
Ramandeep Mander recently moved to Penticton from India. He is a tourism graduate from a well-established Tourism & Hospitality Program in India.
Ramandeep required employment assistance from SOICS/PDMS and with their assistance, secured a full-time position with Esso in Okanagan Falls and a part-time position with Superstore in Penticton. This was a great accomplishment for Ramandeep as he had only been in Canada for less than 2 months. He was grateful for the help from SOICS/PDMS and encouraged other new members of the community to utilize the free services.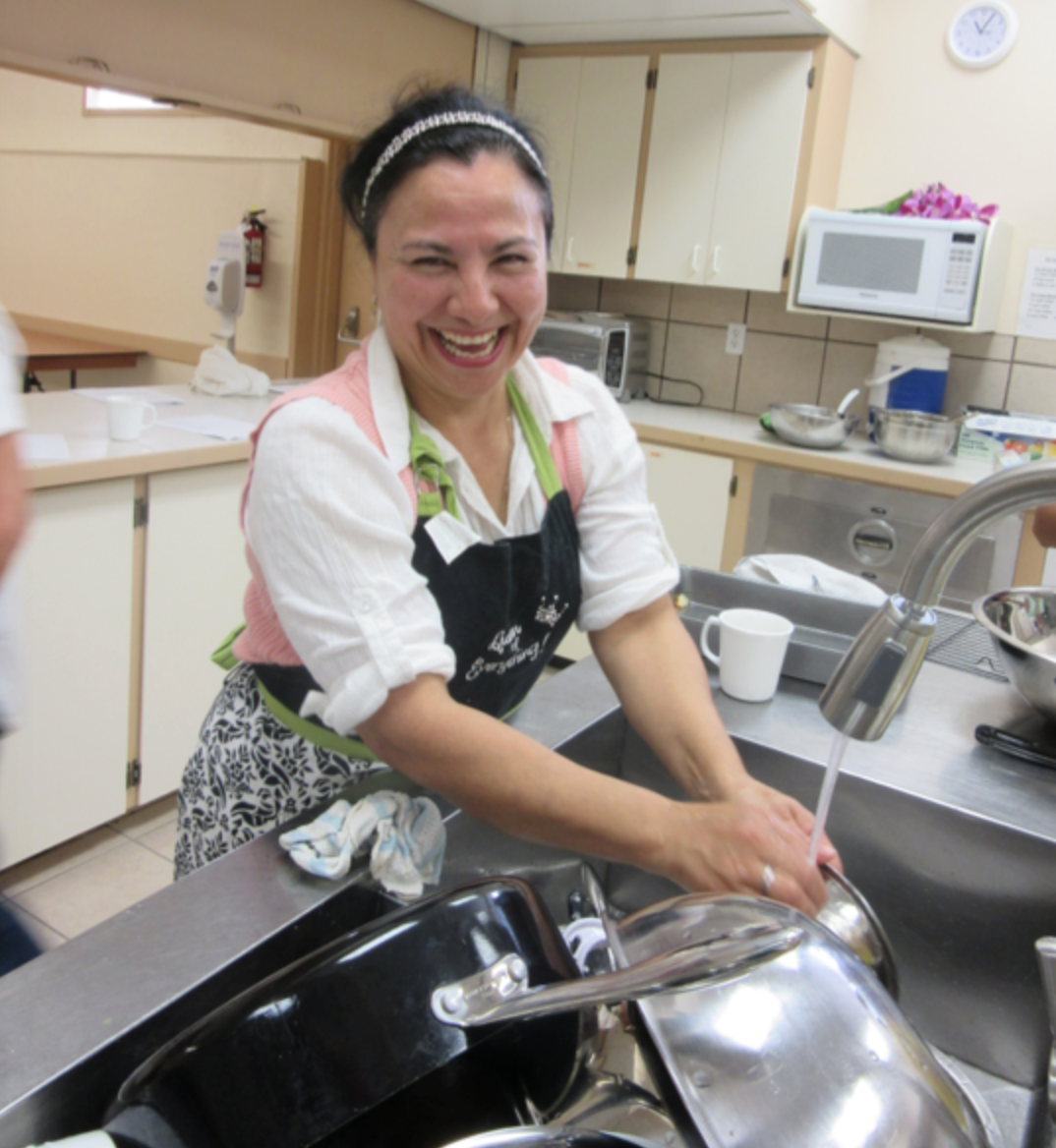 Doris Benitez Molano has been with SOICS LINC classes since 2011 after emigrating from Columbia in 2010.  Although her English speaking ability has improved, she has not stopped coming to our LINC classes.  She has been diligently attaining courses and working towards improving her language skills.  Her goal is to complete requirements for Grade 12 graduation and take the Language Proficiency Index (LPI) exam.  She has notebooks jammed full of English vocabulary and tries to learn at least one new word or phrase everyday.  Most recently, she received her Learner's driving license.
Her confidence level is at a point where she is now encouraging other Spanish-speaking housewives to continue coming to LINC classes.  She is an enthusiastic Scrabble player and mentors Spanish speaking newcomers to facilitate their integration into Canadian society.  As an example, she encouraged a few clients with lower levels of English to attend a FoodSafe program and also volunteered to translate for them in class. Doris is now looking forward to her upcoming citizenship ceremony; she has been a rewarding addition to her church, her community, and Canada.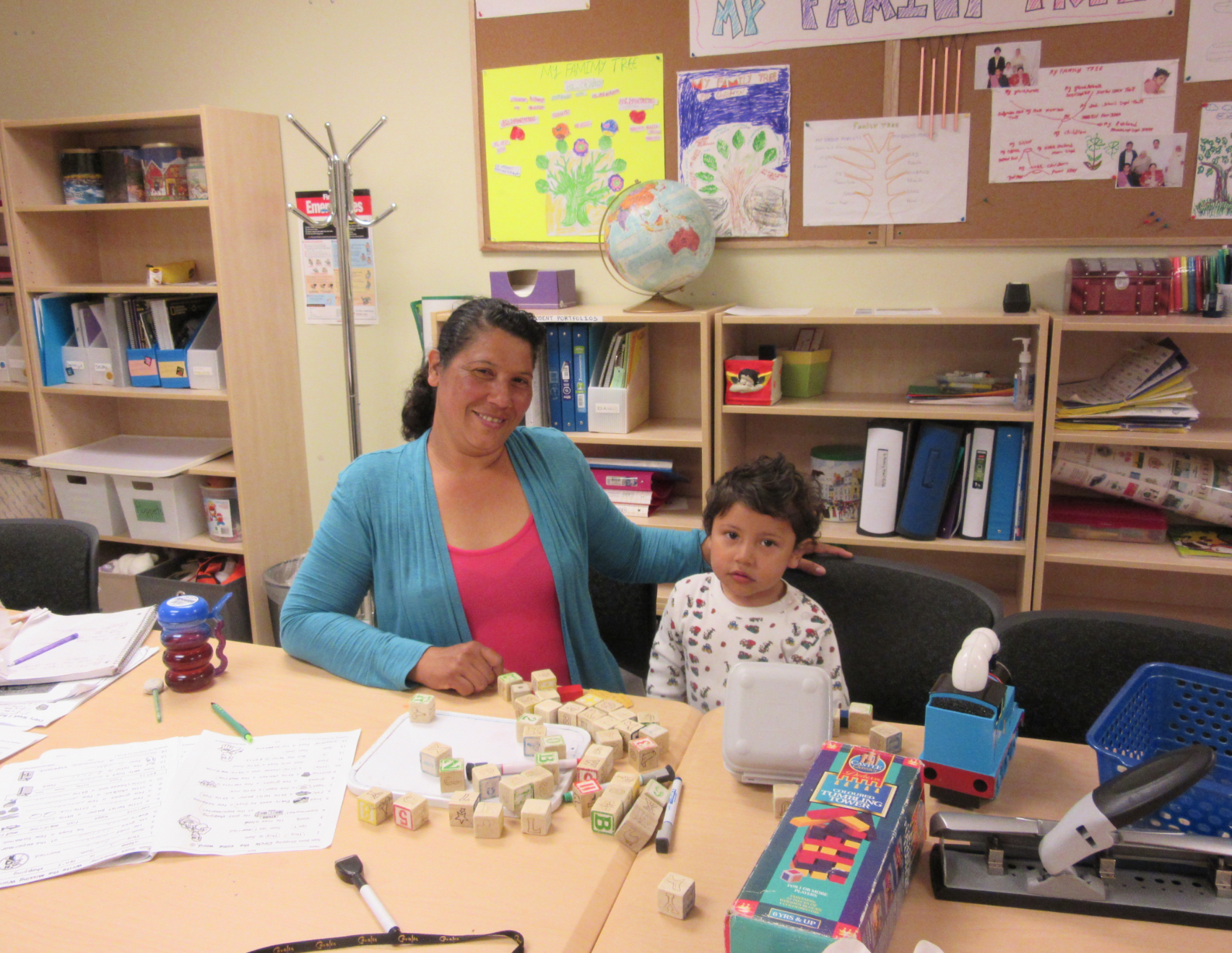 Morena Zepeda is at the beginning of her success story with SOICS. Morena immigrated to Canada from El Salvador in 2007 but only began her English classes in 2014, after her children were old enough to allow her the time. At Level 1 literacy, she has a long way to go but she's determined and has the support of her family. She registered with the YouLearn centre in order to have access to Rosetta Stone at home, attends classes regularly and benefits from the social contact and enrichment. Her Spanish-speaking husband, who immigrated her, is proud of Morena's increasing facility with English and says, "My wife will explain!"
Mariela Melendez is originally from Honduras and moved to Penticton in 2014 with her boyfriend. She previously worked in the Hospitality industry in Roatan, Honduras.
She came into the SOICS/PDMS Office requesting job search assistance. SOICS/PDMS assisted her to revamp her resume and cover letter and referred her to Pro-Hire Solutions, a local Personnel Recruiting Agency. She was immediately hired as an Administrative Assistant and Data Entry Clerk. Mariela is grateful for the assistance that she received and refers other Latinos to the SOICS/PDMS office.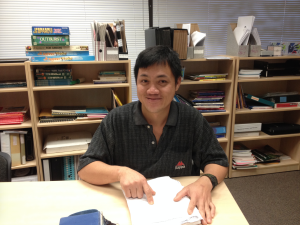 Wey Leang immigrated to Canada in December of 2012 to reunite with his wife who was living in Penticton.  His English language skills at the time were very low and Wey knew that if he wanted to succeed in Canada he would have to improve it.  He signed up for LINC classes at SOICS where, according to the instructors, his enthusiasm and determination was evident from the start.  Wey was able to get a job working in a restaurant kitchen because it required little English skills.  He then began taking English classes at the college in order to fit in his studies with his new job.  After only being in Canada for a year and a half his English had improved enough that he was able to get a new job building outdoor furniture at the Outdoor Living Ministry.  Wey continues to attend LINC classes at SOICS because he has the time and prefers the interactive approach that teachers bring to the class.  Wey is a dedicated student who attends classes 5 days a week and practices an extra two hours a week with a tutor.
Since he came to Penticton, Wey had been riding his bike because Penticton's transit system is not as advanced as Vancouver's.  Wey was focused on getting his driver's license and requested for a mentor to help create a realistic plan and help him get a Driver's license, which he finally achieved.  His long-term goal is to improve his English enough to become a police officer.
Shu Mei Liu immigrated to Penticton B.C., Canada in May of 2013, when she married her husband.  Shu Mei has a passion for business together with her husband run a very successful home business, importing goods from China. Attending regular English Classes as well as practicing her English in conversation group, has helped a lot to improve Shu Mei English and confidence.  She is currently also working at Lachi Restaurant. Since starting LINC class, one of Shu Mei's goals has been to have short, friendly conversations with her neighbours in her apartment building. This month she came into her morning class with a radiant smile, the reason? On her way out of the building she had had a conversation with her building manager in which both parties had understood everything! Small as it may seem, it was a huge accomplishment for her and we are all very proud.
Mi Hyun Kang and her family immigrated to Canada from Korea two years ago.  Mi Hyun attended Language classes at SOICS regularly to advance her speaking abilities from the beginner's level class to the intermediate level.  Mi Hyun's attendance in the Language class was next to perfect, which spoke of her determination to integrate in the local community.  As a hobby artist, Mi Hyun does traditional Korean water colour and contemporary art. Participating in the language classes also contributed towards building her confidence. The integration process encouraged her to consider participating in the Saturday Farmer's market. With the help of a SOICS staff member, Mi Hyun filled in the application and got connected her with the DPA team. She is using her artistic skills.
Charles Perrutel, his wife Johanne and his nephew Martin Bertrand-Hardy have opened a new restaurant in Osoyoos called "Convivia Bistro Cuisine." Charles emigrated from France as a young man and was a restauranteur in Quebec for many years before moving to Osoyoos.  Martin came from the Bordeaux region in France in March to help with the new business.  While renovating the building, Charles and Martin attended LINC classes at SOICS in Oliver.  SOICS also referred Johanne to the classroom literacy program offered through Okanagan College.
Congratulations to Daniela Lojkova and Michal Gjurisic who opened the doors of a small café called The Prague Café, on Marina Way, in Penticton. Daniela and Michal came to Canada on temporary foreign work permit. They applied for immigration through the BC Provincial Nominee Program (BC PNP) and received their permanent residency two years ago. With a dream of building their lives in the Okanagan valley, their knowledge of business and love for Czech food they chose to become business owners. Daniela and Michal said the process of achieving their dream of opening up a small business was very challenging but they learned many valuable lessons along the way including the importance of being open and accepting of Canadian culture. In order to succeed, they participated in the conversation clubs and took advantage of networking in the community through SOICS.
Doris Benitez, Jose Carlos Oliveira, Ivelise Oliveira, Bianca Menjivar and Isabel Hernandez (pictured with teacher Geody Amaya), and German and Haydee Espinoza (separate photo) attended Canadian Citizenship Exam classes at South Okanagan Immigrant and Community Services in April and May 2014.  Thanks to their hard work and dedication all of the students passed their exams with scores of 98-100%.  We are happy to have these new Canadians as part of our community!
Rupinder began by attending ELSA classes at SOICS in September 2012, bringing her youngest daughter to the child minding area. Her infectious smile and dedication, combined with a clear plan for the future, made her a favourite in class. Rupinder's goal was to work in an insurance agency. SOICS staff helped her research courses, mentored her to prepare for the relevant exams, and were as excited as Rupinder was when she passed the Fundamentals of Insurance exam. Rupinder then utilized our employment services to practice interview questions. Both the staff and ELSA classmates helped her in all of her endeavours. Rupinder was offered a job after her second interview and has become a valued member of a small insurance firm in Osoyoos. We can now see Rupinder's photo each week in the Osoyoos Times, in the Johnston Meier Insurance ad. In 2014, Rupinder again returned to SOICS, this time to upgrade aspects of her office skills, specifically related to communicating effectively on the phone. Rupinder recognizes the ongoing need to improve her skills and we're pleased to be involved in her ongoing success.
My name is Thaw Simon. I was born in Burma-Myanmar but due to the civil war, my family and I had to flee from the war zone and live in a Thai-Burma border refugee camp. I remembered asking my mother one day about my citizen status. My mom pulled out a piece of paper of my sisters and my birth certificates under our bed. It was a huge piece of paper but useless. My mom kept that just for memories and record. I grew up in a refugee camp and lived there for 16 year. The size of our refugee camp is 10 square km with more than 50 thousands people living in it. I finished my high school and took Bachelor Theological Studies and got the highest degree in the camp in 2002. I could not continue my studies anymore because I wasn't Thai nor Burmese. Although I'm Karen (one of the ethnic groups in Burma), I didn't belong to any country.  I cannot go outside the refugee camp; therefore, I became a nursery school teacher after I graduated from the Bible College. In December 2006, through the sponsorship of the First Mennonite Church in Edmonton, my sister and I came to Canada as refugees. Four years of upgrading, learning both in school and daily life in a new country, my sister and I became Canadian citizen on May 11, 2011. I'm so proud to say that I'm a Canadian – my first time becoming a citizen through out my entire life!
Shehnaz came to SOICS in September 2012. As an Oliver resident with narrow community ties to Oliver, Shehnaz benefitted from the daily contact with staff and clients. She began with basic computer training and joined the ELSA class. Once she was comfortable, she began mentoring other clients and, when an opportunity to work part-time cleaning the office presented itself, she was prepared. Shehnaz is now an integral member of the SOICS team, as an employee, volunteer and  mentor. She has gained confidence in her community interactions, has met new people, and is taking classes at the Learning Centre. We are very proud of Shehnaz' progress. It was our lucky day when she walked through our door.
Ping, and her daughter Snow, immigrated to Canada from China just a few years ago. At first it was difficult adjusting to life in the Okanagan, there were many challenges they needed to overcome. Luckily for the two of them they found South Okanagan Immigrant and Community Services who helped them navigate life in Canada and provide support along the way. WelcomeBC's Settlement and Integration Program funds SOICS' programs, which enabled them to learn English, make new friends and build the confidence they needed to start their new life.
All of SOICS' services are free for eligible immigrants. For more information on becoming a SOICS client, please visit Getting Started at SOICS. To make an appointment, please call or visit one of our offices:
Penticton
508 Main Street
Penticton, British Columbia
(250) 492-6299
admin@soics.ca
Oliver
6239 Main Street
Oliver, British Columbia
(250) 498-4900
oliveroffice@soics.ca